Craig Robinson Talks Working With Snakes On Killing It And Ad-Libbing With Steve Carell On The Office - Exclusive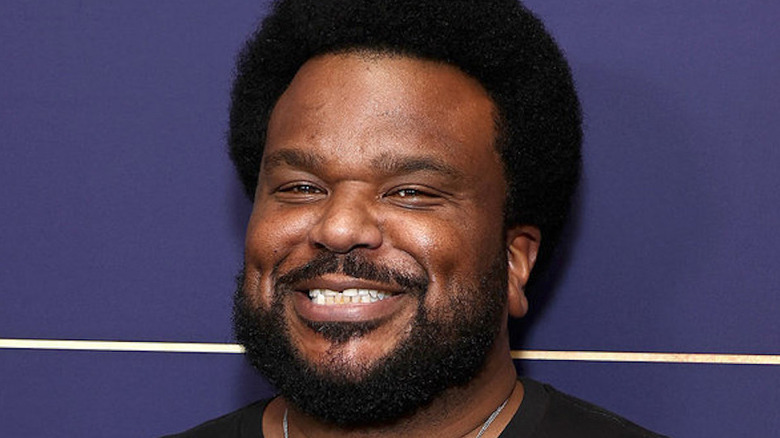 Alan Markfield/Peacock
Whether he's getting laughs as the impish Pontiac Bandit Doug Judy in "Brooklyn Nine-Nine," lending his smooth voice to animated characters in "Sausage Party" and "Shrek Forever After," or crooning a clever tune in "Muppets Haunted Mansion," Craig Robinson has carved out a niche as a beloved actor, comedian, and singer. His dry wit and mellow demeanor have made him a welcome presence in every film and TV show in which he appears, including his latest turn, a rare dramatic role as a determined New Orleans cop in "Mona Lisa and the Blood Moon."
But for the legions of loyal fans of "The Office," Robinson will always be Darryl Philbin, the competent, ambitious warehouse manager at the Scranton, Pennsylvania branch of fictional paper company Dunder Mifflin. Meanwhile, fans new and old are just starting to get to know him in the Peacock sitcom "Killing It" as Craig Foster, a down-on-his-luck Florida father who decides to fund a business venture by winning the grand prize in an annual snake-killing contest — despite the fact that he's never taken out a snake in his life. When Robinson sat down for a recent conversation with Looper, he described his experience with the snakes of "Killing It" and shared a favorite memory of his time on "The Office."
Co-starring with snakes on 'Killing It'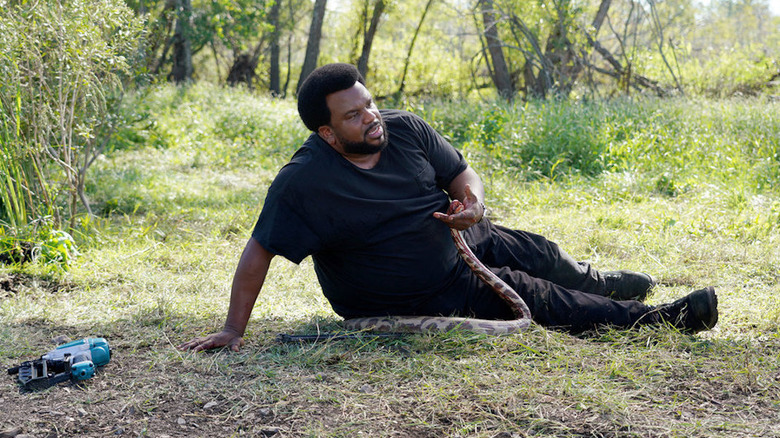 Alan Markfield/Peacock
It may seem strange to center a comedy around a snake-killing contest, but "Killing It" finds plenty of comedy in the absurdity of the situation. Still, snakes are fearsome to many people, making it understandably difficult to imagine co-starring with them on a TV show. Luckily, Craig Robinson shed his snake phobia years prior to appearing in the series, and therefore, he had a positive attitude toward the snakes he worked with.
"I was afraid of snakes 'til about 2015," Robinson confessed. "My band and I, we went to Australia, and then we ended up playing [and] singing to a cockatoo and holding koala bears and playing with snakes, and that's where I lost my fear of snakes. [In 'Killing It'], no snakes were harmed, and anytime we dealt with snakes, the anti-cruelty society was there. I want everybody to live life and celebrate. The snakes are no different, so it didn't change my perspective. I'm cool with snakes. I'm not going to the swamp and be[ing] like, 'Hey, snake. Come here; let's play.' But going in, I was like, 'Oh, man, I don't want to hurt the snakes in real life.'"
Remembering a favorite moment on The Office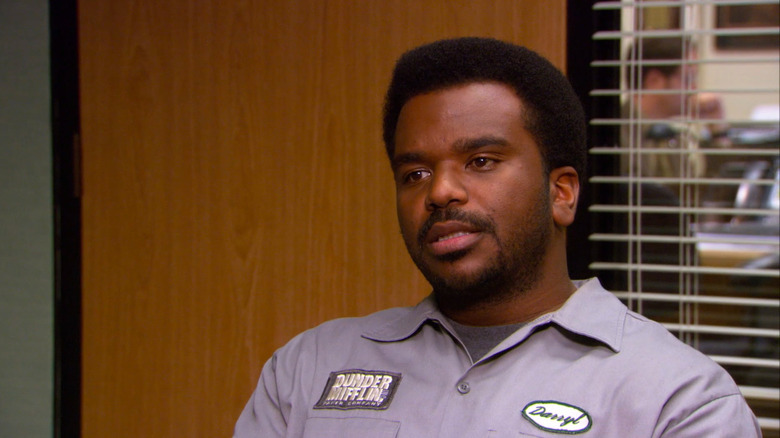 NBC
Craig Robinson didn't have to act opposite anyone quite so scaly in "The Office." Moreover, he was such a standout in the iconic comedy that after his character's introduction in the first season, his role continued to expand throughout the show. No doubt that means Robinson has plenty of noteworthy memories from that time in his career — but when asked for just one, Robinson reminisced about a noteworthy moment of ad-libbing between himself and Steve Carell's branch manager character, Michael Scott.
"In [the Season 3 episode] 'Negotiation,' I improvised a line where Michael was calling Jan. I'm like, 'Make it happen, Captain,'" Robinson recalled. "I didn't realize Steve had improvised back until I saw the episode. I said, 'Make it happen, Captain.' He said, 'I will make it happen, Sergeant.' I remember being like, 'Damn, that's so cold.' That was one of my favorite moments."
Craig Robinson can currently be seen in "Mona Lisa and the Blood Moon," which is available in theaters, on digital, and on demand.