How Hollywood Paid Tribute To Angela Lansbury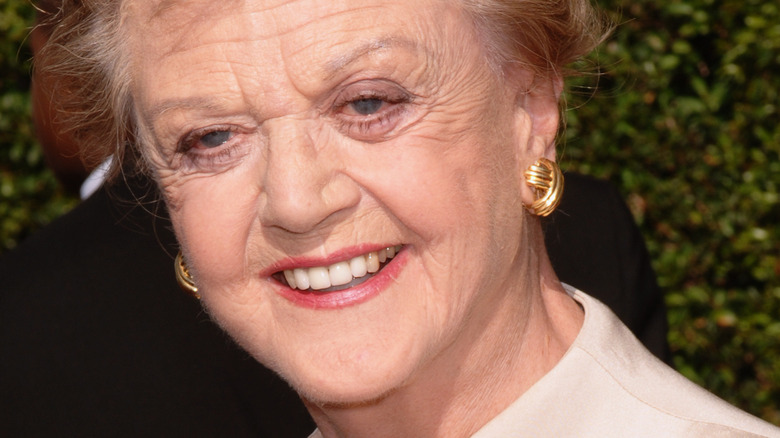 Featureflash Photo Agency/Shutterstock
If you grew up watching television in the 1980s and 1990s, you inevitably saw Dame Angela Lansbury. The accomplished actress was the face of CBS on Sunday nights, and she headlined the sophisticated, sleuth show "Murder, She Wrote" for an impressive 12 seasons. However, Lansbury was a Hollywood player 40 years prior to her taking on the role of crime-solving author Jessica Fletcher. "I was 59 years old," Lansbury said in an interview on Turner Classic Movies. "I didn't feel 59, but it's at the age where a lot of actresses are sort of taking a step backwards."
At only 17 years of age, Lansbury was cast in her first movie, "Gaslight," and her performance earned her a nomination for the Best Supporting Actress Oscar. "I always behaved as if the camera wasn't there," she recalled while talking about her acting experience. Lansbury's career was off to a torrid start, and only a year, later she was again nominated for Best Supporting Actress in "The Picture of Dorian Gray."
But Lansbury's immense talents were not limited to just television and cinema. She garnered a total of six Tonys (five awards and one lifetime achievement honor) during her distinguished Broadway career, and Disney fans will never forget her role as Mrs. Potts and her rendition of "Beauty and the Beast" from the 1991 animated film of the same name. Lansbury's death on October 11, 2022, generated an outpouring of tributes to the wonderful thespian, and Hollywood's generations are also reaching out.
Hollywood paid tribute to Lansbury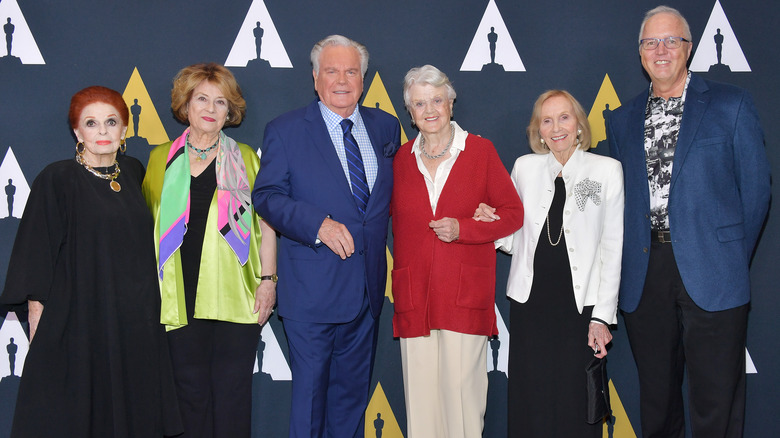 Amy Sussman/Getty Images
Following Angela Lansbury's death, a number of Hollywood talents reached out with words of sympathy as they remembered the wonderful actress. One of the most endearing tributes came from "Murder She Wrote" guest star, Raphael Sbarge. "Angela Lansbury, for all of us who had the extreme joy of working with her, loved actors," Sbarge posted via Twitter. "She cared deeply that we were taken care of, and made us feel like we were a part of her family. She was absolutely authentic, always kind, and something about her always touched my heart."
Likewise, fellow acting veteran George Takei took to Twitter to share a touching tribute to Lansbury. "A tale old as time, our beloved Mrs. Potts will sing lullabies to us now from the stars," he wrote in part, after referencing her adventures as Jessica Fletcher on "Murder, She Wrote." "Rest, great soul."
Actress Kristin Chenoweth is also a triple threat like Lansbury, but she is arguably best known for portraying Glinda the Good Witch in the Broadway musical "Wicked." "Nobody did Mame quite like her," Chenoweth shared on Twitter. "Rest in peace, Angela Lansbury. Thank you for your art & wisdom."
Josh Gad also mentioned Lansbury's Tony Award-winning performance of Mame Dennis in his tribute. "From 'Mame' to 'Bedknobs' to 'Murder She Wrote' to 'B&TB' to 'Mary Poppins Returns' she touched 4 generations. RIP Legend," Gad tweeted. 
Lansbury is survived by her three children Deirdre, David, and Anthony, according to a statement released by the family via People.