Adam Sandler Expects His Next Safdie Brothers Collaboration Will Be Just As Intense A Process As Uncut Gems
Kevin Winter/Getty Images
Josh and Benny Safdie, the directorial sibling team collectively known as the Safdie brothers, have been making feature films since the Bush era, but first broke onto the scene in a major way with their 2017 crime thriller "Good Time." Starring Robert Pattinson as a down-on-his-luck criminal desperate to rescue his brother from police custody after a bank robbery gone wrong, the film was a calling card for the brothers, firmly cementing a nightmarish, neon sleaze style of filmmaking that felt like a panic attack in slow motion. Moreover, it was a sea change for Pattinson's acting career, inspiring director Matt Reeves to write "The Batman" with Pattinson in mind.
That gritty style only grew sharper on the Safdies' 2019 follow-up, "Uncut Gems." Co-executive produced by Martin Scorsese and starring Adam Sandler as Howard Ratner, an amoral, silver-tongued jeweler, the movie careens manically between euphoric highs and stomach-churning lows. Like "Good Time" before it, "Uncut Gems" found an unlikely dramatic lead in Sandler, who, though not a stranger to drama, had previously been best known for his comedic roles. His frenetic performance, dripping with unfocused desire as Howard scams his way across New York's Diamond District, was described by The Guardian as a "glorious, career-best turn" from the former "SNL" star.
Now, in a new interview, Sandler promises that his next movie with the Safdies will live up to the intense creative process of "Uncut Gems."
The Safdie Brothers take every word and frame seriously, Sandler says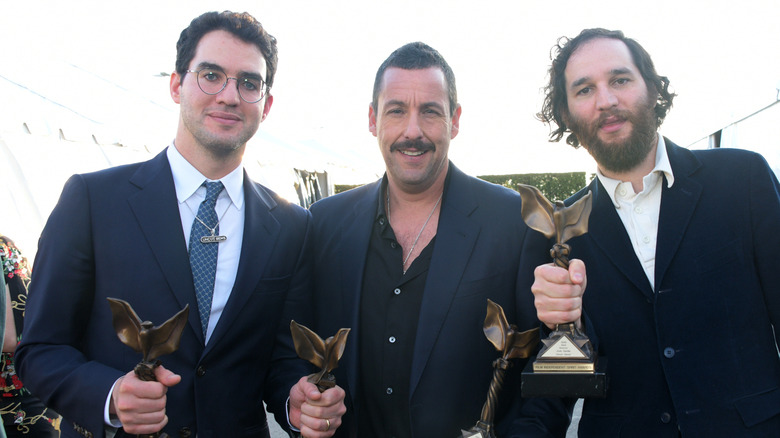 Araya Doheny/Getty Images
Speaking to Vanity Fair ahead of his upcoming Netflix film, "Hustle," Adam Sandler spilled on his upcoming Safdie brothers project, which he expects to be equally as high-pressure a process as "Uncut Gems." Noting that the film, a title for which has not yet been revealed, will begin shooting late this winter, Sandler is already looking forward to the rigorous filming process. "Once that Safdie brothers movie starts — and I love those guys — I know we're going to dedicate ourselves to working our a**** off and making sure it's as good as it can be, and I know that takes a lot of time. So, part of my brain is going, 'Wow, once that movie starts, I'm in deep and our lives are going to change.'"
The Safdies have become known for their fast-paced, guerrilla filmmaking, often shooting without permits in public spaces and capturing visceral, real footage of the world around them. As noted by The New Yorker, "Uncut Gems" was the first project for which they could afford the perks of high-budget filmmaking; they were miffed to see filming permits and crew trucks on location at 47th Street because it would interfere with their ability to capture the natural pace of life in the city. According to Sandler, his next collaboration with the brothers will be as intense to film as "Uncut Gems" because of that obsessive dedication. "I see how hard they work ... Every word means a lot to them, every frame of the movie means a lot. So I don't want to walk through anything. I care about it, and I respect those guys so much."