The 10-Year Journey That Led To Adam Sandler's Role In Uncut Gems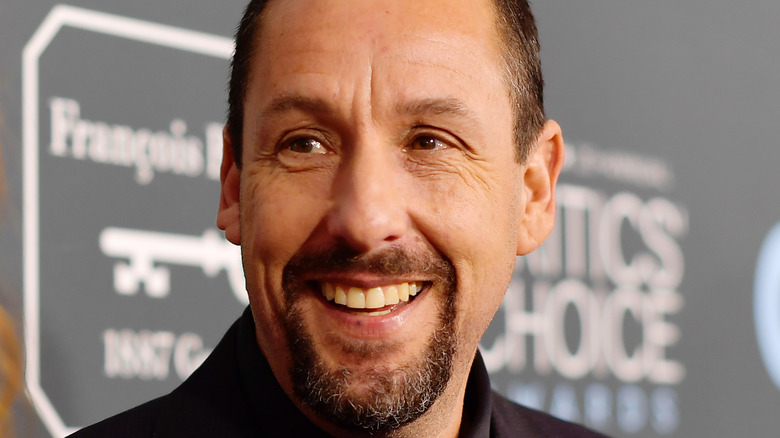 Matt Winkelmeyer/Getty Images
Adam Sandler has had no particular shortage of ups and downs in his career. He was, after all, one of the premiere comedic talents in showbiz during his mid-90s, early-2000s heyday — one whose movies mostly drew big at the box office even as they regularly drew the ire of critics who grew increasingly dismayed by his man-child schtick. Though Sandler occasionally impressed his haters with slightly more serious projects like "Punch-Drunk Love," and "Funny People," the man-child continued to dominate his work through much of the 2010s. And yes, during this period even his most steadfast fans seemed to be growing wary of it.
In fact, many wondered whether Sandler's showbiz reign might be nearing its end as the misfires began to pile up. Perhaps sensing as much himself, Sandler began seeking out more high-minded projects like Noah Baumbach's "The Meyerowitz Stories." But it's safe to say, amid the career ebbs and flows, his turn as a gambling addict spiraling out of control in the Safdie brothers pulse-pounding 2019 indie "Uncut Gems" was a legitimate high. Sandler delivered arguably the best performance of his career in the film, but it seems it was no easy feat to get the famed funny man to sign onto the project. In fact, it took the Safdies a full decade to get the superstar to commit to "Uncut Gems." Here's how it all went down according to Sandler himself. 
Sandler's manager turned down Uncut Gems a couple of times before he joined the project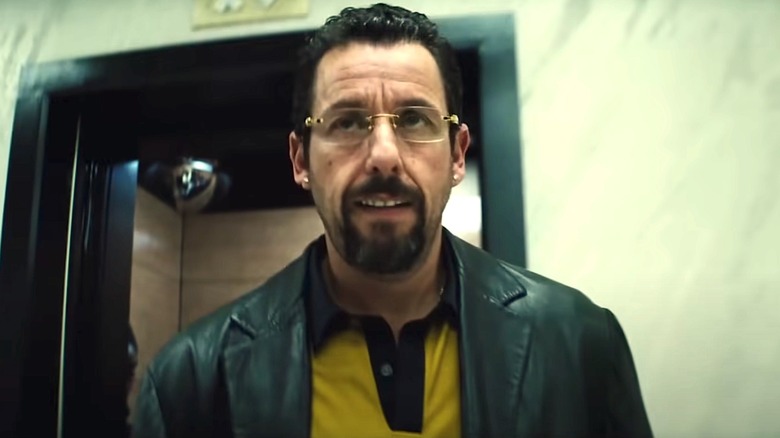 A24 Films/YouTube
Adam Sandler gleefully recounted the "Uncut Gems" casting ordeal during a 2019 appearance on Conan O'Brien's "Conan" (via YouTube). According to Sandler, "They [the Safdie brothers] wrote it for me about 10 years ago. They sent it to me. Sandy [Wernick] got ahold of it, my manager, and said 'Absolutely not.'" The actor continued, claiming that after his manager passed on "Uncut Gems," the Safdies unsuccessfully shopped the script to other actors. Fast forward five years, and they tried their luck with Sandler once again. For the second time, the "Uncut Gems" screenplay did not make its way to Sandler's hands, with his manager passing on his behalf. 
Another five years passed before they went back to Sandler with "Uncut Gems." In that time, however, the Safdies had built a bit of a reputation for themselves on the strength of lauded indie dramas like 2014's "Heaven Knows What," and the 2017 Robert Pattinson vehicle "Good Time," per The New Yorker. Those films may well have greased the wheels in getting past Sandler's manager. They certainly swayed Sandler, who told O'Brien that after reading the script, "I saw their other movies ... and I got excited to do it ["Uncut Gems"] with them." 
That hard-earned partnership garnered some of the best critical notes of Sandler's career (per Rotten Tomatoes). It even earned the man an Independent Spirit Award for Best Male Lead, an opportunity he used to hilariously skewer the Academy of Motion Picture Arts and Sciences after his Oscars snub. And yes, according to Entertainment Weekly it also earned Sandler a follow-up project with the guys who waited a decade to land him for "Uncut Gems."