Adam Sandler To Reunite With Safdie Brothers For A New Movie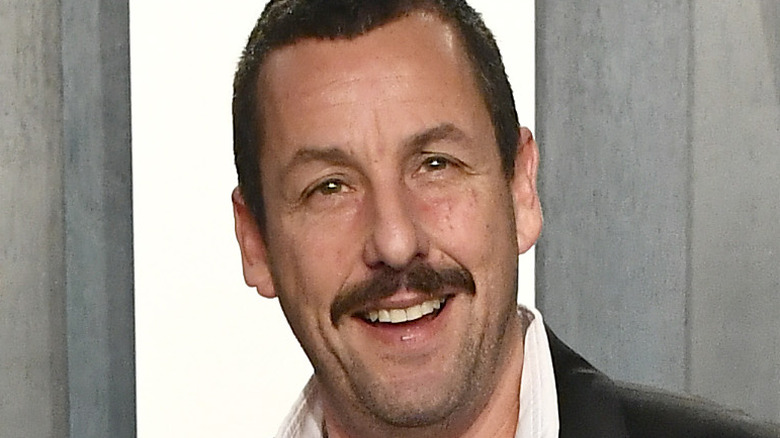 Frazer Harrison/Getty Images
Brothers Josh and Benny Safdie teamed up with legendary comedian Adam Sandler to make movie magic in 2019 with "Uncut Gems." The shockingly chaotic movie features Sandler as Howard Ratner, a New York City jewelry store owner who seemingly owes money to everyone in midtown Manhattan's Diamond District. In the movie, Ratner schemes to pawn a rare gem he smuggles from Nigeria to the United States to pay off his significant debt to his brother-in-law Arno (Eric Bogosian). Ratner's life and business fall apart over the course of several days as he struggles to sell the gem for what he believes it's worth.
Sandler's impressive, high-energy performance in a dramatic role made "Uncut Gems" a dark horse candidate for several film industry awards in early 2020. While the A24 project was snubbed at the 92nd Academy Awards, "Uncut Gems" won three Independent Spirit Awards that year, including one for Sandler's highwire performance. So, it shouldn't come as too big of a shock that Sandler appears to be ready to team up with the Safdie brothers once again.
Adam Sandler and the Safdie brothers have a new project in the works
According to Entertainment Weekly, Adam Sandler confirmed in an interview that he will work with the Safdie brothers on a new film. Sandler offered no details about the project, saying he will let the Safdie brothers make announcements and discuss the new film in their own time.
"They're working hard on it," Sandler told EW about the writer-directors. "Their work ethic is bananas. They're always working, always writing, always thinking. I don't know what I can tell you, but it's gonna be very exciting. It's different."
The Safdie brothers' new movie with Sandler seems poised to be their seventh feature-length film project. While the writing-directing duo and Sandler have not collaborated on any feature-length films since 2019, they released a short film called "Goldman v. Silverman" featuring Sandler and Benny Safdie as New York City street performers in early 2020 (via EW). In addition to this new film project, the Safdies are still reportedly expected to collaborate with comedian Nathan Fielder and Oscar-winner Emma Stone on an upcoming comedy series called "The Curse" for Showtime. In December 2020, The Hollywood Reporter wrote that the Safdies were expected to executive produce the reported HGTV-style satire with Fielder; he and Benny Safdie will reportedly act in this project alongside Stone.