James Wan's M3GAN: What's The Song In The First Trailer?
Modern master of horror James Wan is at it again with the upcoming flick "M3GAN." Produced by Wan, the film is about a lonely little girl who forms a friendship with an A.I. android in the wake of losing her parents. The life-like doll begins to have a mind of its own and will protect her new best friend at any cost. With its plot reminiscent of "Child's Play," the film will surely have those with fears of dolls squirming in their seats. The terrifying trailer for "M3GAN" already has fans freaking out and dissecting every frame.
In addition to producing, Wan also has a co-story by credit on the film along with his "Malignant" co-writer Akela Cooper, who wrote the screenplay for "M3GAN." Wan and Cooper will also be teaming up later on in 2023 for "The Nun 2," with Cooper providing the script and Wan the story. Gerard Johnstone directed "M3GAN," which is his second feature film following the 2014 horror festival darling "Housebound." Blumhouse, the production company behind "The Black Phone" and "Halloween Ends," will be releasing the film. 
With that level of pedigree, it's no wonder that horror fans are already obsessing over "M3GAN." Many are also likely wondering what the song is that is featured in the trailer.
The trailer uses a Taylor Swift song to great effect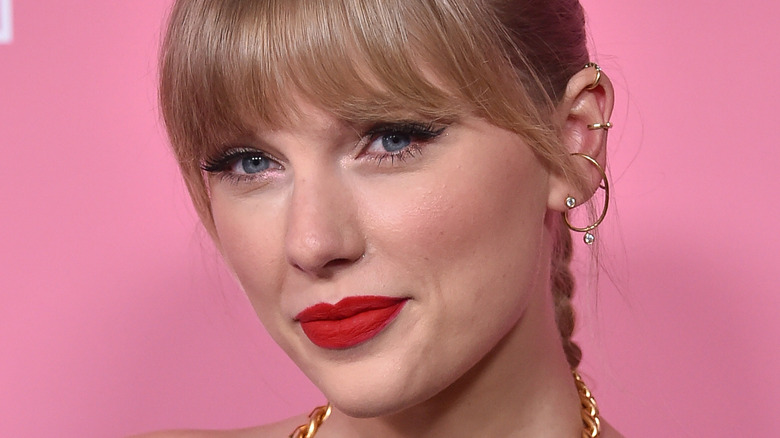 DFree/Shutterstock
Swifties will be quick to point out that the "M3GAN" trailer is using the song "It's Nice to Have a Friend" by Taylor Swift. Hearing it in the trailer, the song seems "Tayor-made" (pun very much intended) for a horror movie. It is used creepily, mixed in with the trailer's horror score. "It's Nice to Have a Friend" is from Swift's seventh studio album "Lover" from 2019. It was not released as a single, but Billboard called it "the most captivating song" on the album.
Fitting in almost perfectly with its use in the "M3GAN" trailer, Billboard says of the song, "The production's ghostly combination of choral backing vocals, gently gleaming steel drums and tenderly plucked harps is simultaneously comforting and unsettling, like the final scene of a slasher movie where maybe everything's finally all right, or maybe the knife is coming for the surprise death blow."
In 2022, Swift also contributed the haunting song "Carolina" to the film adaptation of "Where the Crawdads Sing," which was also heavily featured in that film's trailer. The pop stylings of Swift and the macabre visuals of horror may not seem like a match on paper, but in practice, the versatile singer's work pairs perfectly, as evidenced by the "M3GAN" trailer.
"M3GAN" arrives in theaters on January 13, 2023