A Lonely Girl Gets A Terrifying New Best Friend In The Trailer For Blumhouse's M3GAN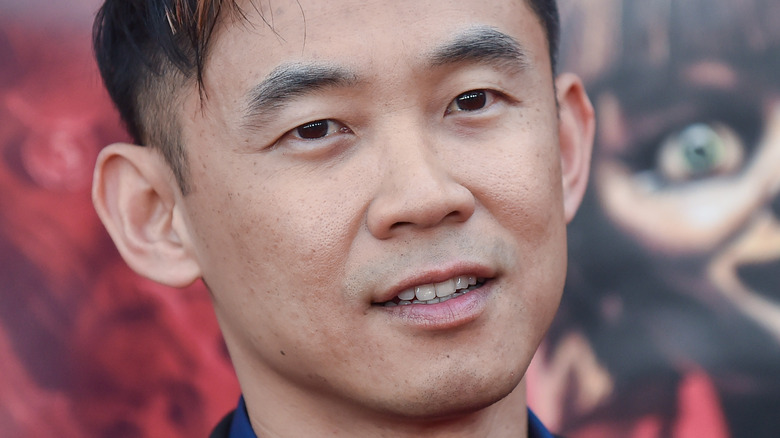 DFree/Shutterstock
Blumhouse Productions is a studio most fans of modern horror are no doubt familiar with. While fellow horror superstar studio A24 is all too happy to dive headfirst in unnerving arthouse, Blumhouse has been achieving success with series like "Paranormal Activity," "Insidious," "The Purge," and the new "Halloween" movies. As for non-serialized brilliance, the studio has produced projects like Jordan Peele's "Get Out." 
With Blumhouse's demonstrated genre success, it's probably fair to say that whenever the studio has a new movie on the pipeline, a good few scary movie aficionados are waiting to see what's what. When it comes to director Gerard Johnstone's "M3GAN," however, they just might get more than they bargained for. This sci-fi horror flick is based on a story by "Furious 7" and "Aquaman" helmsman and terrifying movie expert James Wan. Wan's horror roots run deep, thanks to his involvement in the "Saw," "Insidious" and "The Conjuring" franchises. Now, he has crafted a tale about a life-like robot doll ... which, by the looks of the movie's trailer, will give Chucky a run for its money as the creepiest horror movie doll around. 
A murderous robot doll promises a bloody good time
In the new trailer for Blumhouse's "M3GAN" (via YouTube), toy company worker Gemma (Allison Williams of "Girls" fame) tries to help her orphaned niece Katie (Violet McGraw) by introducing the girl to an AI-guided robot companion the company has been working on. The robot girl is called Megan, and the real and artificial girl bond instantly. 
A part of Megan's programming is to keep her human safe from all sorts of harm, no matter the cost. The robot soon proves to be very good at its job, to the point that it starts refusing Gemma's commands, and prioritizes Katie over everything ... and everyone. 
The trailer isn't shy about revealing Megan as a full-on horror monster. This is only to be expected, but what most certainly isn't expected is what kind of villain the AI toy turns out to be. From its unnervingly pleasant, ever-so-slightly distorted voice (courtesy of Kimberley Crossman) to its unnaturally fluid and flexible movements (as portrayed by Amie Donald), the crafty, murderous robot doll is an interesting addition to Blumhouse's ever-growing cavalcade of memorable movie monsters.  
"M3GAN" premieres in theaters on January 13, 2023.