Where You've Seen The Cast Of Ramy Before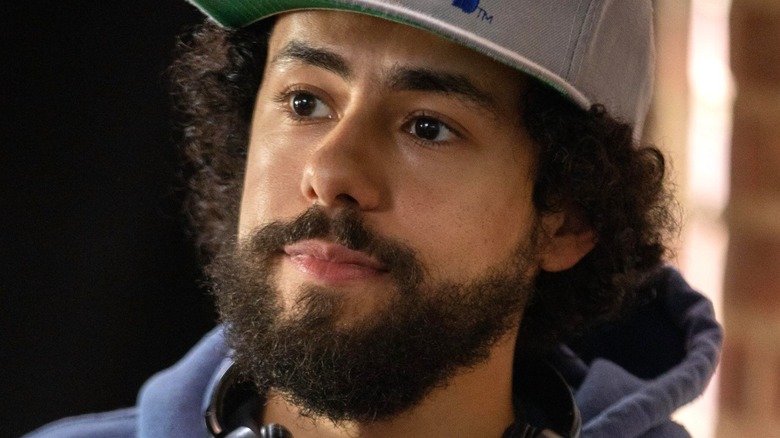 Craig Blankenhorn/Hulu
In 2019, "Ramy" entered the ranks of auteur-driven comedic dramas created by stand-up comedians, a genre pioneered by now-infamous comedian Louis C.K. However, "Ramy" joins shows like "Atlanta" and "Master of None" in proving that by incorporating elements like absurdism, specificity, and even changing locations, TV comedies offer something that fans didn't realize they needed. The show's creator, Ramy Youssef, was handsomely rewarded with a Golden Globe for his efforts.
"Ramy" follows Ramy Hassan, a first-generation American Muslim, as he struggles to adapt to adulthood's ever-increasing pressures while remaining a good Muslim. However, as the show progresses, episodes shift focus to supporting characters, providing the audience with various perspectives on the universal imperfection that exists in all of us through the lens of Islam. This means that in some episodes Ramy Youssef does not appear at all, and the spotlight is cast on other characters. Additionally, almost every other episode features a notable cameo from an actor playing a character so far outside their usual wheelhouse that they vanish in their role.
The casting choices in "Ramy" contribute to the show's depiction of America as a tapestry of cultures, attitudes, and races. So, in the spirit of reminding fans and celebrating the talent that brought the show to life, let's look at the actors who have appeared on "Ramy." Here's where you might have seen the "Ramy" cast before.
Ramy Youssef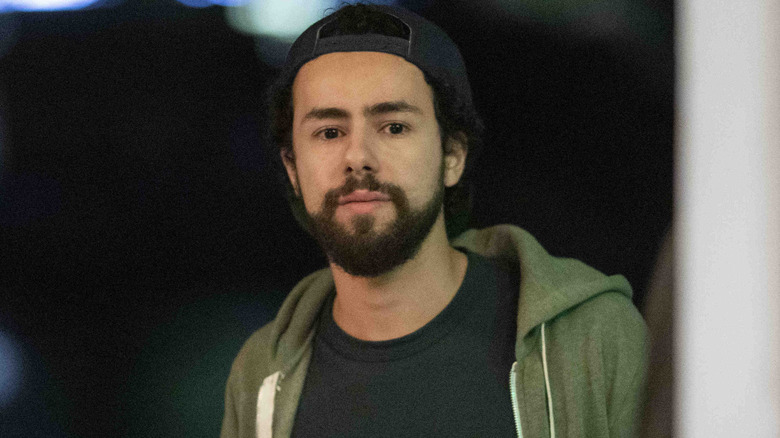 Hasan Amin/Hulu
Ramy Hassan (Ramy Youssef) is a millennial from New Jersey and a first-generation American Muslim in "Ramy." His struggles frequently revolve around his attempts to live a life anchored by his Muslim faith while also adapting to his generation. Sadly, Ramy often fails to achieve both, making it challenging to maintain any sort of balance. Moreover, because his life's two guiding principles are opposed, his attempts to redeem himself in one way usually lead him further away from another code.
Ramy Youssef created "Ramy" based on his own family and life experiences. Some of the show's sequences are lifted directly from Ramy's stand-up comedy bits. Fans most likely recognize him from his HBO comedy special "Ramy Youssef: Feelings," which helped propel "Ramy" to success. Prior to that, he had a memorable recurring role in "Mr. Robot" as the morally ambiguous Samar Swailem. Some eagle-eyed viewers may even recognize Ramy Youssef from Nickelodeon's short-running series "See Dad Run."
Of course, Ramy Youssef wasn't the best actor for the role simply because Ramy Hassan is named after and modeled after him. Larry David famously based George Constanza on himself in "Seinfeld," and it's difficult to argue that Jason Alexander was anything but the best choice for the role. Instead, Ramy Youssef is the ideal choice for the part because he has a keen sense of when to act dramatically and when to play the straight man in the absurd world of "Ramy."
May Calamawy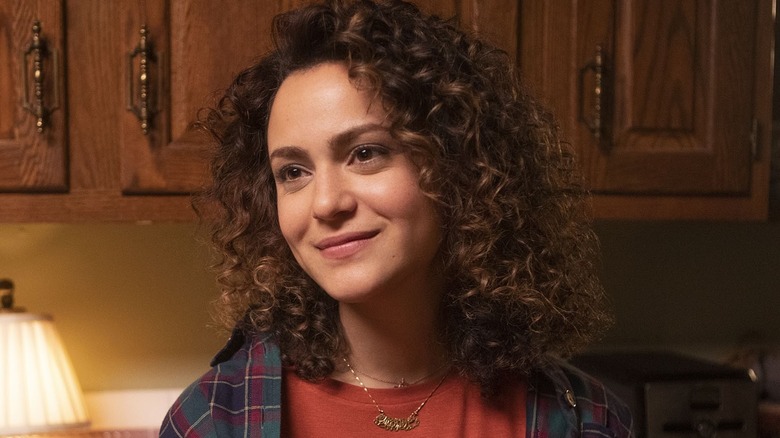 Hulu
Watching "Ramy" is like peeling an onion. For example, when viewers question Ramy Hassan's self-destructive choices about halfway through Season 1, the show abruptly shifts focus to Dena Hassan (May Calamawy). In contrast to her brother, Dena, Ramy's sister initially appears to be in control of her life. However, the fact that she is a woman makes her subject to the majority of her parents' scrutiny. Dena also has to balance her education and sexuality while trying to live up to the expectations of what an ideal Muslim woman at her age should act like.
May Calamawy's path to her role in "Ramy" is dotted with bit parts in obscure films. The most notable of these was "Djinn," along with cameos in shows like "Madam Secretary" and "The Brave," but "Ramy" was her big break. Calamawy's career took off after that. During off-season breaks from "Ramy," she appeared in the comedy "Together Together" with Ed Helms, and she also appeared in the critically acclaimed MCU series "Moon Knight" with Oscar Isaac.
May Calamawy's portrayal of Dena on the show works so well because Calamawy has previously shown that she can steal the show if given the smallest of opportunities. Dena has had one of the most intriguing arcs of any of the characters throughout "Ramy," with plenty of credit going to Calamawy for always retaining the audience's attention throughout that journey.
Hiam Abbass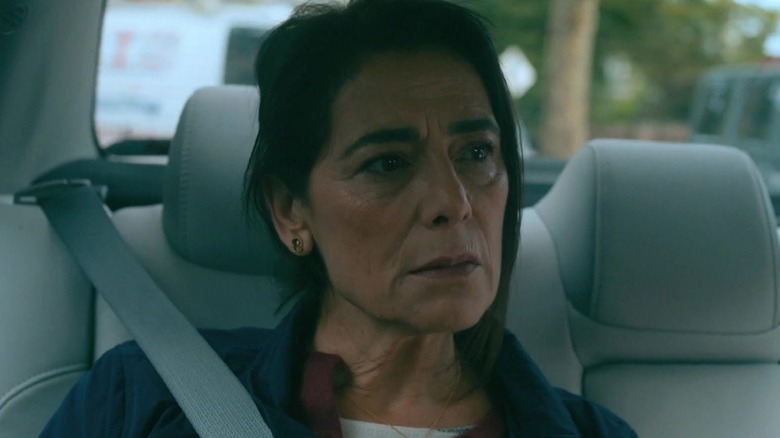 Hulu
One of "Ramy's" most charming episodes, "Ne Me Quitte Pas," airs in the final half of Season 1. In the episode, Maysa Hassan (Hiam Abbass), who is lonely in her life, decides to work as a Lyft driver in an effort to meet new people. It starts disastrously, but she eventually meets a fellow French speaker, and the two form a close friendship because they share many characteristics. The episode appears to be standalone, but what it lacks in overall story development, it makes up for by making full use of underrated veteran Hiam Abbass' range as an actor.
Hiam Abbass is perhaps best known for her role as Logan's wife, Marcia Roy, in the HBO hit drama "Succession." However, the term veteran is not thrown around casually. Her previous notable credits include "Blade Runner 2049," "The Visitor," and "Munich." Her most memorable role, however, is that of Amal in the drama "Syrian Bride," which examines the conflict along the Israeli border. The Boston Globe called Abbas "a poignant treasure" for this role.
Hiam Abbass has had several memorable moments since the enchanting Season 1 episode of "Ramy." Still, "Ne Me Quitte Pas" remains a highlight as she demonstrates that in just a single episode of a half-hour television show, she could be endearing, charming, and awkward to the point where she could convince every viewer. Undoubtedly, such skill can only be honed after a career as long as Abbass'.
Amr Waked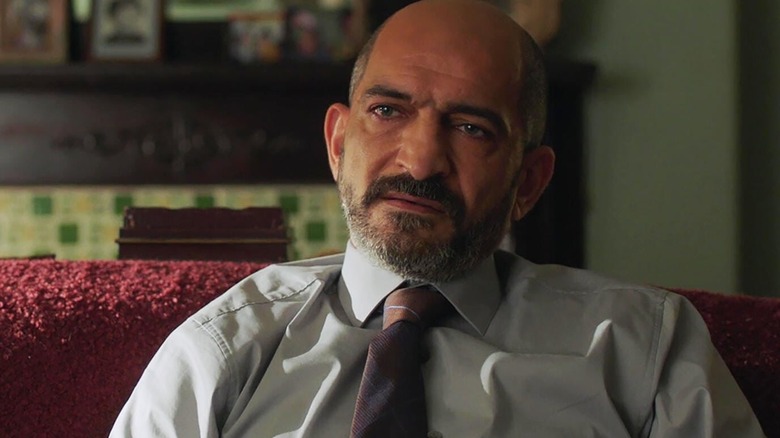 In "Ramy," Farouk Hassan (Amr Waked) is the patriarch of the Hassan family. However, as the show progresses, Farouk's self-worth begins to erode after he loses his job. He starts by pretending he still has a job and then begins investing in risky business deals that promise to make him rich quickly. His relationship with his family, particularly with his wife, begins to deteriorate, and he gradually realizes that his role must shift to be what his family actually requires of him.
Amr Waked stamped his name onto the international scene in the critically acclaimed film "Syriana," which starred George Clooney. Waked also appeared on HBO's "House of Saddam," as well as in films such as "Wonder Woman 1984," "Lucy," and even the eerily accurate viral outbreak drama "Contagion." Waked's career has been bolstered by his ability to use his commanding physicality to project whatever image the script requires of him.
Amr Waked's portrayal of Farouk is compelling because he knows exactly how to create discordance between the way he looks and how he acts. He often projects an infallible demeanor while revealing flaws in his armor to the audience. For instance, even when delivering a line meant to convey self-belief to his family, Waked's voice will subtly crack to show his character's lack of confidence. This complexity helps make Farouk Hassan one of Waked's best performances to date.
Michael Chernus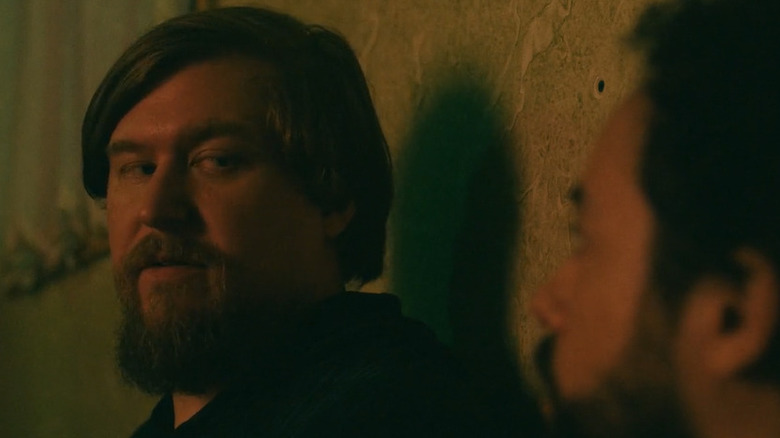 Hulu
Ramy is always looking for a new mentor to help him live a life that respects and honors the Muslim faith. One such mentor, played by Michael Chernus and simply named Michael, was a chance encounter he made while visiting the mosque in the Season 1 episode "A Black Spot on the Heart." Ramy listened as Michael told him that trying to define himself through deeds he would never commit was just an ego trip and that life wasn't just about weighing your good deeds against your bad ones. Instead, it's all about what's in your heart, and even though sin, according to Islam, creates a black spot in your heart, you can always clean it up later.
Michael Chernus is what Hollywood affectionately refers to as a character actor. That is an actor who takes on various roles and immerses themselves in that world rather than carrying a recognizable personality in all their projects. As a result, Chernus has often disappeared in shows such as "Orange Is the New Black," "Severance," and even notable films such as "Captain Phillips" and two Noah Baumbach films, "The Meyerowitz Stories" and "Mistress America."
Michael enters Ramy's world and encapsulates an important theme — help will often come from unexpected places, and it's never too late to redeem yourself. Plus, he managed to do all this without being distracting.
Mahershala Ali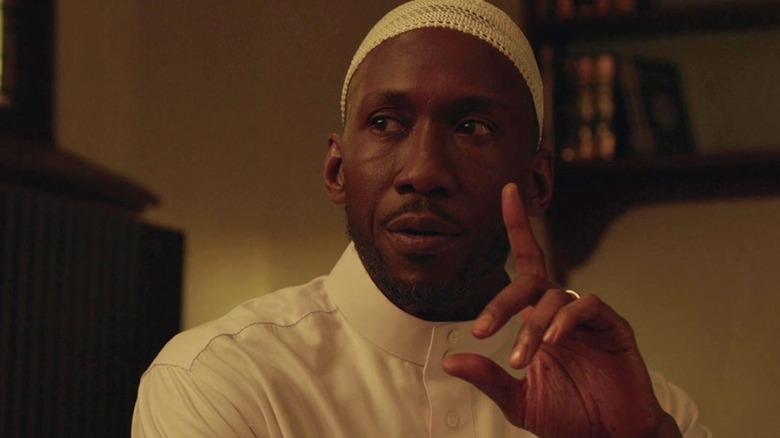 Hulu
Ramy feels even more lost when Season 2 begins — especially since his trip to Egypt at the end of Season 1 didn't go as planned. Ramy starts to rely more and more on his faith, and he meets Sheikh Malik (Mahershala Ali) at the mosque. Sheik Malik becomes Ramy's mentor for the duration of Season 2, teaching him lessons in patience and ambiguity in particular. Ramy eventually falls in love with his daughter Zainab (MaameYaa Boafo), and the two get engaged. Ramy feels that the advice Sheik Malik gives him will finally "fix" him — at least in Ramy's opinion.
Mahershala Ali is perhaps the most famous of the stars who have appeared in "Ramy." He is a two-time Academy Award winner for "Moonlight" and "Green Book" among many other honors. However, his breakthrough came from television in his supporting role on Netflix's "House of Cards." Despite all of his accolades, he only recently had his debut leading role in "Swan Song" — although he plays "Blade" in the highly anticipated MCU film.
Ali was an ideal choice for his role in "Ramy" because, as Ramy Youssef pointed out to Salon, "Black Muslims are barely depicted" on television, despite making up a significant portion of the U.S. Muslim population (via Pew Research Center). In terms of content, Mahershala Ali already proved on "Moonlight" that few people can play an inspiring mentor as well as he can.
Bella Hadid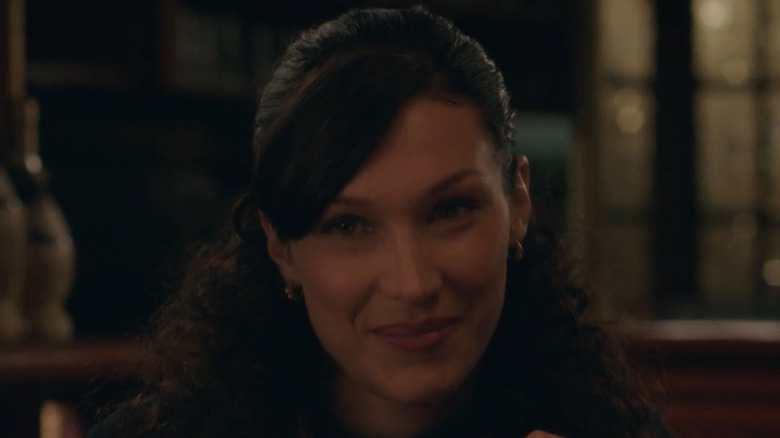 Hulu
Ramy typically responds to failures in his personal life by doing the exact opposite of what didn't work in the past. So, while Season 2 begins with him being overly religious, Season 3 finds Ramy focused on business. He's doing well, but he doesn't have much time for his friends and family. However, one night his longtime friend Steve invites him to dinner to introduce Ramy to his extremely awkward girlfriend, Lena (Bella Hadid). Instead of focusing on his friends, Ramy pushes them to accompany him on one of his adventures, which turns out to be a disaster.
Although Bella Hadid has never appeared in another TV show or film before "Ramy," she is easily one of the most recognizable supermodels of her generation. You name the fashion publication, and Bella Hadid has most likely been featured in it. However, this is not how supermodels typically break into the movie business. Instead, it usually occurs in more flashy films. Bella Hadid admitted as much in a GQ profile. "People probably thought that my first acting job would be something super sensual and sexy," she told GQ.
However, in "Ramy," Bella Hadid instead plays a socially awkward young woman who only feels comfortable talking about how much she enjoys "The Office." Finally, Bella Hadid — who is Muslim — shared with GQ that what appealed to her the most was the opportunity to be around like-minded people who share her culture, something she has found lacking in the industry.
Mohammed Amer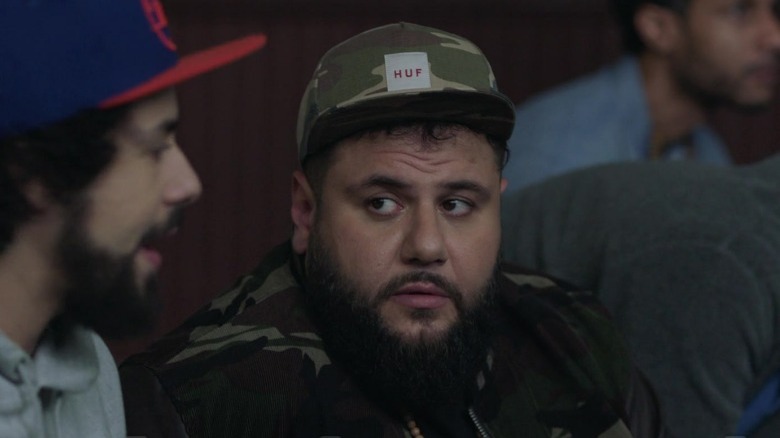 Hulu
Mo (Mohammed Amer) is one of Ramy's closest friends. Before we even see Mo in Season 1, Ramy's mother expresses her surprise that Mo is marrying before Ramy. That's not without reason. Mo is more accepting of who he is and what he wants and works with his Muslim faith to accommodate his life, whereas Ramy frequently tries to remake himself to accommodate his faith. However, this often leads to Mo being misinterpreted as a person with loose principles and little self-control.
When Mohammed Amer joined "Ramy" he was perhaps best known for his stand-up set at "The Late Show with Stephen Colbert." Before that, he had spent years opening for Dave Chappelle, which resulted in his own Netflix comedy special titled "Mo Amer: The Vagabond." However, those who watched "Ramy" after the first few seasons generated buzz may have already seen Mohammed Amer in another Netflix show called "Mo," which shares some elements with "Ramy" in that it follows a first-generation American Muslim millennial, although it has many features that set it apart. Still, it is worth mentioning that Ramy Youssef is a co-creator of "Mo."
Mohammed Amer is yet another example of perfect casting for the show, as he knows how to deliver jokes in any circumstance. Even when he is the punchline, he still delivers enthusiastically.
Dave Merheje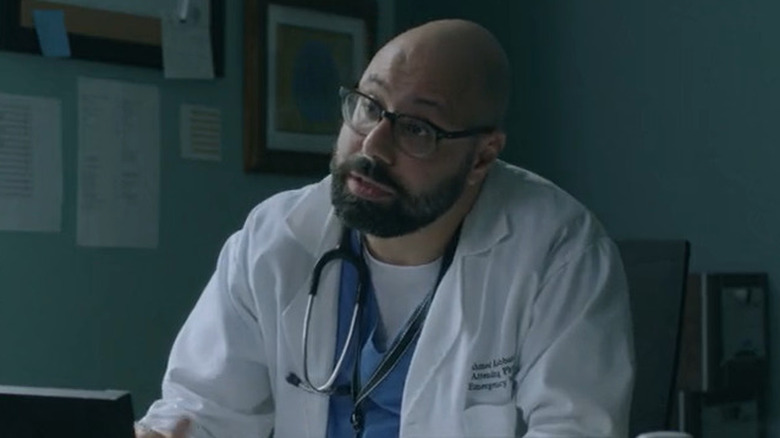 Hulu
Ahmed (Dave Merheje) is another close friend of Ramy's. However, unlike his other friends, Ahmed appears to have everything under control. As a doctor, Ahmed has a steady and impressive job. He also has a wife and he is usually the voice of reason in all of their antics. In Season 3, Ahmed finally gets his own episode, which explores polygamy within the Muslim community and his wife's decision not to have children.
Dave Merheje is primarily well-known in the Canadian comedy community. He even received a Juno Award for his comedy album "Good Friend Bad Grammar" (via CBC). However, his fans are most likely familiar with his work from the Canadian sitcom "Mr. D," where he played Dave Bechara.
Ramy Youssef has joined the long list of stand-up comedians turned show creators who prefer to cast comedians in their TV shows. Merheje's comedy style delivers dry situational humor inspired by slice-of-life scenarios, so it's easy to see why Ramy Youssef chose him when casting Ahmed.
Molly Gordon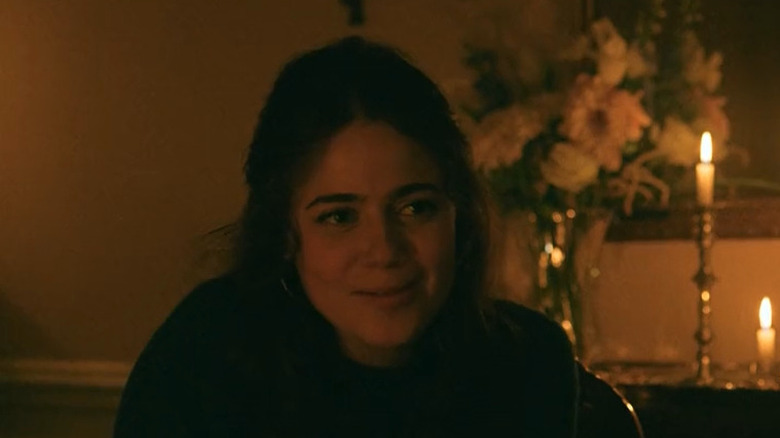 Hulu
When Ramy meets Sarah (Molly Gordon), he is feeling disillusioned in many ways. Ramy doubts he'll ever sell his app and hasn't felt a genuine connection with a woman in a long time. So when Ramy's uncle, and new boss, sends him to conduct a jewelry transaction in the home of an elderly Jewish man, it feels like a blessing in disguise when he instantly connects with Sarah. However, when she asks Ramy to cross his boundary of using drugs, they both realize their new relationship is doomed.
Prior to her brief appearance on "Ramy," where she served as a foil to Ramy's hypocrisy. Molly Gordon appeared in Olivia Wilde's debut film "Booksmart" and played Melissa McCarthy's daughter in "Life of the Party." She also appeared as a guest star on "Orange Is the New Black," but she is most famous for her role in "Animal Kingdom." Later, she portrayed real-life figure Linda Zafrani in HBO's impressive "Winning Time: The Rise of the Lakers Dynasty."
Sarah holds her own when Ramy goes back and forth with her when they first meet, in a way that makes viewers completely believe that this is Ramy's soulmate. Just for that, Gordon had clearly earned her appearance on "Ramy."
Christopher Abbott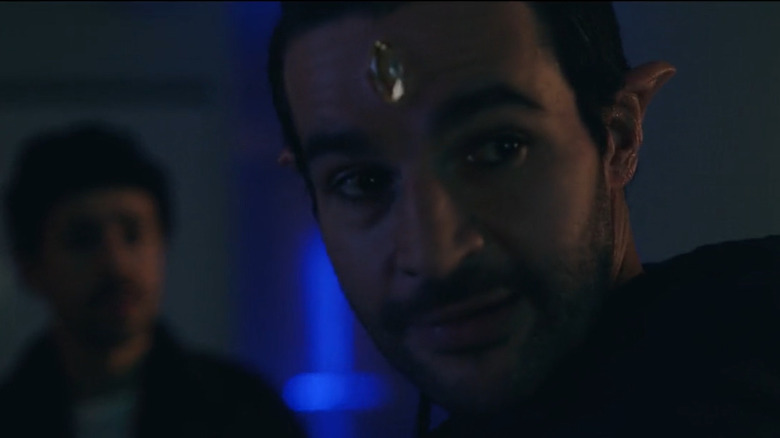 Hulu
In Season 3, Ramy's selfish streak continues as he abandons his dinner and subsequent trip to wrestling with his friend Steve and his new girlfriend, Lena. Instead, he decides to try to get a diamond cut that night when he could have simply waited. He drags Steve and Lena along with him to a meeting with Silvak (Christopher Abbot), who persuades Ramy to join him on yet another trip around town. Ramy agrees and brings Steve and Lena along, jettisoning their previous plans. Silvak's strange behavior alienates Ramy even more from his friend, Steve.
Christopher Abbot is no stranger to television. and can be seen playing Charlie on HBO's "Girls." He later played the lead, Yossarian, in George Clooney's miniseries "Catch-22." He has also appeared in thrillers such as "Black Bear" and "Vox Lux." However, one of his most notable roles was in Damien Chazelle's "First Man," in which he appeared alongside Ryan Gosling.
Abbot is a promising talent, which he demonstrates when he effortlessly manages to elevate his characters' creepy demeanor into something grounded in reality — which somehow makes his characters even weirder. This explains why he was the perfect choice for Silvak.
James Badge Dale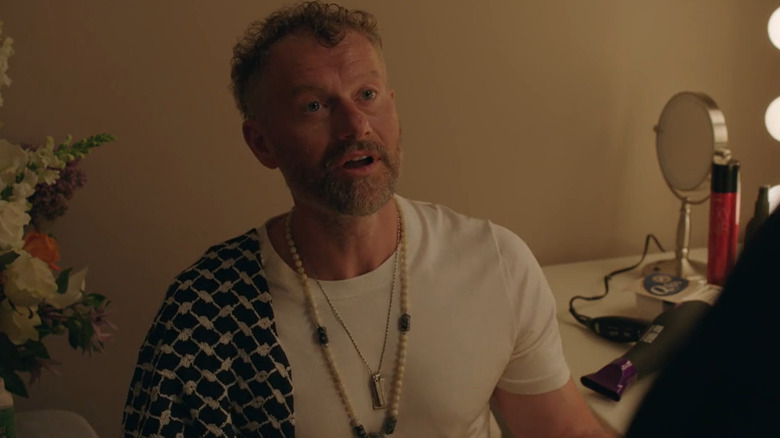 Sheikh Abu Bakar Miller (James Badge Dale) is one of Season 3's highlights. Ramy's associate appropriately refers to him as "the great white Shiekh." Sheikh Abu Bakar Miller is a Muslim influencer whose sole goal is to make money. Ramy is nervous about approaching him because he only wants to use the Sheikh to advertise his jewelry, but Sheikh Abu Bakar is more than willing to accept his offer. He even presents Ramy with predefined revenue splits from his endorsement.
Highlights of James Badge Dale's career include his role as a dirty cop in Martin Scorsese's "The Departed," as well as a slightly similar role on "24." Other notable film credits include Michael Bay's "13 Hours" war drama and Nia Dacosta's thriller "Little Woods."
James Badge Dale has mastered the art of bringing a villain to life. He may be underappreciated in many circles for his abilities, but "Ramy" clearly recognizes his worth. They not only make use of Dale's best traits as an actor, but they also make him very, very funny.
Laith Nakli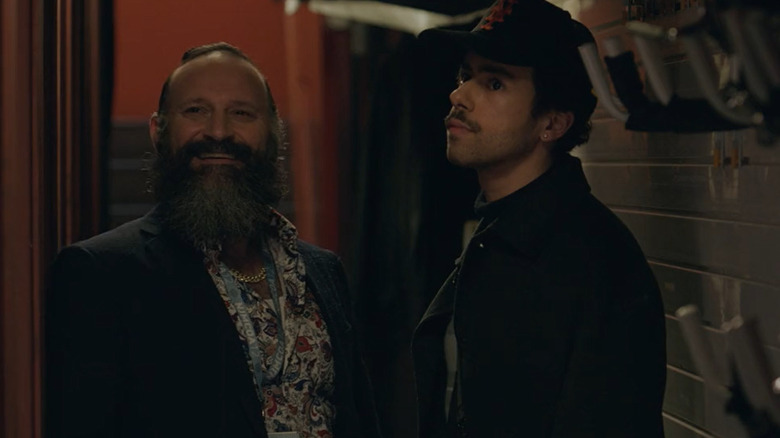 Hulu
Uncle Naseem (Laith Nakli) is one of the most enigmatic characters in "Ramy." He's easily one of Ramy's family's least likable members. He has misogynistic views and is unkind to his family. However, as we learn more about him, we realize that Uncle Naseem is struggling with his sexuality. His fragile masculinity is fueled by his attempt to appear more heterosexual and dispel any potential suspicion about his sexuality. As a result, Uncle Naseem is both repulsive and sympathetic to the audience.
Laith Nakli made his screen debut in one of the most popular shows of all time, "The Sopranos." Following that, Nakli landed roles on the long-running TV dramas "Blindspot" and "24: Legacy." In 2019, he also appeared in the psychological thriller "Swallow." 
"Ramy" gives Nakli the chance to break typecast. Nakli plays his role of "Ramy" with a level of complexity that he has not previously demonstrated in significant roles.
Poorna Jagannathan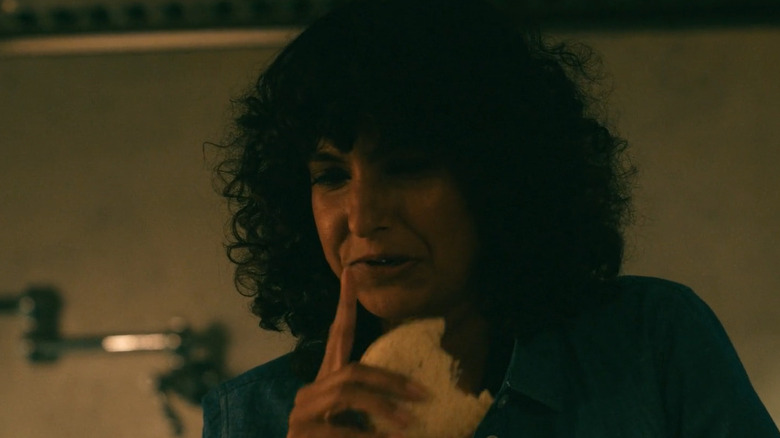 Hulu
During Ramadan, Salma (Poorna Jagannathan) meets Ramy at the mosque. Ramy has already decided to take the holy month seriously and refrain from having sex. He takes a break from Sarah specifically to ensure this. However, Salma and Ramy hit it off that night at Salma's house after Ramy accompanies her home, and Ramy ends up sleeping with her — despite the fact that she is a married woman and it is Ramadan.
Poorna Jagannathan has appeared in numerous films and television series, including "Never Have I Ever" and "Big Little Lies." In film, she has appeared alongside Hollywood legends such as Mark Wahlberg and Tom Hanks in "Mile 22" and "The Circle," respectively.
Poorna Jagannathan takes on the silver screen with a demanding poise. Whenever she appears on screen her cadence always gives the impression that she's in charge of every conversation. She rarely portrays roles that lack some sort of distinction. In "Ramy," she completely controls the interactions between her character and the lead.