Critics Have Some Strong Opinions About Louis CK Comeback Film Fourth Of July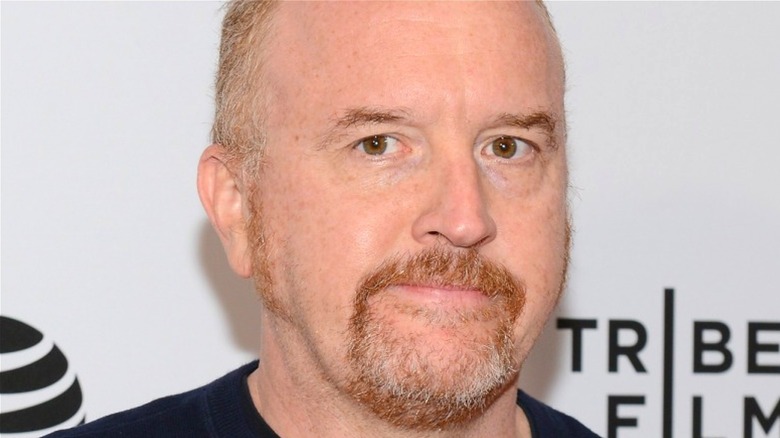 Noam Galai/Getty
In November of 2017, the New York Times reported that comedian Louis C.K. had been accused of sexual misconduct by five women. Later that month, he admitted to the women's allegations and apologized (via The Guardian). Consequently, he was dropped by his publicist. Further, HBO removed his comedy specials, Netflix canceled a planned standup special and FX (which Louis C.K. had worked with for eight years), cut ties with the comedian and with his production company (via Vox). The comedian also had a film titled "I Love You Daddy" that was planned to be released that year, but was pulled by its distribution company, The Orchard.
Despite the career repercussions and the admittance of sexual misconduct, Louis C.K. has continued working since 2017. In 2020 he released a comedy special to his website, in which he makes light of his sexual misconduct against women, as reported by Variety. Further, just this year, he even won the Grammy for best comedy album, which led to more backlash against the comedian (via New York Times).
The comedian's next career move is a new indie film, titled "Fourth of July," which he directed and co-wrote alongside Joe List (via Variety). It follows a recovering alcoholic, Jeff (List), from New York City who finds himself butting heads with his family on a Fourth of July vacation. Louis C.K. appears in a small role. The film has only made its way to a small number of indie theaters throughout the county, making it a bit more difficult for the average viewer to check it out, but one may not want to seek it out after hearing what critics have to say about the film.
Critics are not loving Fourth of July
So far, the few critics who have seen and reviewed "Fourth of July" are not in favor of it. (Only a few reviews of the film have been published at this point, reflecting the film's struggle to get into mainstream movie theaters).
Frank Scheck of The Hollywood Reporter noted that the bickering family drama is something that has been done quite a few times before and that "Fourth of July" lacks the sharp dialogue or distinctive characterizations to make it stand out. Alluding to the fact that the film is semi-autobiographical to List's life, Scheck added, "The film feels like it must have been personally therapeutic for its star and co-writer, but List never manages to make us relate to his character's perpetual navel-gazing."
As for the presence of Louis C.K., Glenn Kenny of the New York Times argued that his roles as director and minor supporting actor do more harm than good for the film. Kenny wrote, "As a director, Louis C.K. puts several feet wrong. Casting himself as Jeff's passive-aggressive therapist is a bad move; his performance is droll but not droll enough to make his presence more than a distraction."
If you or anyone you know has been a victim of sexual assault, help is available. Visit the Rape, Abuse & Incest National Network website or contact RAINN's National Helpline at 1-800-656-HOPE (4673).