Five Nights At Freddy's Release Date, Cast, Trailer, Plot And More Details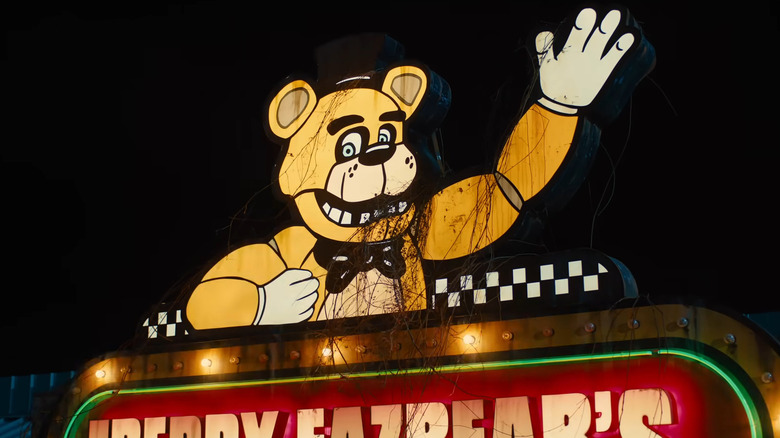 Universal
Fans have been chomping at the bit for a feature film adaptation of "Five Nights at Freddy's" ever since the game's release in 2014. After sequels, spin-offs, and novel adaptations, the bankable IP is finally headed to the big screen, promising to bring the animatronic terror to the world's scariest pizza place.
The origin of "Five Nights at Freddy's" came about when creator Scott Cawthon — who'd previously worked on Christian-oriented games — received negative criticism for a game called "Chipper and Sons Lumber Co." As he explained to Indie Game Magazine, "I'd made a family-friendly game about a beaver ... but when I tried to put it online, it got torn apart by a few prominent reviewers. People said the main character looked like a scary animatronic animal. ... I thought to myself — I bet I can make something a lot scarier than that."
The rest, as they say, is history. And now, that history is about to play out on the big screen. From its talented cast to who's sitting in the director's seat, here's everything you need to know about the "Five Nights at Freddy's" movie.
When will Five Nights at Freddy's be released?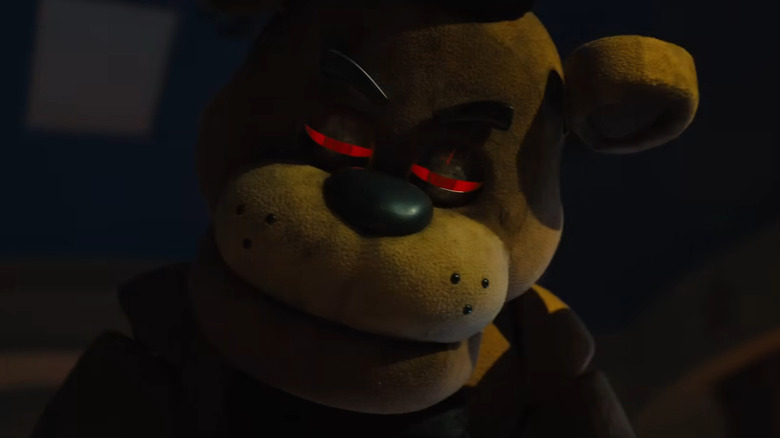 Universal
"Five Nights at Freddy's" has been in the works for a long, long time. The movie was originally announced in 2015, with Warner Bros. distributing. However, by 2017, the project had shifted over to distributor Universal and producer Blumhouse. But even after the film found a new home, it still hit quite a few snags, with directors coming and going and an entire screenplay getting tossed out the window when it didn't meet the approval of game creator Scott Cawthon.
"I'm sticking to what I've always said," Cawthon wrote online, "either the right movie gets made or no movie gets made. I hate delaying a project that's already seen so many delays, but I have to go with my instincts on what I think will be exciting and interesting and what I think the fanbase will really want to see." Fortunately, Blumhouse eventually assembled the right team of filmmakers (more on them in a minute), Cawthon gave the go-ahead, and now Freddy Fazbear is ready to terrify some poor security guard.
For those eager for the "Five Nights at Freddy's" movie, it comes out just in time for Halloween, hitting both theaters and streaming site Peacock on October 27, 2023. It'll find itself up against a serious threat for the crown of scariest October movie, as it'll be competing against "The Exorcist: Believer" (which is also a Universal/Blumhouse joint). Plus, both "Kraven the Hunter" and "Killers of the Flower Moon" debut that October, so it'll be a pretty crowded cinematic marketplace.
What is the plot of Five Nights at Freddy's?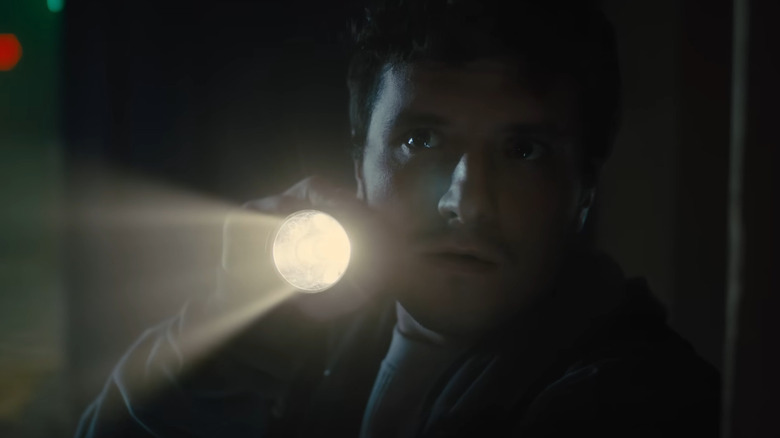 Universal
"Five Nights at Freddy's" won't stray too far from the games when it comes to the plot — although it looks to be incorporating lore from multiple installments in the series. According to the official plot synopsis, "The film follows a troubled security guard as he begins working at Freddy Fazbear's Pizza. While spending his first night on the job, he realizes the night shift at Freddy's won't be so easy to make it through."
That, of course, is due to the fact that the Chuck E. Cheese-style animatronics — named Freddy, Foxy, Chica, and Bonnie — come to life at night, and they aren't exactly friendly. Based on the trailers, we also know the movie will feature the character William Afton, who first appeared in "Five Nights at Freddy's 2." If you don't play the games, spoiler alert — Afton actually built the animatronics, and he spent his free time murdering kids. So yeah, not a great guy. But those dead children might have something to do with these murderous robots wandering around the pizza restaurant at night...
We also know that Vanessa A., who first appeared in "Five Nights at Freddy's: Help Wanted," will factor into the story. Plus, the night will be especially intense for our poor security guard as he's brought along his sister, Abby, to work, and Freddy and friends have some dastardly plans for her. 
Who is starring in Five Nights at Freddy's?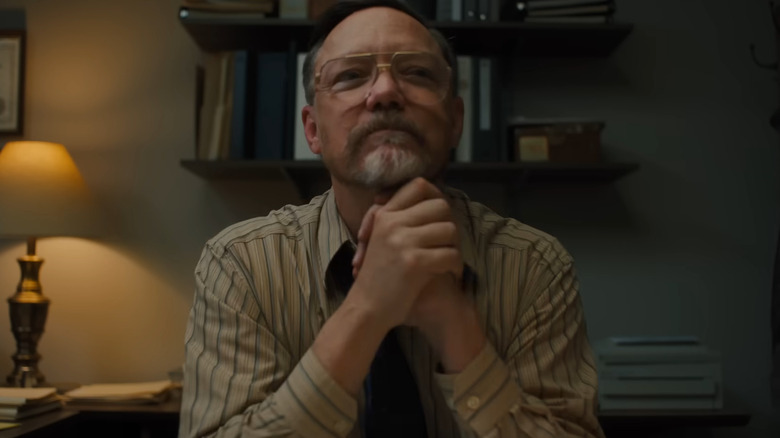 Universal
The hero of "Five Nights" is Mike Schmidt, the security guard who discovers his nightly gig is no walk in the park. As an official character description for the film explains, "Riddled with guilt over a tragedy in his past and now struggling to take care of his younger sister on his own, Mike is low on options when he lands a new job to pay the bills: the night security guard at Freddy Fazbear's Pizzeria. Mike is vulnerable with a tough exterior. Though he means well, his obsession with digging for truth may have potentially disastrous consequences."
Stepping into Mike's shoes — which better be ready to run — is Josh Hutcherson. Best known for his turn as Peeta Mellark in the "Hunger Games" franchise, the actor has been busy in recent years, even if he hasn't been appearing in huge mainstream hits. He's starred in the Hulu series "Future Man," has done some voice work in the "Ultraman" series, and appeared in movies like "Burn" and "Across the River and Into the Trees." Based on the popularity of the games, we're thinking "Five Nights" might propel Hutcherson back into the limelight ... if Freddy doesn't get him first.
You can also expect to see Matthew Lillard as inventor William Afton. Lillard is no stranger to comedy-tinged horror, as he's played in titles like "Scream" and "Scooby-Doo." He'll be joined as Elizabeth Lail of "You" and "Once Upon a Time," playing Vanessa A. The cast will be rounded out by Piper Rubio ("Holly & Ivy"), Kat Conner Sterling ("A Week Away"), and Mary Stuart Masterson ("Fried Green Tomatoes"). You can also expect a hilarious cameo from — spoilers if you haven't watched the film's second trailer — gamer Cory Williams, aka CoryxKenshin.
Who is producing Five Nights at Freddy's?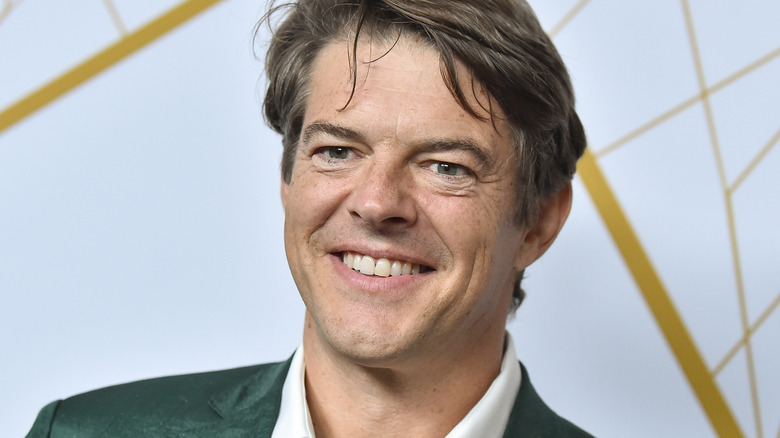 DFree/Shutterstock
Horror studio Blumhouse will be producing the "Five Nights at Freddy's" film adaptation, and they've been involved with the project since 2017, after the Warner Bros. version failed to materialize. (Warner Bros. would later release the similarly themed "The Banana Splits Movie" in 2019.) 
Run by producer extraordinaire Jason Blum, Blumhouse is home to some of great modern horror movies, a la "Get Out," "M3GAN," and "The Black Phone," as well as massive franchises like "The Purge" and David Gordon Green's "Halloween" trilogy. Of course, the road to theaters has been a long one, with Blum telling IGN that it took about seven years to find the right "structure" for the movie. He wanted to get it just right in order to make the game creator happy, with Blum telling Collider, "I don't have the right to do anything Scott [Cawthon] doesn't like. Basically, Scott has kind of like the equivalent of 'final cut,' and it's taken longer than I hoped to get the right story."
In fact, the process was so long that some thought Blum was wasting his time. "Everyone said we could never get this movie done, including, by the way, internally in my company," the producer told IGN. "I was made fun of for pursuing this, this thing that could never happen, and that always lights a fire under me to say, 'I bet I can do this.'" Fortunately, the folks at Blumhouse cracked the code and finally made something Cawthon approves of. "I'm extremely proud of the movie that we made together," Blum told IGN about the final result.
On top of a killer script, Blum has also confirmed that the Jim Henson Creature Shop developed the animatronics for the film. If there's any group of people who know how to bring something creepy to life, it's those visual wizards.
Who is directing Five Nights at Freddy's?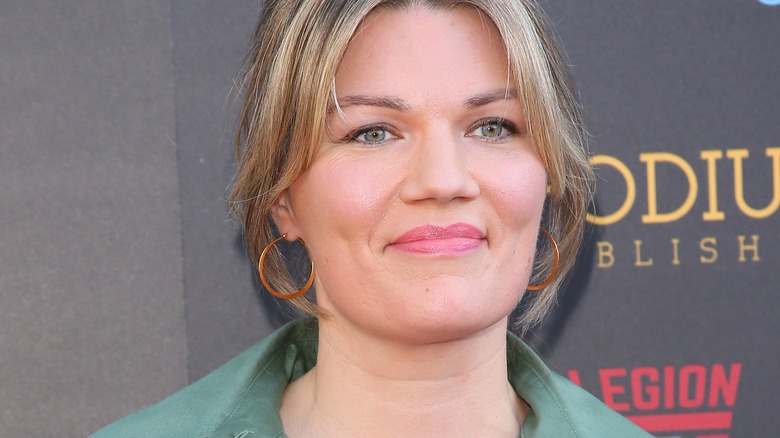 Jean Baptiste Lacroix/Getty Images
The "Five Nights at Freddy's" film adaptation has scared up a director to helm the film, as Emma Tammi will take the director's chair. Tammi previously directed the slow-burn, folksy indie horror film "The Wind." She previously worked with Blumhouse on two episodes of their monthly holiday-centric Hulu series "Into the Dark" where she helmed the films "Blood Moon" and "Delivered." Tammi told Deadline, "Stepping into the rich, terrifying world of Freddy's alongside Scott Cawthon, Blumhouse and Jim Henson's Creature Shop is beyond thrilling. I cannot wait for audiences to immerse themselves in the wild and wonderful playground we are creating." 
Game creator Scott Cawthon added, "In meeting with Emma, I felt she had a great understanding of the franchise and really felt that she could craft something that would please the fanbase and keep people on the edge of their seats." Tammi and Cawthon wrote the film along with co-writer Seth Cuddeback, and they've evidently come up with a great screenplay that met Cawthon's expectations, as he previously nixed an earlier version before Tammi came aboard.
Of course, Tammi wasn't the first person to be involved as a "Five Nights" director. When the film was still set up at Warner Bros. in 2015, Gil Kenan was slated to direct. Kenan previously helmed the kid-centric horror comedy "Monster House." After moving over production to Blumhouse in 2017, Chris Columbus was set to write and direct the film in 2018. Columbus is the director behind the first two "Harry Potter" films and "Home Alone." All previous scripts attached to those directors have been scrapped in favor of Tammi's new direction for the film.
Is there a trailer for Five Nights at Freddy's?
The creepy teaser trailer for "Five Nights at Freddy's" starts off with a cheery promo video, where a smiling spokesperson promises a pizza restaurant for the whole family. Of course, while the joint bills itself as a place where "fantasy and fun come to life," poor Mike Schmidt is about to learn the only things that come to life are the killer animatronics. During the teaser, the new security guard is strapped into a chair where the titular robo-bear plans on doing very bad things to him. We witness some pretty eerie imagery, from creepy kids running around to one poor girl at the bottom of a ball pit, hiding from a nearby Freddy.
We learned a bit more about the movie from the film's first and second official trailers, including the identity of that poor girl. Turns out, she's Mike Schmidt's sister. Poor Mike is desperate for a job, and when he lands a gig at Freddy Fazbear's Pizza, he has to bring his kid sister along. That turns out to be a bad idea, as the trailers reveal the restaurant's oversized robots are possessed by the ghosts of murdered kids. "What do they want?" a freaked-out Mike asks. The answer? To make his sister exactly like them. These trailers do a great job of capturing the terrifying fun of the games, promising a spooky good time come October 27.
What will Five Nights at Freddy's be rated?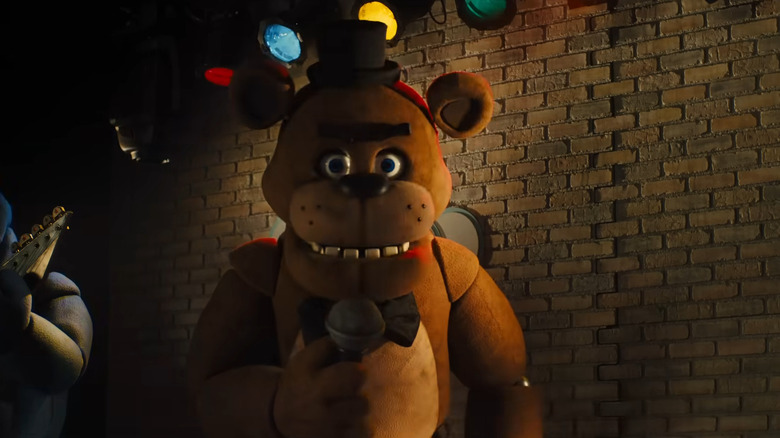 Universal
When "Five Nights at Freddy's" gets ready to terrorize in October 2023, it'll be scaring an audience full of all ages. That's right — the film has been rated PG-13 for "strong violent content, bloody images, and language." In other words, it sounds like it's going to be an intense PG-13, and it definitely sounds like some characters are going to wind up viciously murdered.
Of course, there are probably some people who were hoping for a more R-rated affair. For those folks, while this news might come as a disappointment, it really should be no surprise. While they have plenty of R-rated offerings, Blumhouse is also pretty incredible at creating PG-13 horror. If you take a look at the studio's most recent scary offerings — "M3GAN" and "Insidious: The Red Door" — or even some of their all-time classics (a la "Split," "Happy Death Day," and the OG "Insidious"), you'll see the studio has produced some truly awesome PG-13 horror flicks.
In other words, if you've got young teens who don't mind getting a little frightened or a tad grossed out, "Five Nights at Freddy's" might be the perfect family outing for the Halloween season.
What is the runtime for Five Nights at Freddy's?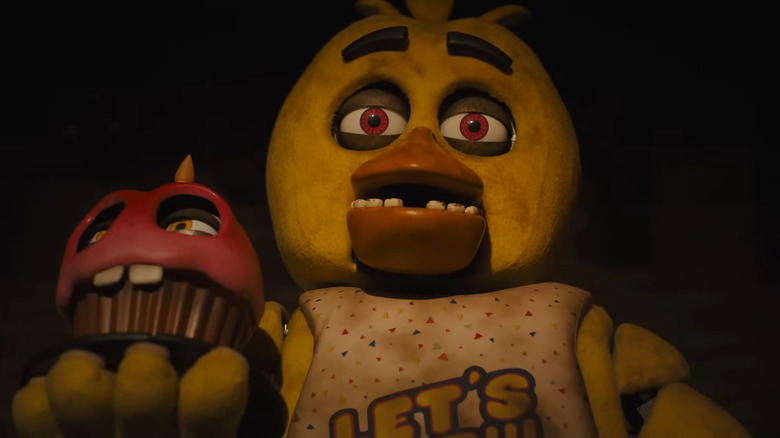 Universal
For a while, there was a rumor online that "Five Nights at Freddy's" would run for a whopping 3 hours. That is ... really, really long. Not even epically sized horror movies like "The Shining" and "It Chapter Two" are that long. At this point, we're in the "Seven Samurai," "Lawrence of Arabia," "Gone With the Wind" area, which seems a bit overkill for a Halloween thriller.
In other words, if you were skeptical about that particular bit of gossip, you had every right to be. And as it turns out, "Five Nights" will be way, way shorter than 3 hours. As revealed by AMC theaters, the freaky little video game adaptation will have a much more reasonable runtime of 1 hour and 50 minutes long.