Five Nights At Freddy's: Horror Comes Alive In The Movie's First Teaser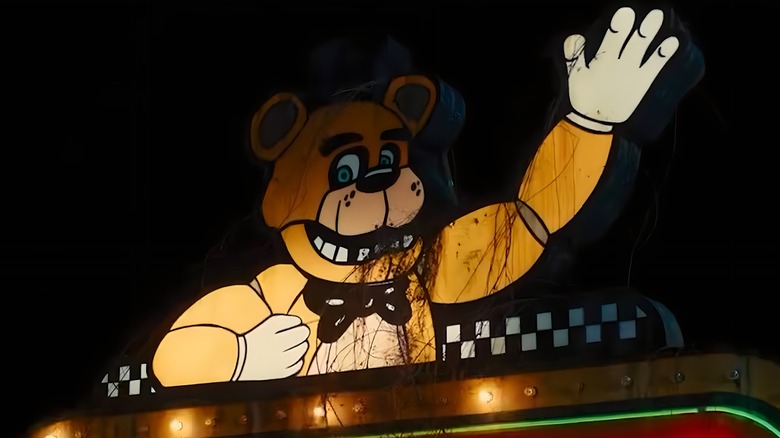 Universal Pictures
Keeping the video game movie train going, 2023's "Five Nights at Freddy's" is gearing up for a fright-filled debut. Based on the video game franchise of the same name, which launched back in 2014, the Emma Tammi-directed feature has been on the table since 2015. Only within the past few years has any tangible progress been made on the film, with talented folks joining the fray left and right in behind and in front of the camera roles. Now, at long last, we have a glimpse into what they've come up with.
On May 16, 2023, Jason Blum — the mind behind Blumhouse Productions, which is producing "Five Nights at Freddy's" alongside Striker Entertainment — dropped the movie's first teaser on Twitter. It arrived shortly after on YouTube, ensuring that anyone who'd want to check it out gets the chance to do so. While not a long trailer by any means, it does a great job of setting the tone for the film, establishing the story, teasing some nods to the games, and highlighting the stacked cast involved.
The doors to Freddy Fazbear's Pizza have opened. Let's dive into the inaugural "Five Nights at Freddy's" teaser.
Freddy and the gang are headed to big screen
To kick the "Five Nights at Freddy's" teaser off, we're welcomed by an in-universe Freddy Fazbear's Pizza training video, complete with shots of the restaurant in its heyday. As kids and parents enjoy pizza and games, we get a look at the now-iconic animatronics, including Freddy himself, Bonnie, and Chica. The teaser then jumps to a much more decrepit Freddy Fazbear's Pizza, where new night security guard Mike Schmidt (Josh Hutcherson) pokes around the run-down pizzeria in the dead of night.
From this point on, the horror of "Five Nights at Freddy's" really ramps up. Mike is trapped in what seems to be a "Saw"-like trap, he's seen confused in the middle of a forest surrounded by unknown children, and none other than William Afton (Matthew Lillard) — the man behind the killer animatronics in the games — is shown sitting at his desk. The trailer concludes with a child hiding in a ball pit before being found by Freddy and his killer companions. All in all, this seems to be a faithful and fascinating take on the source material.
"Five Nights at Freddy's" premieres on October 27, 2023, doing so in theaters and on the Peacock streaming service.