What Sofia Vergara Would Constantly Hide Throughout Modern Family's Sets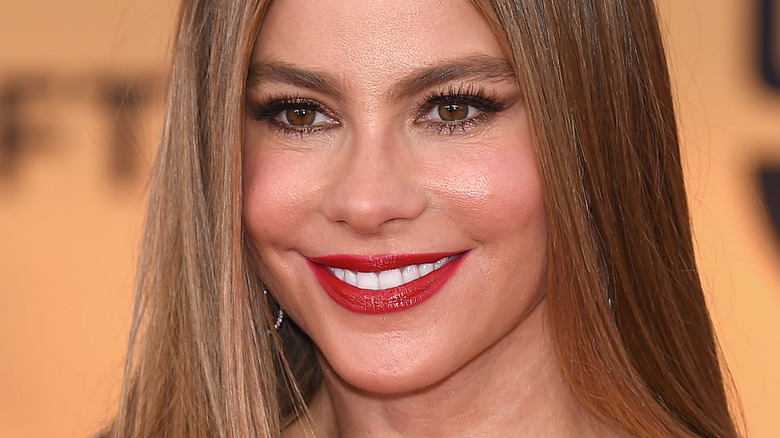 DFree/Shutterstock
"Modern Family" has been off the air for two years, but the beloved Emmy-winning series has continued to generate intriguing stories from its set. Just recently, Sofia Vergara revealed, shockingly, that she didn't get along with her two canine co-stars that played Stella, Jay Pritchett's French Bulldog.
And now, Eric Stonestreet, who played Cam, is appearing on "The Drew Barrymore Show" to spill even more scandalous tea about his "Modern Family" co-stars. In a short clip called "Most Likely Drew," the Emmy-winning actor hands out "superlatives" for awards such as "Most Likely to Curse on Set," "Most Likely to Be Like Their Character in Real Life," and "Most Likely to Nap on Set."
For "Most Likely to Curse on Set," Stonestreet surprisingly hands the award to himself before proceeding to curse — and get bleeped out — for five full seconds. Only then does he dole out the remainder of the awards to his former co-stars, whose names he pretends not to remember at first.
Julie Bowen is most like her character IRL
Continuing with his "Most Likely Drew" ceremony, Stonestreet pauses a moment before awarding "Most Likely to Be Like Their Character IRL," likely to consider each one of his cast members individually. Finally, he decides on Julie Bowen, who played Claire Dunphy on the series. 
"She's pretty energetic, on top of things," he says. "[A] taskmaster. Lovely." Stonestreet, of course, is the polar opposite of his exuberantly gay character in real life, so there was no way he was going to award that one to himself. As for "Most Likely to Nap on Set," however, he hands the prize to Ed O'Neill because, "You know, he's older." That one's fair, considering O'Neill is 76 years old.
But the superlative Stonestreet assigns to Sofia Vergara, who played O'Neill's on-screen wife Gloria on the series, may surprise some fans. According to Stonestreet, Vergara earns the title of "Most Likely to Sneak in Snacks."
Sofia Vergara may still have snacks hidden on set
Yes, that's right: For the indomitable category of "Most Likely to Sneak in Snacks," Stonestreet calls out Vergara, who reportedly planted snacks in strategic locations during filming. "[Sofia] has marshmallows and hot tamales hidden all over that set," says Stonestreet in the clip. "I'm sure the mice at 20th Century Fox are still scrounging on them right now." 
Sadly, Stonestreet does not officially name a co-star for the "Most Likely to Get a Spin-Off" award, because, as he explains, "Those days are gone. No More 'Modern Family,' everyone. You've had enough." To be fair, the series ran for 11 seasons from 2009 to 2020. That's a lot of "Modern Family."
As for Stonestreet, who, like his co-stars, drew huge paychecks from "Modern Family" over the years, the talented actor continues to work on- and off-screen. Most recently, he appeared in the TV movie "13 Graves" and lent his voice to the series "Madagascar: A Little Wild." He is also the host of the reality show "Domino Masters," which finished its first season in May 2022.