The Agonizing Moment Deadliest Catch Captain Phil Harris Was Found Dead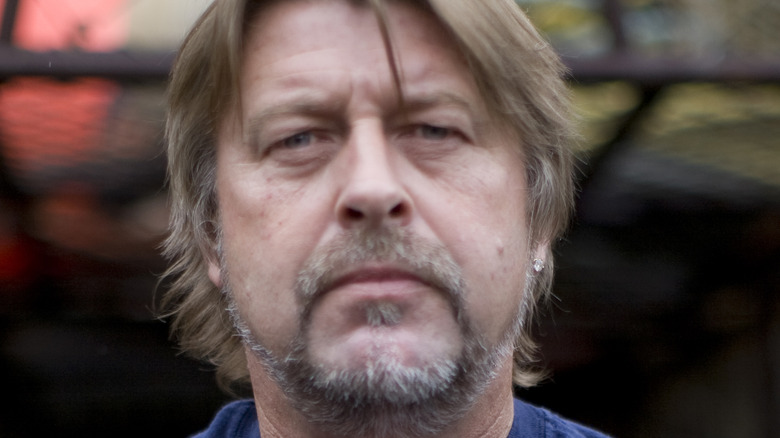 Handout/Getty Images
"Deadliest Catch" captains have not only captured more Alaskan king crabs than anyone can count, but they've also captured the hearts of viewers all over the world. From fan-favorite Sig Hansen to the grumpy but lovable Wild Bill Wichrowski to the determined Jake Anderson, it's a near-impossible task to pick the best of this hard-headed bunch. However, there's no question that one of the show's most beloved captains was Phil Harris. Harris was practically born into the business, fishing with his own father as a kid before eventually joining the crab fishing game after high school. He worked his way up until he became one of the youngest captains, doing so in his early 20s. From there, he would join the "Deadliest Catch" crew, becoming part owner of the F/V Cornelia Marie. Harris would quickly become a well-known and loved member of the series, with his no-nonsense and unapologetic nature making for countless memorable moments. At the same time, his emotional turmoil and conflict was also at the center of his time on the show, as he would constantly have tough quarrels with his sons, Jake and Joshua, despite loving them both dearly. 
Sadly, his colorful and fulfilling life was cut short when the accomplished crab fisherman died at the young age of 53 in 2010. To say the least, fans of the show were crushed to learn of Harris' sudden passing. But for the crews that befriended Harris over the years, the loss was an especially painful one.  
Phil's death came at an unexpected time
"Deadliest Catch" captain Phil Harris' death was an undeniably tough blow to everyone who knew him, which was especially true for those there when he passed. In an interview with The Futon Critic, "Deadliest Catch" executive producer Jeff Conroy tells what occurred on the day he died. 
"What happened is basically they were filming in Saint Paul Island and Phil hadn't come out of his State room," Conroy says. "So it was like 'Where's Phil?' and they went in and found him on the floor and that's when they realized it was an emergency and they got him to a hospital in Anchorage." Harris was known for his numerous health issues, including his chain smoking habits and a pulmonary embolism he suffered from after falling from his bunk during a storm. The cause of his death would be an intracranial hemorrhage, which he died from on February 9, 2010 (via New York Times). Conroy mentions in the interview how sad it was for cameraman Todd Stanley, who spent many years getting to know Harris personally while shooting his daring adventures. 
Discovery would hold a special memorial service for Harris while his son, Joshua, would go on to captain the F/V Cornelia Marie. In a special tribute made by Discovery, Captain John Hillstrand notes a strange occurrence out at sea following Harris' death. "When Phil died, it was flat calm for like 10 days out there," he says. "It was at peace."