Mother Mayhem Battles The Titans In Epic Season 4 First Clip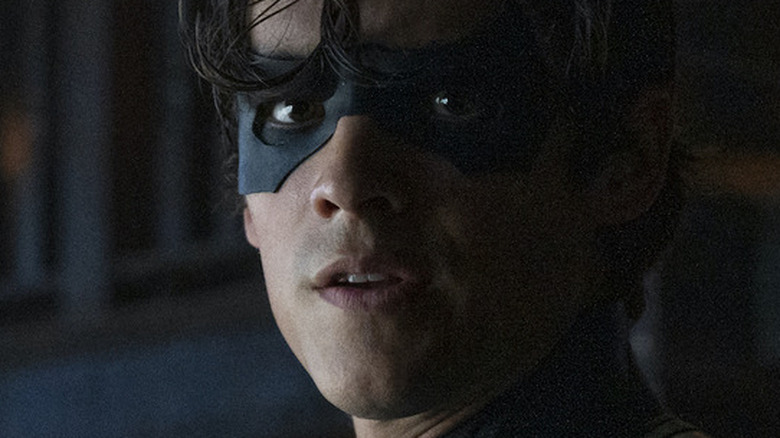 HBO Max
A lot happened at the New York City Comic Con, but some of the most exciting developments came from HBO Max, where they released first looks and sneak peeks at "The Last of Us," "Doom Patrol," and "Titans" Season 4. 
The superhero series, following the collection of sidekicks and minor characters based on the comic book line of the same name, was renewed for a fourth season (per Deadline) in October of last year. A year later, fans got a first look at what to expect from Season 4 when Bam Smack Pow tweeted a glimpse of the team of heroes facing off against Mother Mayhem (Franka Potente).
The clip sees Dick Grayson/Nightwing (Brenton Thwaites) lead the team into battle. Unfortunately for the heroes, it doesn't seem as though they have what it takes to take Mother Mayhem down as she makes easy work of both Conner and Raven, dispatching some of the most powerful Titans without breaking a sweat. Fans may now be wondering, who is this devastating adversary?
Mother Mayhem is a powerful foe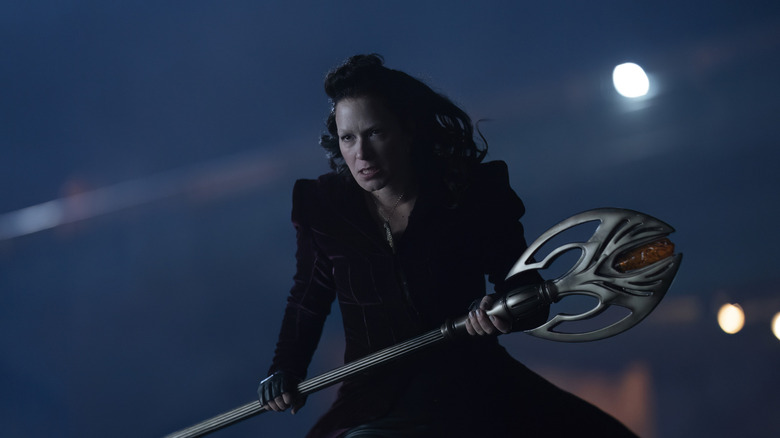 HBO Max
Mother Mayhem has been a formidable foe for the Teen Titans for decades. She is typically the number two in charge of the Church of Blood, a cult that fought for their home of Zandia in the 1200s. Mother Mayhem typically serves as the producer of the heir to the Brotherhood. While serving the cult, she is responsible for bearing and raising who would become the current leader's successor.
There have been a few women that have carried the name of Mother Mayhem. Still, one likely iteration this character could use is May Bennett, who was Brother Blood's (Joseph Morgan) consort and got jealous when he began giving too much attention to Raven following her capture.
Franka Potente joined the cast to bring Mother Mayhem to life and looks like a formidable adversary in the clip. Potente is best known for her role as the ill-fated Marie in the Matt Damon-led "Bourne" trilogy. She has since been seen in numerous television series such as "Psych," "The Shield," "House," "American Horror Story," and "Dark Matter" (via IMDb). She also appeared in the James Wan-directed horror sequel, "The Conjuring 2."
The newest season promises action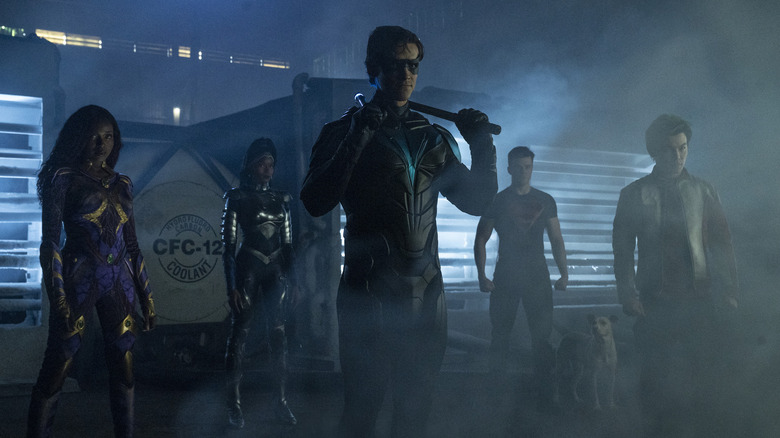 HBO Max
The three villains of Season 4 give a lot of promise to those fans looking for superhero action. With the clip shared of Mother Mayhem making short work of the Titans only a glimpse of what we can expect, you can bet the other two villains will also serve as serious obstacles.
Jinx (Lisa Ambalavanar) is an Indian sorceress who murdered everyone else in her temple to ensure she was the only person who could wield her powers. While she is typically a part of the Fearsome Five and a classic and often foe of the Teen Titans, she seems to now be linked with the Church of Blood.
The main villain of the season, the big bad, looks to be Brother Blood himself, Sebastian Blood. As the leader of the Church of Blood, he has an entire cult at his bidding and brings a feel similar to Ra's al Ghul. He even has a blood pool to keep him young and spry. His comic arc saw him pursuing Raven to use her power to spread his faith and increase his following. With Mother Mayhem in the mix, this seems like a potential storyline for Season 4, and Raven could find herself in a heap of trouble again.