Are Robert Downey Jr. And Jude Law From Sherlock Holmes Friends In Real Life?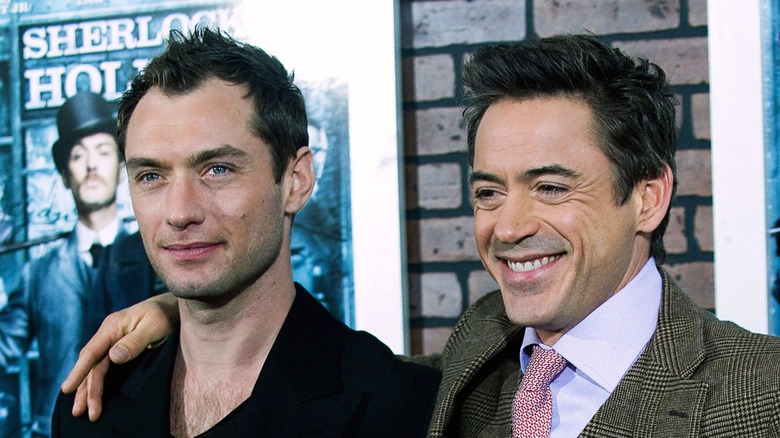 Everett Collection/Shutterstock
Robert Downey Jr. has had an extensive and fascinating career. Though the actor got his start all the way back in 1970, he didn't hit it big until the '80s, when he landed roles in hit movies like "Weird Science" and "Less Than Zero" (via IMDb). Since then, Downey Jr. has gone on to become one of the biggest stars in the world and a pivotal part of the MCU, where he played Iron Man in several different movies.
While Jude Law's career has been a bit more understated, he's been in his fair share of big movies as well. Law rose to prominence after starring in the science fiction thriller "Gattaca" and has since been lauded for his roles in movies like "Road to Perdition" and "Closer," while also joining the Wizarding World as a young Dumbledore in the "Fantastic Beasts" franchise. Though the two actors have shared the screen twice in Guy Ritchie's "Sherlock Holmes" movies, fans of the performers might find themselves wondering if the duo are close in real life.
Robert Downey Jr. and Jude Law are very friendly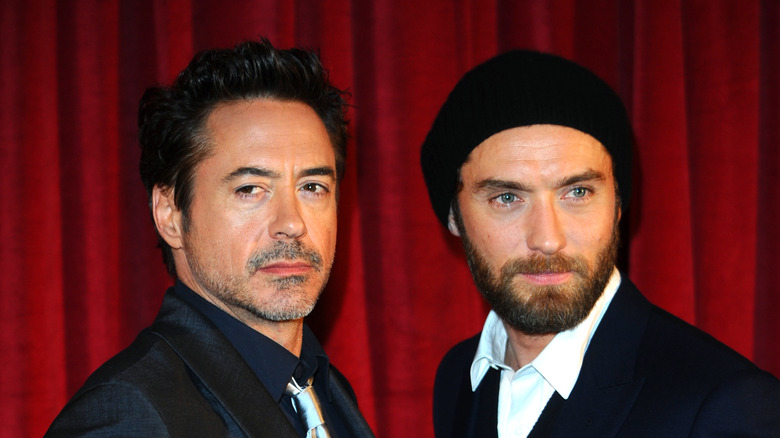 Anthony Harvey/Getty Images
As it turns out, Jude Law and Robert Downey Jr. are as friendly in real-life as Sherlock Holmes and Dr. John Watson, the characters they played in Guy Ritchie's detective films. In fact, this was all part of Ritchie's plan, as the director wanted the two to have an authentic bond that translated to the screen (via CNN).
"What was essential to me is that when these guys first met as mates that they really got on with one other, and they did — within five seconds," the director said. Law would even go on to joke that he was "in love" with his co-star, saying: "The flirting started the minute we met. It was based on mutual respect and admiration."
Funny enough, the two actors have also been a part of the MCU. While Downey Jr. has starred as Iron Man in many films from the massive franchise, Law appeared with Brie Larson in "Captain Marvel," where he played the villainous Yon-Rogg. Law even shared the advice that Downey Jr. gave him as he prepared to join the world of Marvel. "He talked a little bit about ... fitting this one piece into a bigger picture that someone else has got their eyes on, and giving yourself over to that. It's not about trying to understand everything. Just do your piece," Law recalled Downey Jr. telling him (via Entertainment Weekly). With the huge scope of the ever-expanding MCU, that was probably excellent advice.