The Best On-Screen Versions Of Sherlock Holmes Ranked
From his first appearance in print in 1887, Sherlock Holmes has spent more than a century facing all sorts of villains, solving a myriad of mysteries, and sharing quips and retorts with his trusted companion, Dr. John Watson. Alongside the legends of other British heroes like Robin Hood and King Arthur, the tales of Sherlock, Watson, the dreaded Moriarty, and their fellow London denizens continue to pop up in endless forms of cinematic and televised storytelling. This canon has been added to as recently as 2020, with the Netflix fim Enola Holmes, starring Millie Bobby Brown as the sister of the intrepid detective, here brought to life by Henry Cavill.
But who has held the pipe and worn the deerstalker hat to their fullest potential? Which on-screen portrayals of Doyle's detective have stood the test of time? The answer to that question is elementary, my dear reader. These are the best on-screen versions of Sherlock Holmes, ranked.
Robert Downey Jr. is an unfamiliar, action-packed Holmes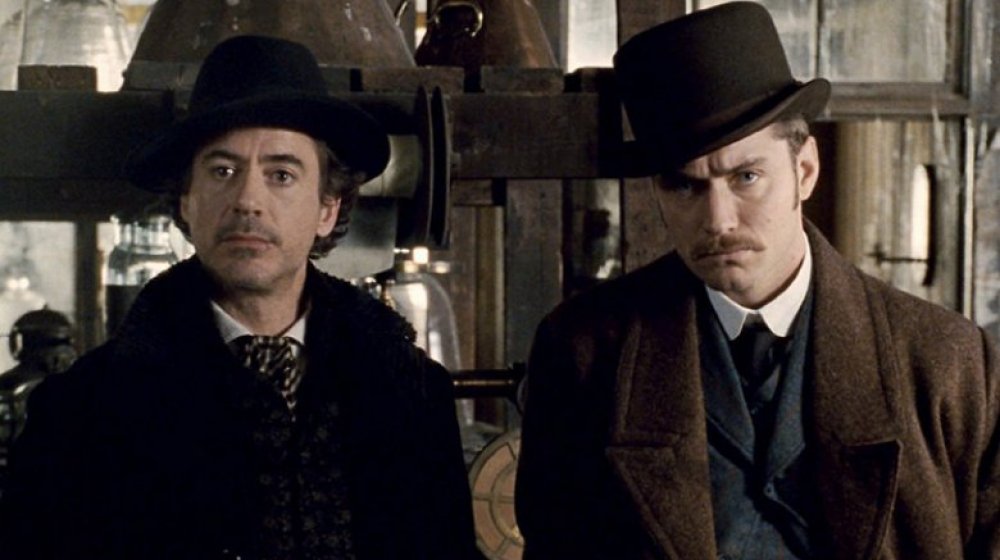 "Blasphemy," you think: Robert Downey Jr. at the bottom of a list? What treachery is this? Fear not, this is still a "best of" list at the end of the day. While Downey's take on Holmes in the Guy Ritchie-helmed Sherlock Holmes films does have some issues, there's no denying that his usual charm and idiosyncratic style of performance creates a fun, offbeat take on the British detective, especially when paired with an equally game Jude Law as his Watson.
The main issue is that Guy Ritchie's very, well, Guy Ritchie take on the Sherlock Holmes franchise leaves much to be desired. In Ritchie's world, Holmes is just another quippy action hero, turning the detective into a hulking, tough guy boxer type, replacing wit with buffoonery and style with muscles. Though his Watson here is brought to winning life by Jude Law, Downey's Holmes leans too much into the style of generic blockbuster heroes, rather than the Baker Street detective we've become so accustomed to. He's still one heck of a fighter, though.
Nicholas Rowe is a young Holmes still learning the tricks of the trade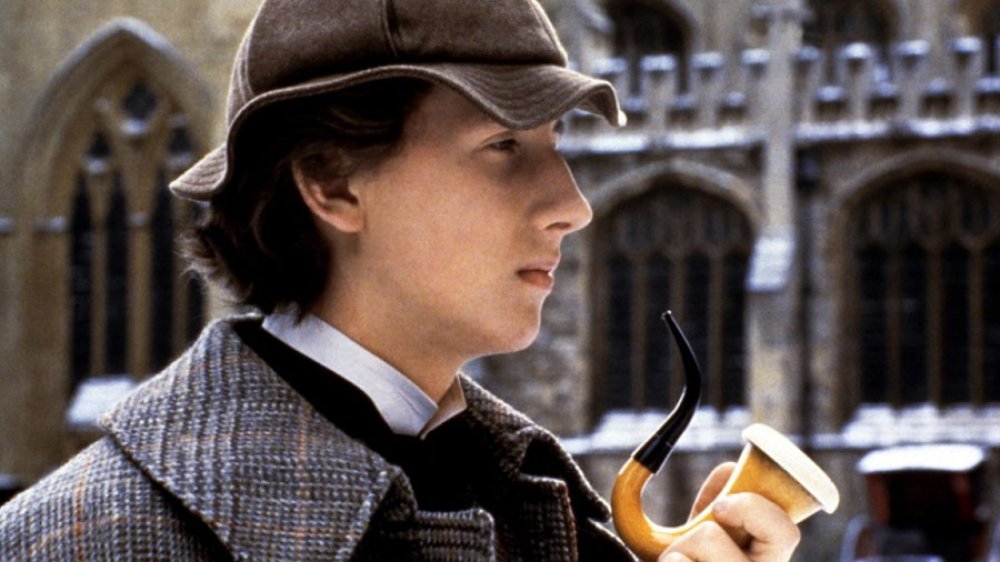 Barry Levinson's 1985 film Young Sherlock Holmes is an oddball prequel adventure, answering all the questions you always wanted to know about how Sherlock Holmes came to be.  How did he meet Watson? That gets answered. Where did he get that deerstalker hat from? That gets answered too. All is revealed in this story, where the young Holmes is brought to life by Scottish actor Nicholas Rowe, who was not even 20 when he filmed this role.
Rowe is a fun, youthful Holmes, adrift in an eerily strange adventure involving stained glass ghosts and Egyptian curses. His boyish spirit is both a blessing — it brings a fun and fresh perspective to the character — and a curse. He's clearly an untested talent in this movie, and some of his line readings come off a little too "actor-y." For those who are all about backstories and prequels to their favorite characters, Young Sherlock Holmes will be right up that sought-after alley. For others ... this might be one you can skip.
Robert Stephens brings wit to a lesser-known interpretation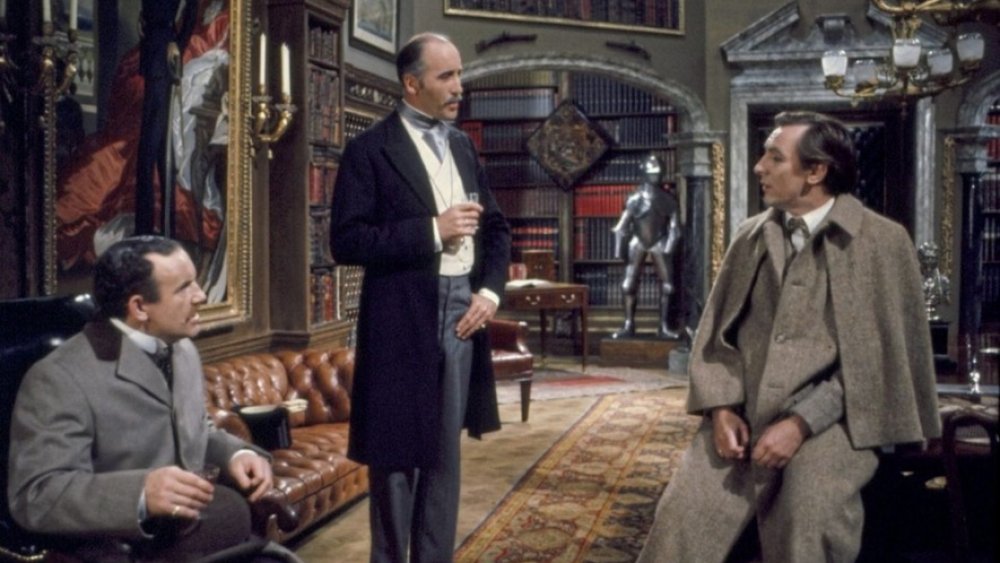 Cinematic adaptations of Sherlock Holmes haven't always attracted top-tier directorial talent. That changed when celebrated director Billy Wilder (of Some Like it Hot, The Apartment, and Sunset Boulevard fame) came onto the scene with his late-career take on the British sleuth: 1970's The Private Life of Sherlock Holmes. Much-beloved London stage performer Robert Stephens takes up the mantle this go-round, creating a Holmes unlike any other.
Wilder's take leans heavily on the comedic aspects of the Holmes legacy, creating something closer to a studio comedy than a dramatic mystery. But Stephens is more than able to handle the trademark Wilder wit that's at play, tackling every barbed witticism with the necessary seriousness and comedic timing it needs. While his take (and this movie in general) lacks the dramatic panache and general mystique of other interpretations, Stephens' detective is dry, quick-witted, and a delight to watch in one of Wilder's lesser-known comedic outings.
Ian McKellen creates a late-in-life Holmes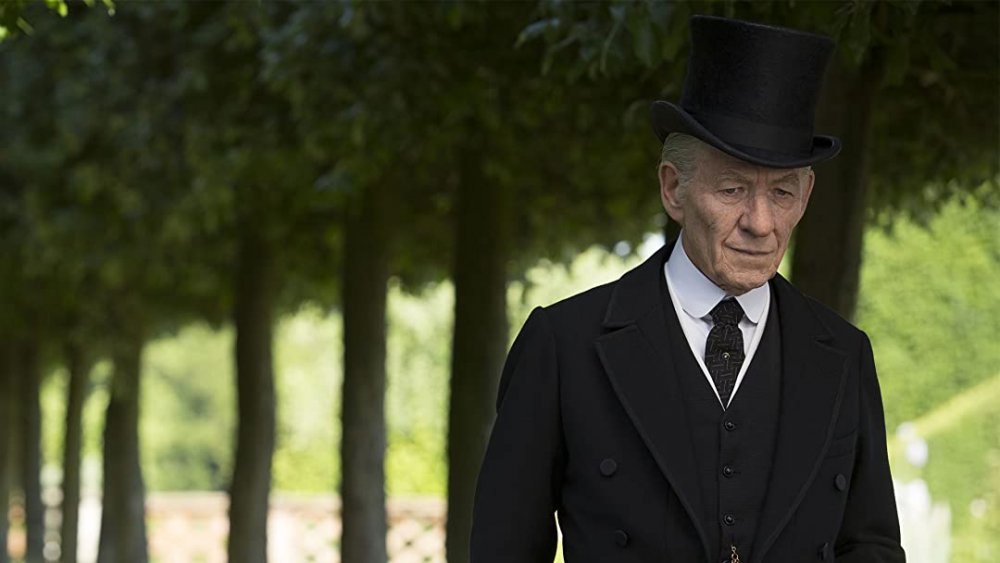 We all know that Sherlock Holmes spends his days busy with work as London's top consulting detective. But what Bill Condon's 2015 film Mr. Holmes presupposes is ...what if he retired? Such is the case in this take on Sherlock Holmes, in which the detective, now 93 and brought to life by none other than Sir Ian McKellen, tries to solve his final case while struggling with his slowly deteriorating mind.
If you've ever wondered what would happen if someone tried to create a piece of lovingly crafted Oscar bait out of the world of Sherlock Holmes, then Mr. Holmes is what you're looking for. Unsurprisingly, McKellen shines in the tragic role of a Holmes desperately grabbing at the last vestiges of his remaining sanity, even if the film he's in less resembles The Hound of the Baskervilles than it does Still Alice. If nothing else, McKellen brings a level of gravitas to the London detective that no one else has ever provided. 
Jonny Lee Miller brings Holmes to the present day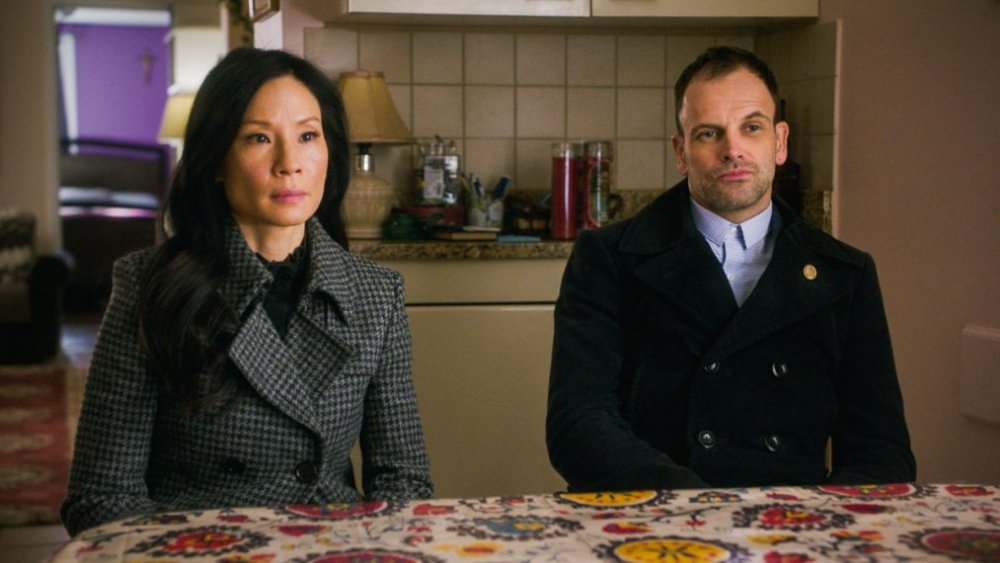 While British television audiences got to check in with a modern-day Sherlock through the escapades of a certain Benedict Cumberbatch (we'll get to him later), American audiences got to see a modern take on Sherlock via Elementary, a contemporary take on Holmes that ran for seven seasons on CBS. Transplanting Sherlock Holmes from the streets of 19th century London to 21st century New York, Elementary follows modern-day detective Sherlock Holmes (Jonny Lee Miller) as he brings his deductive expertise to the assistance of the NYPD, primarily in collaboration with Dr. Joan Watson (the incomparable Lucy Liu).
Miller's Holmes is a recovering drug addict, which lends some additional intensity and dimension to the character. This is key to the show's success, as what surrounds him is a traditional crime procedural. But Elementary definitely has some fun contemporizing the Holmes stories (including Natalie Dormer providing a fresh take on the villain Moriarty), and Miller is a wonderfully oddball performer that brings humor, humanity, and a ton of heart to this modern detective show.
Peter Cushing's Holmes gets pulpy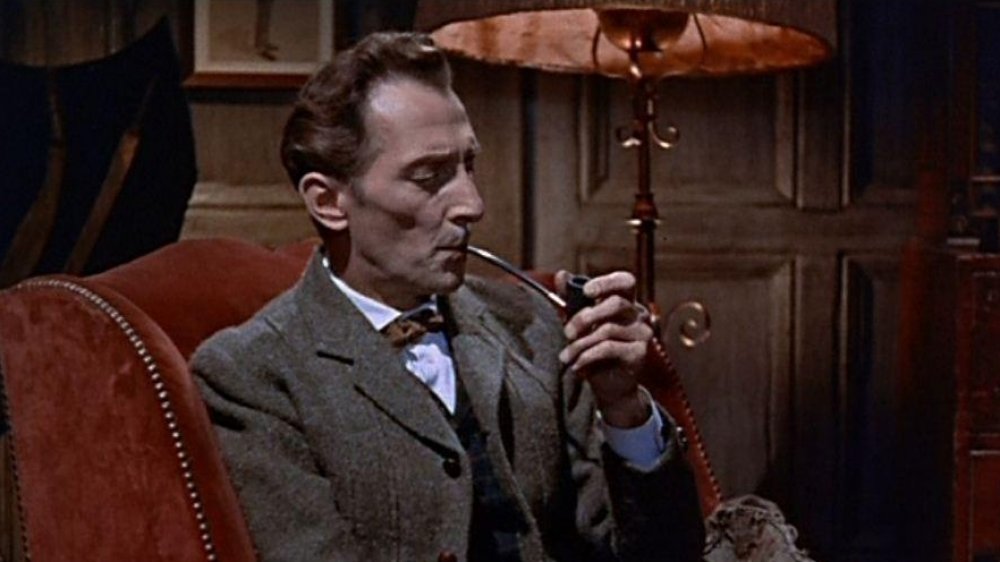 Before entering the eternal halls of sci-fi greatness as Grand Moff Tarkin in 1977's Star Wars, Peter Cushing was best known as the star of several horror films from the famed Hammer Productions company. In these, he starred alongside fellow future Star Wars actor Christopher Lee in films like Dracula (Cushing played Van Helsing and Lee played the titular vampire) and The Curse of Frankenstein (Cushing played the eponymous scientist with Lee as the Creature). Next up on the Hammer slate was 1959's The Hound of the Baskervilles, with Cushing taking on the role of Sherlock and Lee starring as Sir Henry Baskerville.
Hammer's take on the classic mystery is still seen as one of the superior interpretations of the story, in all its pulpy glory. Cushing's Holmes definitely helps with that. His performance creates a detective whose dedication to the mystery at hand, while removing some of the comedy of the role, results in a uniquely compelling sleuth. Cushing's Holmes is a criminally underrated interpretation that could use another investigation from Holmes enthusiasts.
Barrie Ingham's Basil brings Holmes to the world of Disney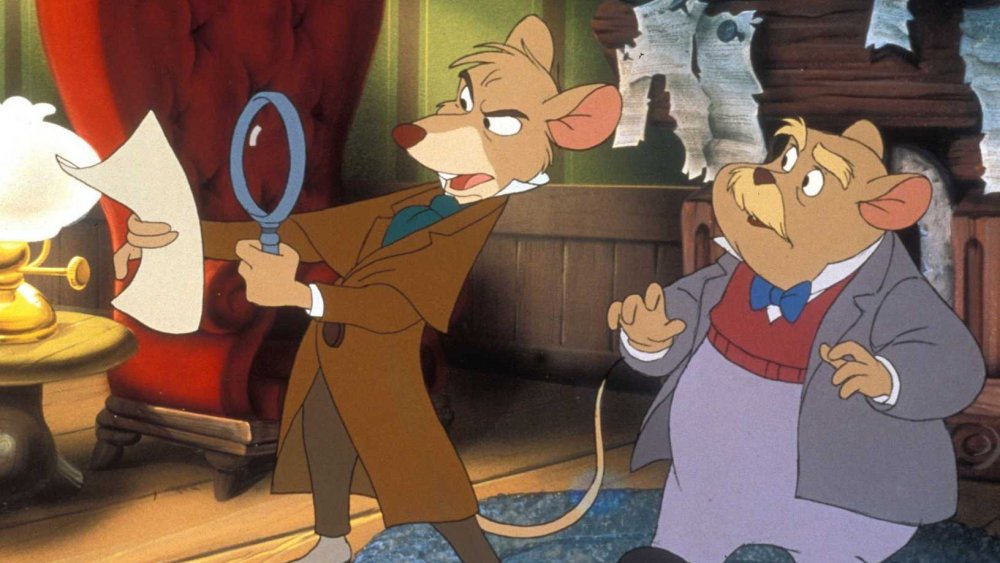 Chances are, when you hear the name "Sherlock Holmes," your mind jumps to either the lovable scamp that is Benedict Cumberbatch (we'll get to him soon, promise) or the recent Robert Downey Jr. punch-fests. But the Disney-philes among you might immediately recall the rodent detective living just beneath the floors of 221B Baker Street: Basil, star of Disney's 1986 classic, The Great Mouse Detective. Based on the Basil of Baker Street children's book series by Eve Titus, itself inspired by the tales of Sherlock Holmes, The Great Mouse Detective transplants the story of Holmes to a London where humans seem to all have mouse analogues, with Sherlock Holmes' being Basil, the most ingenious mouse detective this side of the River Thames. There's also a Mouse Queen of England, a seedy mouse tavern by the river, and, of course, our very own Mouse Watson in the form of the lovable Dr. Dawson.
Here, Basil (voiced by Barrie Ingham) provides a wonderfully faithful mouse version of the famed detective, balancing his deduction skills, nimble fighting, and veiled madness into a delightful concoction of a main character. He faces off against one of Disney's all-time greatest villains, Professor Ratigan, devilishly voiced by Vincent Price. Ingham's Basil may not technically be the Sherlock Holmes, but he embodies the spirit of the detective as nobly as anyone out there.
Basil Rathbone made Sherlock Holmes a cinematic legend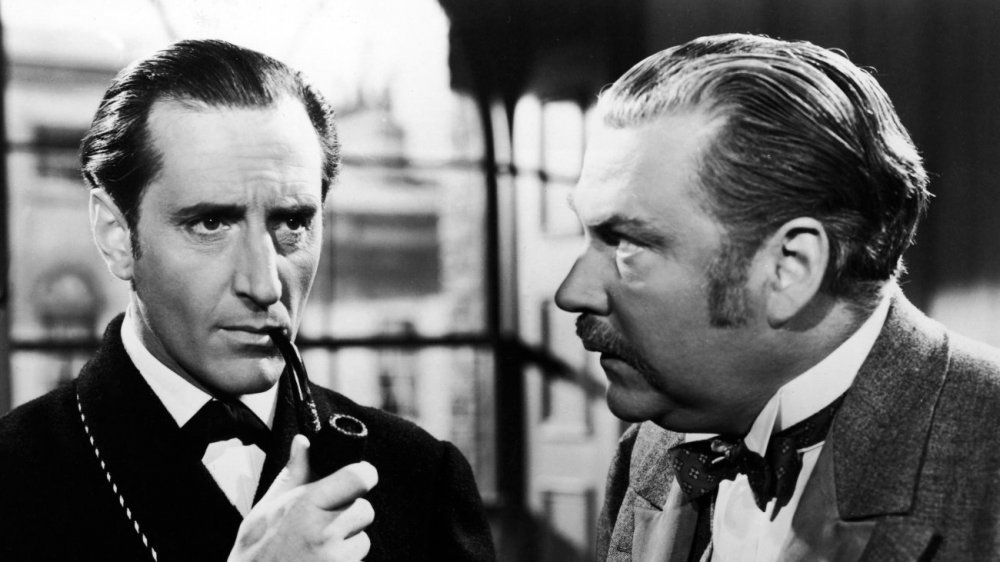 No list cataloguing the on-screen life of Sherlock Holmes would be complete without the impeccable work of Basil Rathbone, the preeminent cinematic Holmes, and the star of 14 (yes, 14) Sherlock Holmes films released between 1939 and 1946. To an entire generation of moviegoers, he is Sherlock, no doubt about it. From The Hound of the Baskervilles all the way through Dressed to Kill, Rathbone was responsible for crafting what for years to come would be the Holmes to stand against all other Holmes.
There is no argument that when it comes to classic, by-the-book interpretations of Sherlock Holmes, Rathbone has still got everyone beat. He's clever, he's funny, and he's got enough charm to fill the Thames. There's no doubt about why movie-going audiences couldn't resist his take on the crime-solving sleuth — he even starred in a Sherlock Holmes radio serial during this same time period. For original Holmes fans, this is the Sherlock, with no one else even coming close.
Benedict Cumberbatch is the Holmes we never knew we needed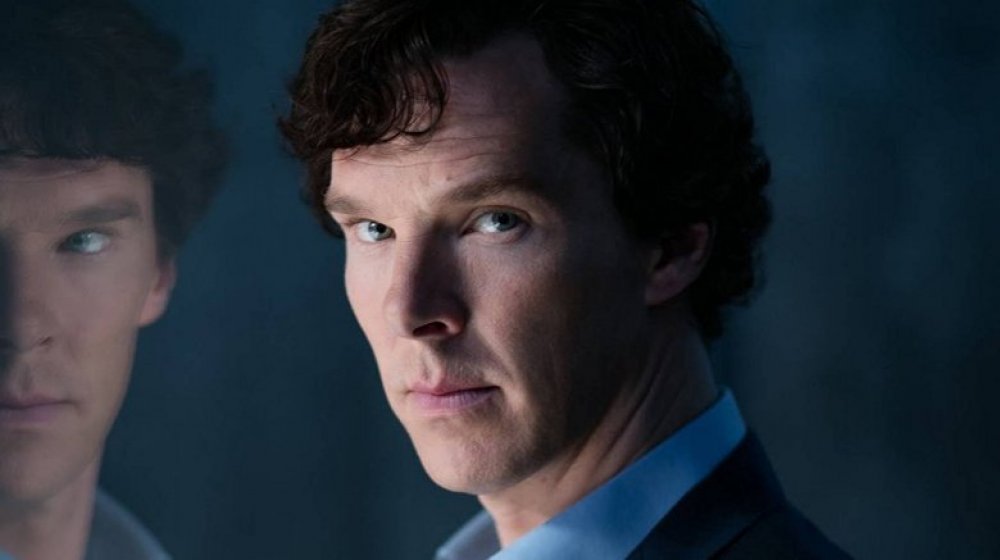 If you bring up Sherlock Holmes to pretty much anyone on the internet, chances are, their mind will jump straight to everyone's favorite lanky, fantastically-named actor, Benedict Cumberbatch. Before he received a doctorate in being Strange in the MCU, Cumberbatch rose to prominence with his magnificently crafted contemporary spin on Doyle's detective in Sherlock, the BBC television series that, arguably, brought Sherlock Holmes back into the public sphere.
Even more so than Elementary, Sherlock takes the concept of a contemporary Sherlock Holmes and absolutely runs with it. It doesn't just contemporize the characters and story, but also the visual style of the tale, employing sleek visual effects and camera movements to track the deduction skills of Cumberbatch's Holmes. Cumberbatch met the challenge of bringing Sherlock to the 21st century with gusto, and his stylish, witty, one-of-a-kind performance emerged as nothing short of iconic. He certainly wasn't the first Holmes, and he certainly won't be the last Holmes, but he's the Holmes that we've come to know and love in our modern era of pop culture. And that, dear reader, is elementary.
Jeremy Brett brings the classic Sherlock to television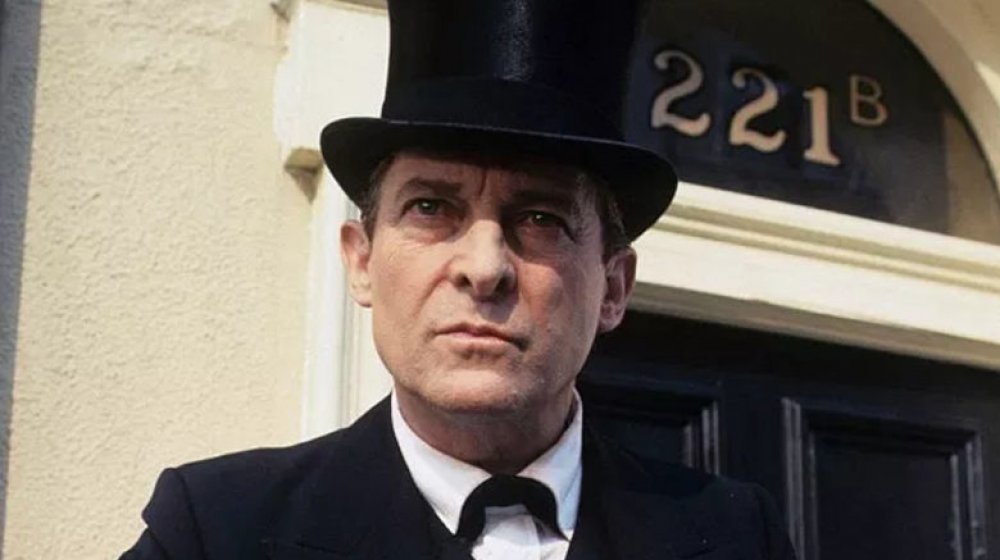 If Basil Rathbone represents the definitive classic Holmes in the world of cinema, then his television equivalent must be Jeremy Brett, starring in The Adventures of Sherlock Holmes from 1984 to 1994, and even bringing his talents to the London stage for a theatrical take on his more-than-elementary interpretation. It was a wonderfully ambitious series, each episode being adapted from a previous Arthur Conan Doyle story, spanning more than 40 stories over an entire decade.
It's a wonderfully faithful adaptation, and what it may lack in any sort of reinvention or overt stylistic interpretations, it more than makes up in Brett's fantastically authentic performance, bringing to life what could be called the "definitive" take on Doyle's character. HIs droll, dry, witty-beyond-comprehension read on Holmes feels as fresh as ever these days, and made even more impressive that he was able to carry this performance over the course of a decade. If you're looking for a television series to bring you into the classic world of Sherlock, then Brett's Holmes is the one to beat.