Why Toad From The Super Mario Bros. Movie Sounds So Familiar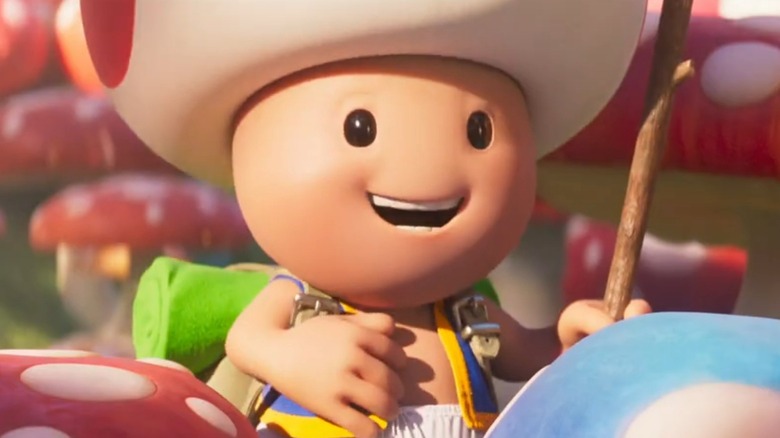 Universal Pictures/Illumination
Universal and Illumination's "Super Mario Bros. Movie" has been the talk of the internet for some time now, and it's not hard to figure out why. The cast is stacked, ranging from Jack Black as Bowser to divisive choice Chris Pratt as Mario, and folks have been eager to see what the movie will look like. On October 6, 2022, the inaugural trailer finally dropped, and while it had a great number of fans looking at it sideways for all the wrong reasons and scratching their heads, it's a fine primer for the film to come.
The bulk of the trailer focuses on Bowser as he and his minions wreak havoc on a kingdom of penguins, but that's not all we see. We also get a glimpse at a confused Mario, who's rather baffled by the sight of the Mushroom Kingdom. As he finds his footing in this strange land, he runs into one of the most iconic characters to ever come out of the "Super Mario Bros." franchise: Toad. He warns Mario of a potentially dangerous mushroom before realizing it's actually safe, and with that, the two set off on their big adventure.
To bring Toad to life, "The Super Mario Bros. Movie" has enlisted the voice talents of Keegan-Michael Key. Here's why that name and his voice likely sound familiar to you.
Keegan-Michael Key rose to prominence in comedy television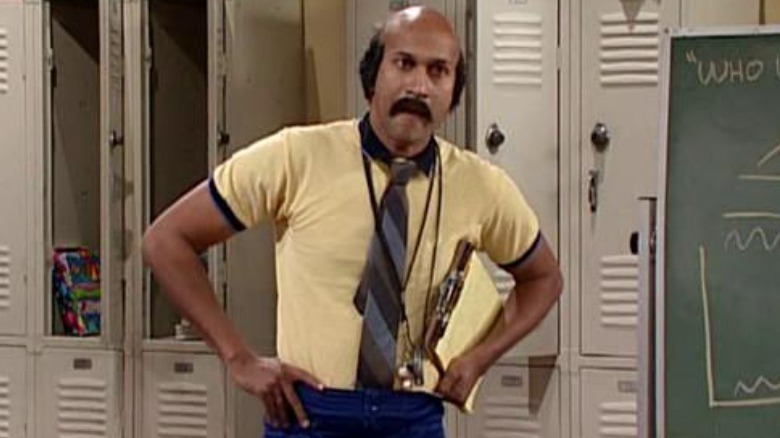 Fox
Keegan-Michael Key found his footing in the world of entertainment in the early 2000s after graduating from college in the late 1990s. His first big gig came in 2004 in the form of "Mad TV": a series not unlike "Saturday Night Live" where a cast of recurring comedians would play out various comedic sketches. Throughout his time on the program, he portrayed a number of unforgettable characters, with arguably the most famous of the bunch being the uptight Coach Hines. Additionally, "Mad TV" was the place where Key would meet one of his most frequent collaborators and a future master of horror, Jordan Peele.
After impressing and entertaining on "Mad TV" for years, Keegan-Michael Key and Jordan Peele teamed up to create a sketch comedy series of their own. Titled "Key & Peele," the show practically took over Comedy Central from the moment it arrived in 2012. It allowed the titular comedians to perform all kinds of characters, make commentary on current events, and simply make audiences around the globe laugh. The program launched both of them into mainstream superstardom, affording them the chance to test out other avenues in Hollywood before and after the show's 2015 conclusion.
Voice acting has become one of Key's specialties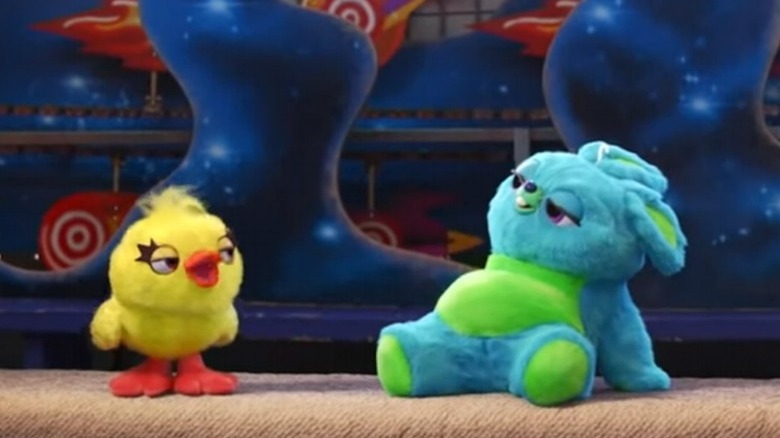 Disney/Pixar
As "Key & Peele" neared the end of its small screen run, Keegan-Michael Key began racking up voice acting credits left and right. In terms of feature-length efforts, his first arrived in 2014 via "The LEGO Movie," where he voiced Foreman Jim. Following this performance, he'd play Murray in the second, third, and fourth "Hotel Transylvania" movies, Ducky in "Toy Story 4," Kamari in 2019's "The Lion King," and more. Key also voiced Honest John in the 2022 "Pinocchio" remake for Disney+ and Wendell in Netflix's disaster-threatened "Wendell & Wild" — a film co-written and co-produced by his good friend Jordan Peele.
While Key has found tremendous success as a film voice actor, he hasn't abandoned his television roots entirely. Over the years, he's taken on numerous recurring characters in several well-known TV productions, with one of his earliest being Sebastian St. Clair on "BoJack Horseman." "Archer," "Bob's Burgers," "The Dark Crystal: Age of Resistance," "Rick & Morty," and numerous others occupy his television résumé, and it stands to reason that list will continue to expand in the years to come. After all, with such a remarkable bunch of titles like that under his belt, who wouldn't want to bring him on to do voice work?
Key remains a capable live-action talent as well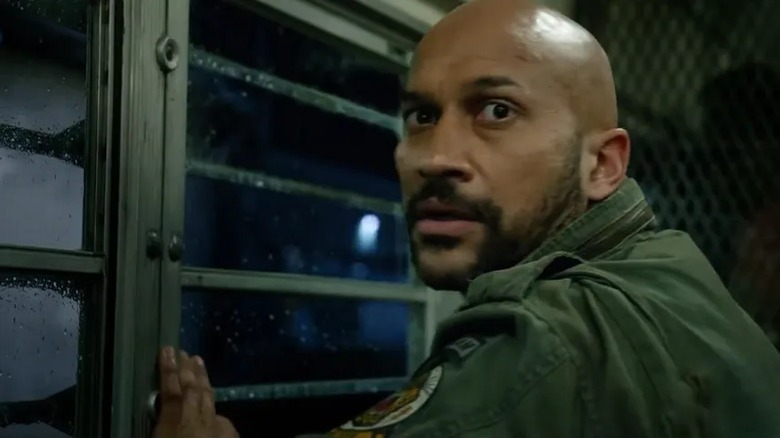 20th Century Studios
For as well as he's done on the voice acting front, Keegan-Michael Key has done pretty well for himself as a live-action actor too. Given his chops in the genre, some of his earliest blockbuster spots were comedic in nature. Titles such as "Due Date" and "Horrible Bosses 2" went a long way in garnering him some mainstream exposure and affording him the chance to explore different horizons. As a result, he took on a lead role in 2016's "Keanu," landed an uncredited cameo in Jordan Peele's 2017 film "Get Out," and featured prominently in "The Disaster Artist," "Dolemite Is My Name," and "The Predator" to boot. 
Though his stacked filmography may lead one to believe he wouldn't have time to, Key has appeared on multiple television shows while becoming a cinematic regular. "Reno 911!" gave him a platform to play more than one character across a handful of episodes, and "Gary Unmarried" kept him around for 17 episodes — a run he'd never experienced in narrative TV before. In the ensuing years, he starred on "Fargo," "Parks and Recreation," "Playing House," and other noteworthy TV favorites. In the 2020s, he's so far taken part in "Schmigadoon!" on Apple TV+, Netflix's "The Pentaverate," and "Reboot," and it's likely they won't be alone by the time the decade comes to a close. 
All in all, Keegan-Michael Key is a household name who's proven himself in a variety of entertainment settings. He can physically act, voice act, improvise, and more, keeping audiences thoroughly entertained all the while. Odds are, he'll knock the role of Toad in "The Super Mario Bros. Movie" out of the park.