Fans Can't Tear Their Eyes Away From The Super Mario Bros. Movie Trailer For The Wrong Reason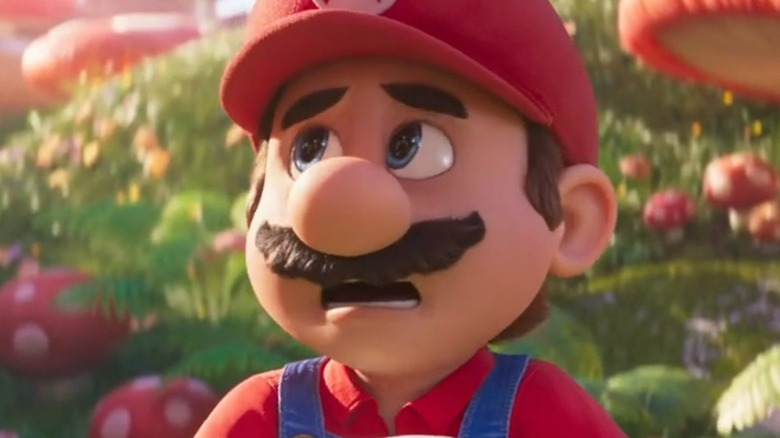 Universal Pictures/Illumination
After a 30-year absence from the silver screen, Mario and Luigi are coming back to the cinema in a big way. Formally announced in 2018, "The Super Mario Bros. Movie" will debut on the big screen on April 7, 2023, bringing with it a host of iconic characters from the video game source material as well as some talented actors who will bring them to life. To name a few, Chris Pratt will voice Mario himself, Charlie Day will portray Luigi, Jack Black will voice Bowser, and Anya Taylor-Joy will play Princess Peach.
While this casting announcement at Nintendo Direct 2021 (via IGN) was enough to hold the internet over for a while, it wasn't long before folks were clamoring to see footage from the movie itself. Though it took some waiting, the fans finally got their wish on October 6, 2022, when the inaugural trailer for "The Super Mario Bros. Movie" dropped. Without spoiling too much about what the story entails, it gave potential moviegoers a look at Bowser and his minions, Mario, Toad (Keegan-Michael Key), and the colorful, lively world they all inhabit.
As discussions have spawned across the internet about the "Super Mario Bros. Movie" trailer, it's become apparent that fans can't take their eyes off of it. Although, it's not exactly for the best of reasons.
Some of the character models aren't totally working for fans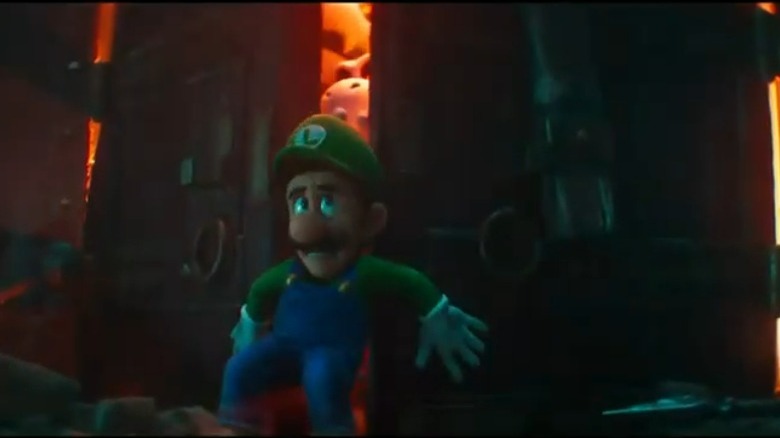 Universal Pictures/Illumination
Not long after the "Super Mario Bros. Movie" trailer reached YouTube, fans began voicing what they like about it and what they didn't. While visually, the movie seems like it sticks pretty close to the video games, people couldn't help but point out that something about a handful of the character designs just didn't click. "Everything LOOKED great, but something about Mario/Luigi's eyes/face were just.... off," commented Reddit user u/BornByFireandFlames, and they were far from alone in their sentiment.
"This Mario is good, it's great... there is just... something. Can't put my finger on it," added u/mundozeo, noting that while it's different, it's not necessarily bad. They even compare it to the original Sonic design from 2019, which fans were quick to call out for being absolutely atrocious, resulting in Paramount delaying the "Sonic the Hedgehog" movie so the VFX team could make some changes. Speaking of comparisons, u/IRandaddyI even likened Mario to Fix-It Felix (Jack McBrayer) from the animated favorite "Wreck-It Ralph."
With these small design hiccups that we'll all likely grow accustomed to as the movie's premiere draws nearer in mind, it's important to remember that when it comes to reimagining the world of the "Super Mario Bros." games at the movies, things could've turned out much worse.
The redesigns could've turned out much worse
Buena Vista Pictures
Decades before Illumination and Universal would take a crack at a movie focused on Mario, Luigi, and the rest of the gang, directors Rocky Morton and Annabel Jankel created "Super Mario Bros." This 1993 live-action film features the late Bob Hoskins and John Leguizamo as Mario and Luigi, respectively, and has since become a cult favorite. Nevertheless, most regard it as one of the worst video game movies ever made. The production was a disaster, the tone was strangely adult, and, perhaps worst of all, it completely missed the mark in terms of aesthetics.
In an attempt to reinvent the world of Mario and Luigi — which, on the surface, certainly isn't a bad thing — "Super Mario Bros." took, as Reddit user u/deadandmessedup describes it, a "Blade Runner"-esque approach. No vibrant colors, no angry yet harmless-looking goombas, and no cartoony characters. Instead, Mario and Luigi take an unwanted trip to a grungy, dark city known as Dinohattan, occupied by gritty yet campy takes on famous Nintendo characters. It's not until the tail end of the movie that the two brothers don their famous red and green outfits.
While this reimagining may have worked for some, the vast majority of audiences couldn't stand it. Therefore, we should all be thankful that Universal and Illumination seem to have learned from the 1993 film's follies with their upcoming animated Mario Bros. adventure.