The Serpent Queen's Liv Hill Always Had One Thing In Mind When Filming Catherine De Medici's Scenes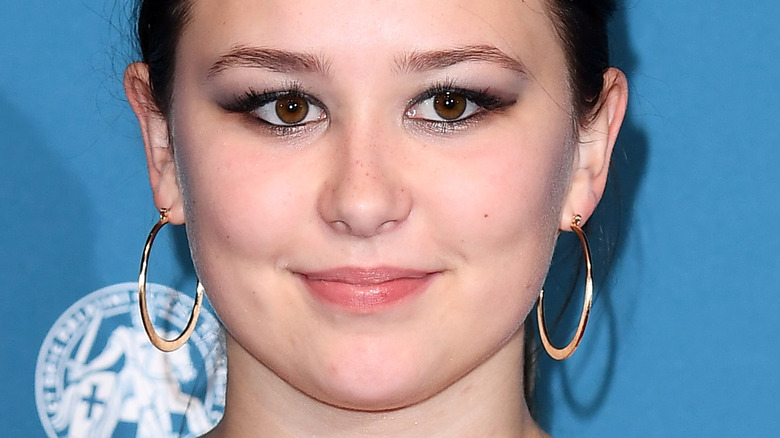 Jeff Spicer/Getty Images
In the annals of history, there is not often anyone under more scrutiny than a woman in power. As one of the longest-reigning monarchs in French history, Catherine de Medici's ruthlessness and rumored appreciation for the dark arts were well known. On-screen depictions of the figure have shown her as an outright villain, such as Megan Fellows in the CW drama "Reign." But in the new series "The Serpent Queen," Catherine is given a chance to tell her side of the story.
The Starz series demonstrates the formative years of Catherine's life as she is used as a pawn in a political marriage to France up through her reign as queen. The cast of "The Serpent Queen" is impressive, with Samantha Morton playing Catherine in her scheming and murdering glory as the adult royal. But the series would suffer without Liv Hill's charismatic portrayal of the teenage Catherine. It was important to the young actor to show the specifics surrounding the queen's circumstances.
"Let's not judge this woman just on those decisions," Hill told TV Insider. "We've gotta put it in context and realize that she was a woman. She was a foreigner as well and in an incredibly unforgiving and brutal world. That influenced all her choices." But in addition to doing the historical figure justice, there was one force that drove Hill's interpretation of the real-life legend.
The name of the game is survival
After being orphaned just days after her birth, Catherine is barely given a chance. Though born into the renowned house of Medici, she is left alone and thrown into a convent until her teenage years. Only when her uncle, Pope Clement VII (Charles Dance), brokers a marriage for her does she get a taste of freedom. But as with most young women of the time, it was not without its difficulties. Sold in essence to Prince Henri of France (Alex Heath), Catherine finds herself in a pit of vipers and has to fight from the moment she arrives. This is the main element that Liv Hill focused on when developing the character.
"I think the main thing for me is how I approached it, as I just remembered, the intention of survival," Hill told ScreenRant exclusively. When Catherine arrives at court, she falls head over heels for Henri, unaware of his affair with a woman twice his age. Older and more experienced than Catherine, Diane de Poitiers (Ludivine Sagnier) does whatever she can to undermine Catherine only to be surprised when the teenage girl quickly picks up the game of succession.
The only way for Catherine to survive being ousted is to be smarter and more observant than anyone in the room, which is something that Hill enjoyed playing: "I loved playing her watchful eye. She was always in a sense of alertness. And I feel like I really relate to that."
Young women are being put through a crucible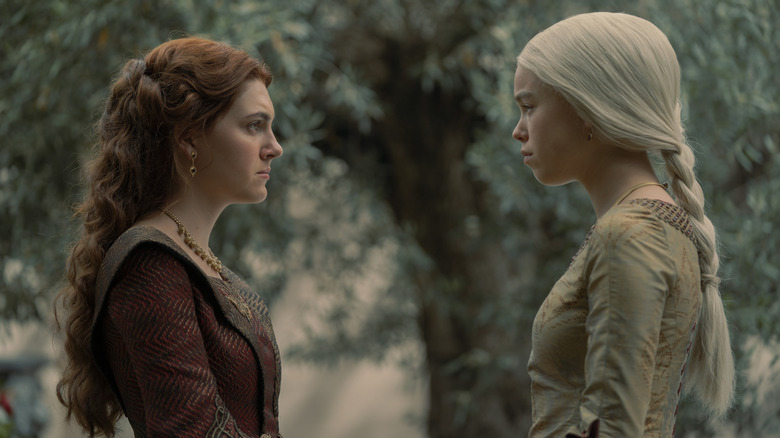 Ollie Upton/HBO
Many women, and more specifically, young girls, are not having a great time on costume dramas. While young Catherine struggles to keep her head above water on Starz, HBO offers its own spin on the tale of court intrigue — but with dragons, of course. Set in the fantasy world of Westeros, "House of the Dragon" brings a whole new connotation to female survival. Set from the perspective of Princess Rhaenyra Targaryen (Milly Alcock) and her (former) best friend Alicent Hightower (Emily Carey), the two are pitted against each other all because of the patriarchy. Alicent has spent her entire life playing by the rules and is ultimately married off to King Viserys (Paddy Considine), whose ill body is falling apart.
The crown princess, on the other hand, has almost free reign to marry who she chooses, which turns out to be salt in the wound for Alicent. This rift will begin the civil war known as the Dance of Dragons and it's all because women were not allowed to rule in their own right. Emma D'Arcy, who plays adult Rhaenyra on the series, spoke about how this modern tale resonates.
"This character, as a result of patriarchal constraints, essentially doesn't have power," D'Arcy told Entertainment Weekly. "They have privilege, but they don't have power. It's one thing to put two female characters in the center of a series like this, but it's another when they are positioned within a patriarchy."