The Big Reason Samantha Morton Originally Dismissed The Idea Of Starring In The Serpent Queen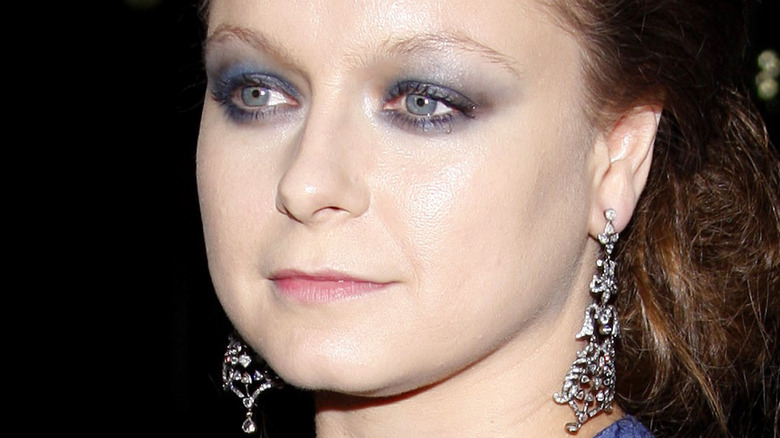 Tinseltown/Shutterstock
There is no question that historical monarchs have garnered a level of fascination within popular culture. Costume dramas often depict the political machinations of royals fighting for the throne. The 16th century was a particularly bloody time for England, France, and Italian politics. From Machiavelli to Henry VIII, there is no shortage of material to address. Starz's newest endeavor is the Serpent Queen herself, adapted from Leonie Frieda's book "Catherine de Medici: Renaissance Queen of France" (via TV Insider). Premiering on September 11, "The Serpent Queen" has proven to be provocative, with outlets such as Variety commenting on the fresh new series.
The publication commended the series but also concluded that many of the more flashy elements are not necessary. Though the show implements the trend of fourth wall breaks present in shows like "She-Hulk," the structure of "The Serpent Queen" is strong enough on its own — especially with the casting of Samantha Morton in the title role. With a collection of varied credits in her past, the actor is absolutely singular in the role. But despite Morton's impressive career, the road to playing Catherine de Medici was not a straight line.
Samantha Morton didn't think she could play both versions of Catherine
When Samatha Morton first heard about the casting for "The Serpent Queen," it was almost an accident. She had crossed paths with the makeup designer for the Starz series, and after a casual conversation, the subject of Catherine de Medici came up. As the series had yet to find their queen, Morton spread the word to some acquaintances — but never considered the part for herself.
"I was thinking about actresses that I knew that I thought were brilliant," Morton told Collider. "So I emailed about three friends saying, 'There's this show. It's called 'The Serpent Queen.' It's about Catherine de Medici, and you'd be amazing.' I thought I was too old, because obviously, I couldn't play younger and older Catherine." Despite Morton dismissing herself as an option, it wasn't long before they found their Serpent Queen. By the time she finished her latest project, the scripts for the series arrived at her home. And the rest is history.
Ultimately there was no problem with Morton starring in the series. When "The Serpent Queen" picks up, Catherine narrates her humble beginnings when she is married off at 14 years old. Liv Hill portrays Catherine in her teenage years in a way that impressed even Morton herself.
"[W]hen I knew that Liv Hill had been cast, I jumped up and down," Morton said. "I was so excited because I've seen her work. Huge Liv Hill fan. She's extraordinary."
Samantha Morton has a habit of playing complicated women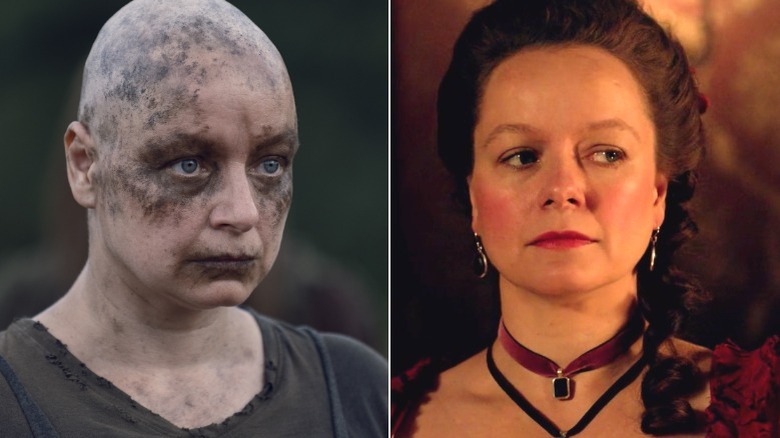 Gene Page/AMC & Hulu
The complexities of Catherine de Medici are not entirely foreign to Samantha Morton. The actor has made a career out of women with questionable morals and deservedly so. Her tenure as Alpha in "The Walking Dead" was a standout and made playing Catherine appealing to the actor.
"I'm lucky I get to play lots of formidable characters ... complex characters. Sometimes very hard-hitting and having spent three years playing Alpha, a pretty crazy kind of role to get into and to feel and inhabit," Morton told ScreenRant in an exclusive interview. "I'm always looking for things that are very different from the things I've done before." Alpha was a memorable villain, to be sure. While many antagonists that Rick Grimes (Andrew Lincoln) and friends encounter have slivers of humanity, Alpha is the cruelest villain in "The Walking Dead" with no redeeming qualities whatsoever.
Morton's tenure in "Harlots" features an equally fascinating character in Margaret Wells. The owner of a brothel in Georgian-era London, there isn't anything that she wouldn't do to succeed as a modern woman of the time. While Catherine's personality differs from these characters, she is an iconic figure that Morton was excited to play.
"The minute you read the storyline in the scripts, you're like, 'What an amazing role!'" Morton went on to say. "So that was it, really. Kind of wanting to make sure that I could do it justice."