Why Denise From The Big Bang Theory Looks So Familiar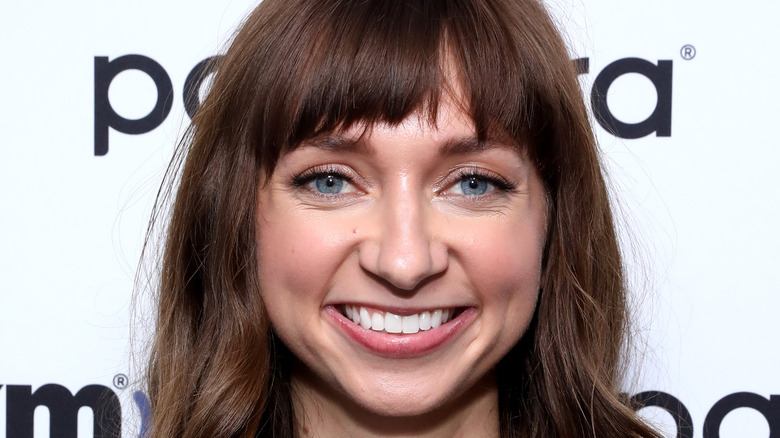 Robin Marchant/Getty Images
"The Big Bang Theory" may have revolved around the adventures of Sheldon Cooper (Jim Parsons), his intellectual friends, and their significant others, but it also introduced a number of memorable supporting characters during its 12-season run, including Denise, the assistant manager of Stuart Bloom's (Kevin Sussman) comic book store. Stuart hires Denise in Season 10 because of her extensive knowledge of comic books. At first, unsurprisingly, Sheldon does not like this change, but ultimately, he warms up to Denise because her comic book knowledge impresses even him.
Stuart and Denise eventually start a relationship after he impresses her with his own extensive knowledge of "Star Wars." She doesn't even mind when he shows up with orange skin for their first date due to too much fake tanning, instead flattered that he put so much effort into impressing her. Ultimately, Denise and Stuart become a happy couple and even declare their love for each other.
The actor who played Denise may look familiar to fans of "The Big Bang Theory" because of her roles on other TV shows and in movies. Here's where you may have seen her before.
Lauren Lapkus played a corrections officer on Orange Is the New Black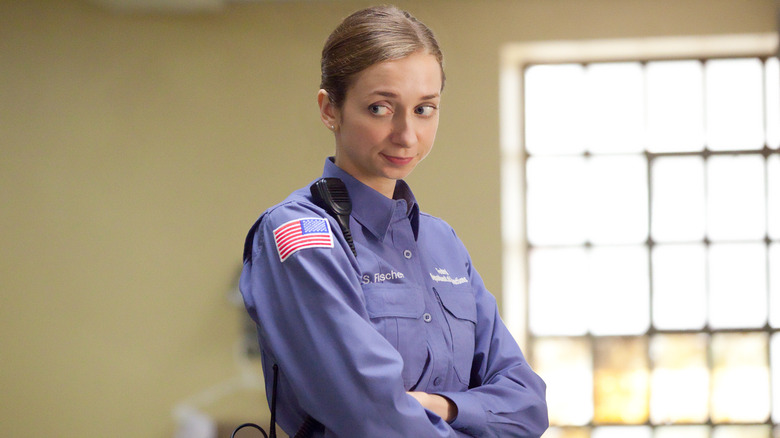 Jessica Miglio/Netflix
One reason viewers of "The Big Bang Theory" might recognize Denise is because she is played by Lauren Lapkus, who was also on "Orange Is the New Black," the Netflix original series released from 2013 to 2019. Lapkus plays a young, inexperienced, idealistic woman named Susan Fischer who gets hired in Season 1 as a corrections officer at Litchfield Penitentiary, a federal women's prison in Upstate New York.
CO Fischer is different from the other prison employees: She is not on an aggressive power trip like George Mendez (Pablo Schreiber) nor has she been in the business long enough to have become jaded like Joel Luschek (Matt Peters). Because of her comedic naivete and genuine desire to do good in a place where that is very difficult, Fischer is a likable character, even if she is not supereffective as a corrections officer.
Fischer's boss at Litchfield, Joe Caputo (Nick Sandow), develops a crush on her and tries to date her. He fires her in Season 2 after she rejects him, although he claims the reason is that she's bad at her job. Lapkus told TV Insider that she was disappointed to be leaving "Orange Is the New Black," but fortunately, she returned for a guest appearance in Season 7. In the episode "Me as Well," Fischer shares the details of her firing on Facebook as part of the Me Too movement.
Lapkus portrayed Vivian Krill in Jurassic World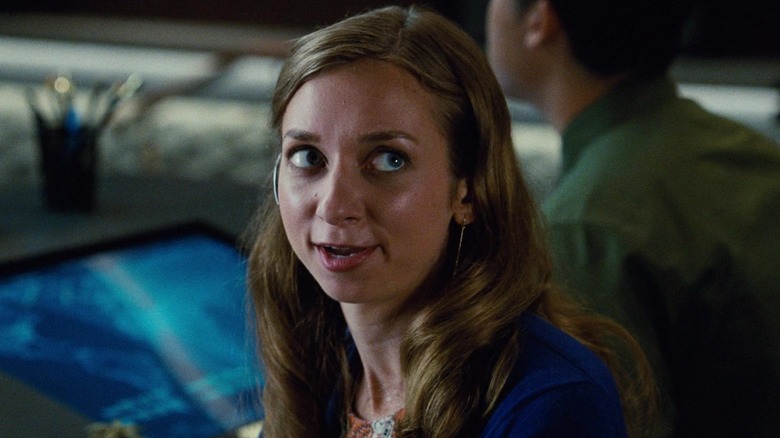 Warner Bros.
After leaving "Orange Is the New Black," Lauren Lapkus played Vivian Krill in 2015's "Jurassic World." In the film, Vivian works in the theme park's control room and is responsible for monitoring the park's dinosaurs and guests to make sure everyone stays safe and everything runs smoothly. She and coworker Lowery Cruthers (Jake Johnson) are used as comic relief, with Lowery attempting to kiss her as the control room is being evacuated only for Vivian to awkwardly stop him and tell him she has a boyfriend.
Although neither character appears again, it is revealed through photos on Franklin Webb's (Justice Smith) tablet in "Jurassic World: Dominion" that they both survived the events of the first film and were subsequently hired by the CIA to work in its Dangerous Species Division, along with Franklin himself after he walks away from the Dinosaur Protection Group at the beginning of that film.
She tried to get cozy with Annie, Beth, and Ruby on Good Girls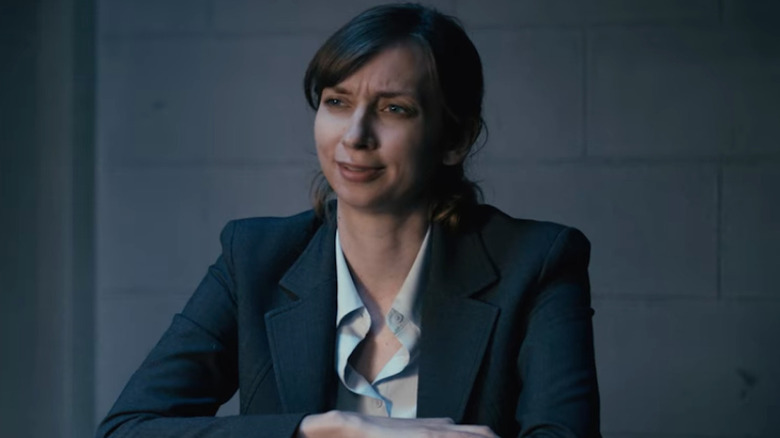 NBC
Lauren Lapkus also played Secret Service agent Phoebe Donnegan on "Good Girls," the NBC crime dramedy that aired from 2018 to 2021. Lapkus joined "Good Girls" in Season 3 and remained through Season 4, after which "Good Girls" was canceled.
Donnegan begins investigating the counterfeit money printing that is being done by Beth Boland (Christina Hendricks), Ruby Hill (Retta), and Annie Marks (Mae Whitman). At first, Donnegan thinks it is Beth's husband, Dean (Matthew Lillard), who is the criminal mastermind, but she eventually figures out the truth. Still, she attempts to get close to Beth in hopes of catching bigger criminals rather than targeting Beth for prosecution.
In an interview with Us Weekly, Lapkus expressed disappointment at not getting to finish out the series, saying, "That's the hard thing about a show being canceled without that warning is that they didn't get to sum up all of the stories the way they would've wanted to."
Lapkus was the wrong Missy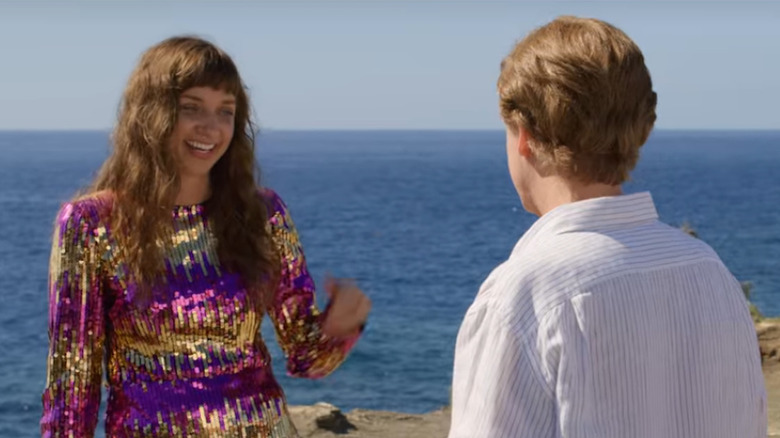 Netflix
Another reason viewers of "The Big Bang Theory" might recognize Denise is because Lauren Lapkus is Missy from "The Wrong Missy," a 2020 Netflix romantic comedy. Three months before the main events of the film, the protagonist, Tim Morris (David Spade), goes on a blind date with a woman named Missy who ends up being a total basket case, and they don't see each other again. Later, he meets a woman named Melissa, and they get along so well that he invites her (or so he thinks) to accompany him on a corporate retreat. Unfortunately, he's been accidentally texting the wrong woman the whole time, and it's the hyperactive, off-the-wall Missy who shows up on the plane.
In this role, Lapkus gets to capitalize on her talent of producing a comically excessive amount of enthusiasm in her characters. Missy is almost like a young child not only because of how excited she gets about everything but also because of how destructive and needy she is. Ultimately, Tim can't help but fall in love with her anyway.