Adria Arjona Discusses What It Was Really Like Working With Diego Luna On Andor - Exclusive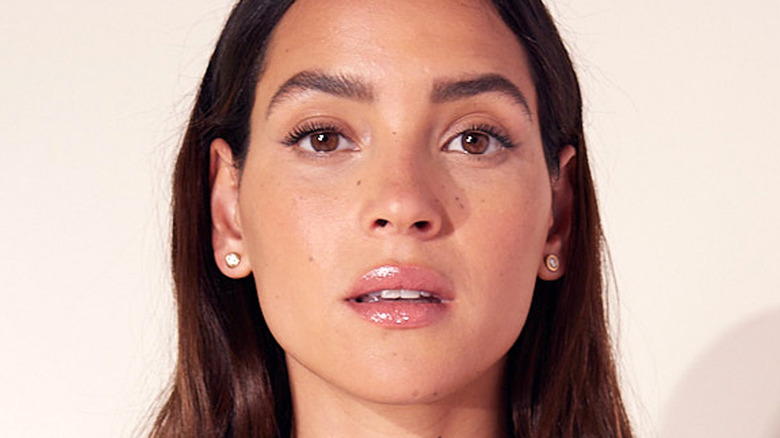 Corey Nickols/Getty Images
Since "Andor" star Diego Luna already had experience in the "Star Wars" universe when it came to filming the new "Rogue One: A Star Wars Story" prequel series, his co-star Adria Arjona said the actor's guidance was invaluable in helping her settle into her role in "a galaxy far, far away."
"Andor," of course, is named for Cassian Andor (Luna), the Rebel hero who teamed up with Jyn Erso (Felicity Jones) and their band of spies in "Rogue One" to secure vital plans for Princess Leia — plans that enabled the Rebels to blow up the Death Star in the first "Star Wars" film, "A New Hope." "Andor" chronicles the formation of the Rebellion five years before the events of "Rogue One." Cassian encounters such familiar faces in the "Star Wars" universe as his future leader, Mon Mothma (Genevieve O'Reilly) — and the show also introduces a new group of rebellious individuals including Bix Caleen (Arjona), a scrapyard mechanic with whom the solider-turned-spy shares a shadowy past.
Arjona is certainly no stranger to show business. Her résumé, in fact, is chock-full of high-profile projects including the TV series "True Detective" and "Emerald City" and the films "6 Underground," "Morbius," and "Father of the Bride." Realizing that great acting is just as much about reacting, Arjona has been blessed with several high-profile co-stars to help inform her craft, including Ryan Reynolds, Andy Garcia, Jared Leto, and now with "Andor," Luna.
In an exclusive interview, Arjona told Looper that while Luna had the benefit of playing Cassian once before in "Rogue One," they were somewhat on a level playing field because the Cassian that Luna played in that film is not the Cassian he's playing now in "Andor."
Arjona is amazed at how Luna transforms into Cassian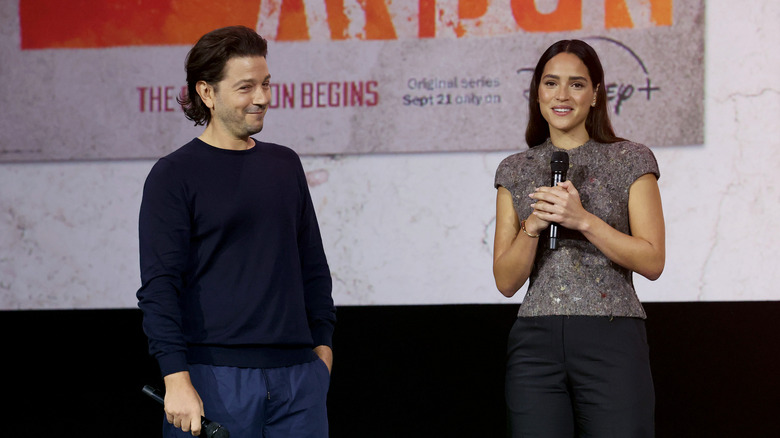 Jesse Grant/Getty Images
In a way, Adria Arjona told Looper, she and Diego Luna were both discovering their characters in "Andor" together, because Luna was exploring where Cassian came from prior to "Rogue One."
"He was working backwards. We were both in a state of exploration," Arjona said. "I was starting to explore Bix and who she was, and trying to figure that out and puzzle that in my brain, while he was also trying to figure out the beginning or where Cassian was in that specific moment in history."
Arjona, who was ecstatic after landing her role as Bix after auditioning for writer-director Tony Gilroy, said Luna's measured approach helped her ease into the character. "He was incredibly open, and he had been in my shoes before. He understood the nerves that I had, the pressure that I felt, so he was a really great guide. Even more than that, he was so Cassian. It helped with Bix being annoyed at the fact that he's coming back [in an early scene in 'Andor'], and I was like, 'Oh, not you again!' It was so him."
Perhaps one of the most exciting aspects of working with Luna was seeing his stunning transformation into Cassian. "There's an energy that shifts within Diego, and you can tell when you talk to him. He's so kind and sweet and gentle, and then with Cassian, he still has those elements, but it's so much more," Arjona explained. "He created this super complex character that he becomes. It's almost a transformation with what he does, and you're like, "That's Cassian." [Then once Tony yells 'Cut,' you go], "Oh, that's Diego." It's mind-blowing."
"Andor" is streaming exclusively on Disney+, with new episodes premiering every Wednesday through November 23.