Looper's Exclusive Survey Uncovered Fans' Favorite Impractical Joker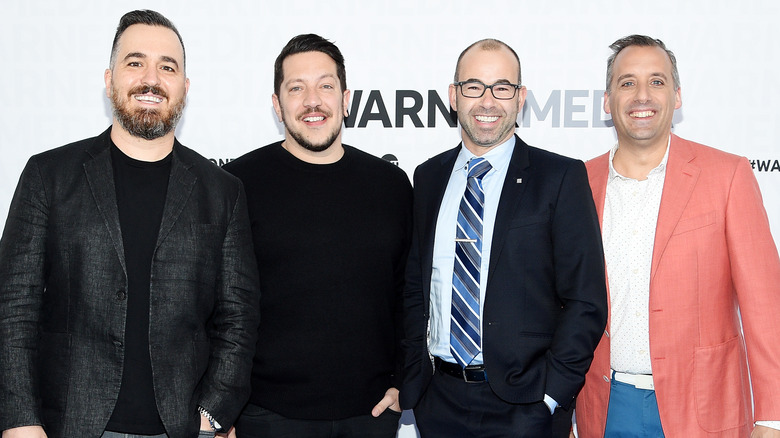 Dimitrios Kambouris/Getty Images
Although much and more of truTV's "Impractical Jokers" is dedicated to performing extremely uncomfortable pranks on the unsuspecting public, it's safe to say that the true core of the series is the chemistry between the series' four hosts — Brian "Q" Quinn, Sal Vulcano, James "Murr" Murray, and Joe Gatto.
Fans of the series will know that these four lifelong friends grew up pulling pranks on each other, and later decided to convert their talents for humiliating each other into a career with the creation of "Impractical Jokers." Each week, the four iconic hosts (excluding Joe Gatto who exited the series midway through Season 9) perform a series of embarrassing and uncomfortable pranks while their fellow jokers give them instructions via a hidden earpiece.
These hilarious (and often cringe-worthy pranks) are underscored by the banter and laughter of the four main hosts. Considering just how well these friends work as a team, it might seem impossible to decide which of the "Impractical Jokers" is the best at what they do — though an exclusive survey from Looper has revealed that one of the jokers is a clear fan favorite.
Q is fans' favorite Impractical Joker
An exclusive survey from Looper revealed that fans' favorite Impractical Joker is none other than Brian "Q" Quinn, earning 27.24% of the vote based on 613 U.S. participants. Although Q may have earned the lead, it's certainly worth noting that the results themselves were almost completely split between the four main hosts — with James Murray earning 25.77% of the vote, Joe Gatto earning 24.14% of the vote, and Sal Vulcano earning 22.84% of the vote.
Although it's unclear exactly what makes Q the fan favorite amongst the cast of "Impractical Jokers," over the years Q has made a name for himself by participating in some of the most uncomfortable punishments you could possibly imagine. A few notable examples include Q's awkward networking event, a prank in which Q had to rip up several autographs received by diehard Yankees fans, and his infamously cringe-worthy Universal tram ride punishment — which some fans still have trouble watching to this day.
In any case, this survey makes it clear that Q has managed to endear himself to plenty of fans across the country, rising above his cohorts as the clear fan favorite amongst the "Impractical Jokers" — despite the fact that most of his punishments are nearly unwatchable.