The Impractical Jokers Punishment Fans Thought Was Way Too Awkward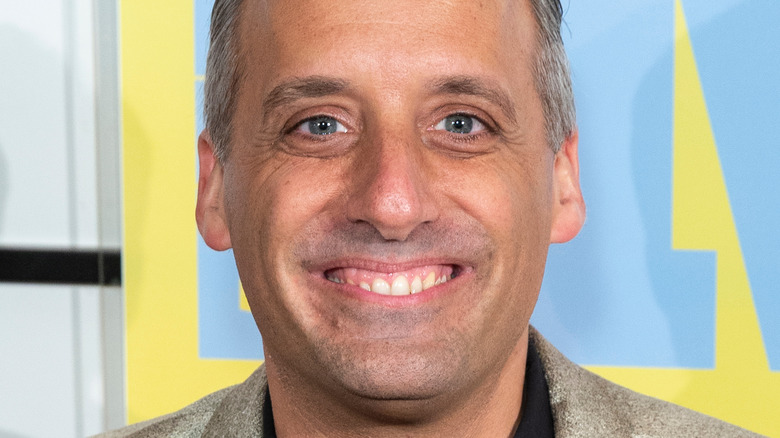 lev radin/Shutterstock
It's one thing to mess around with your friends and do embarrassing stuff, but it's an entirely different ballgame doing so with a camera right in front of you and a global audience watching. For the "Impractical Jokers" team, though, it's just another day at the office. Since 2011, the likes of Brian "Q" Quinn, Sal Vulcano, James "Murr" Murray, and up until 2021, Joe Gatto, have boldly gone out in public and to make each other do and say some of the most jaw-dropping stuff possible. Of course, if something seems too extreme, at least they can turn it down.
While that may sound relieving, not undertaking an "Impractical Jokers" challenge or failing at it comes at a cost. At the end of each episode, whoever has the most failures on their record must endure a punishment concocted by the other guys. The catch? They must do it no matter how frightening, disgusting, or painful to watch it is. Rules are rules, after all, and more often than not, these punishments put the poor soul — or souls, in some cases — subjected to them in awful positions. Although, some of the ones the show has hosted are just a cut above the rest.
According to some "Impractical Jokers" fans, this specific punishment is among the most painfully awkward to watch.
Q's networking event punishment made many fans cringe
Reddit user spinach-god consulted the "Impractical Jokers" Reddit community to ask them for their picks for the hardest or most cringeworthy punishments. Several folks dropped solid choices, ranging from Q's constant interruption of a Universal Studios tour to Murr's brief tenure as a change-stealing snack vendor at a baseball game. However, Redditor luis9323's pick, which saw Q uncomfortably follow a person around a networking event, is the undisputed worst of the bunch. Not only did he latch onto the guy for the entire thing, but he constantly interrupted his conversations with others and clearly got on his nerves.
The sheer awkwardness of this punishment is enough to make anyone's skin crawl, and even though he hated what he had to do, it's not uncommon for Q to end up with some rough punishments. As he told Forbes in 2019, he's had to endure some painfully uncomfortable ones courtesy of his three lifelong friends. "First one was my parents, where I had to teach them sex ed, that was really bad. That got replaced, eventually, by when they put the tarantulas on me because that was one of the worst things," he said, noting that the tarantula punishment was eventually overtaken by his Universal Studios experience.
"Impractical Jokers" has earned a place as one of truTV's most popular shows, so even with Joe Gatto gone, it'll likely stick around for years to come. That's great news for fans, but for Q and the rest of the jokers, that only means more rough punishments ahead.