Deep Water Director Reveals His Bizarre Approach To Love Scenes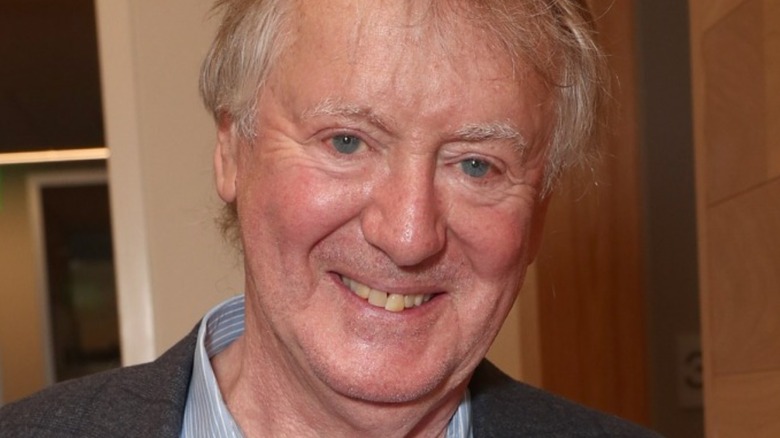 Todd Williamson/Getty Images
When it comes to Hollywood sex scenes, "Deep Water" director Adrian Lyne is what some may call a seasoned vet, with erotic hits like "9 1/2 Weeks," "Indecent Proposal," and "Fatal Attraction" all under his moviemaking belt. Yet with success also comes the bizarre when on a Lyne set, apparently. 
"Literally didn't stop talking, practically hollering, the whole time," wrote Demi Moore in her 2019 memoir "Inside Out" on Lyne's behavior during her "Indecent Proposal" sex scenes with Woody Harrelson (via The Independent). "Lyne would cry things like 'F***ing raunchy!' and 'Oh god, got a boner on that!'" Moore reportedly said ... but there was a very specific reason for the filmmaker's approach.
As moviegoers know, Lyne's movies are designed to push a viewer's sexual and personal limits to their edge through epic acting performances from legendary stars like Moore, Glenn Close, Michael Douglas, Richard Gere, Diane Lane, and most recently Ben Affleck and Ana de Armas in "Deep Water." While his techniques may seem strange, Lyne and his actors will all assure you that there's a method to the madness. 
Lyne purposely tries to break the ice during love scenes
According to "Flashdance" director Adrian Lyne, the reason he acts so outlandish on set during sex scenes is an attempt to erase the tension and awkwardness that often comes with them. 
"I have the horror of imagining these poor people going at it in silence and not knowing whether they look good or whether their ass is flabby," Lyne told Collider while promoting "Deep Water" in March 2022. "I get very close, almost like a shrink, or a husband or wife," the filmmaker added. "You feel like you're doing it with them ... I'm a little bit like a cheerleader." Lyne says he likes to get acquainted with his actors and work directly with them to establish a more intimate connection. "For 10 weeks or more, you have to develop an incredible intimacy with them," he added. 
When it comes to the actors involved, Lyne insists that his approach has had an overwhelmingly positive impact on the people he's worked with. "You sense their confidence mounting, so it's a better scene," Lyne told The Independent. For Demi Moore, this rang especially true on the set of "Indecent Proposal."
'Took the focus off my own awkwardness'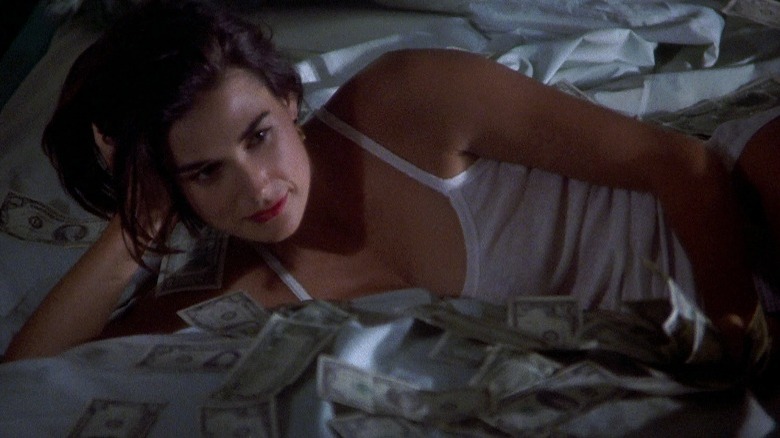 Paramount Pictures
According to Demi Moore, when it came to Adrian Lyne's bizarre approach to filming a Hollywood love scene, things actually felt much easier and more relaxed when he was acting as her self-described cheerleader.
"Here was this guy getting all sweaty and worked up, yelling about boners. But once I got used to it, I saw its advantages," Moore explained in her memoir (via The Independent). "Having Adrian carry on that way took the focus off my own awkwardness," she said. 
Nowadays, Lyne admits that it's much harder to try and break the ice on set due to things like intimacy coordinators and possible lawsuits, which pretty much had the director too spooked to do his thing while filming "Deep Water." He told The Independent in March 2022: "It implies a lack of trust, which I loathed. That's all I have with my actors: They trust me and I trust them, totally. It wasn't a big deal in the end, though." 
Hulu's "Deep Water" marked Lyne's return to the world of cinema after a 20-year hiatus. He told GQ magazine in March that while it's in the same wheelhouse as prior movies of his like "Fatal Attraction" and "Unfaithful," those types of films could never be made the same way today on account of erotic thrillers floundering in recent decades. "I think it's a pity, really," Lyne said. "I mean, I would never now get the money I got ... to make Fatal Attraction now. I mean, I wouldn't get it made [at all], I'm sure I wouldn't get it made."