Jamie Lee Curtis Has An Interesting Take On Making Another Halloween Movie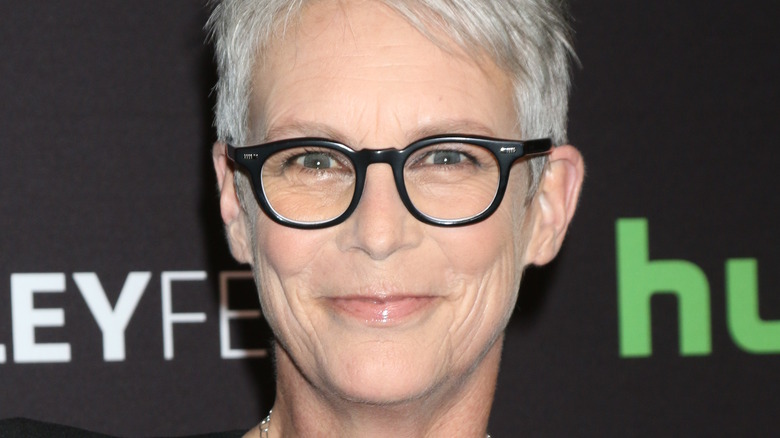 Kathy Hutchins/Shutterstock
Most actors' film debuts are a blip on their resumes, best lost to the sands of time and the annals of IMDb. Not for Jamie Lee Curtis. When the young actress originated the role of Laurie Strode in 1978, she couldn't have imagined that the "Halloween" character would stick with her for over 40 years. The nascent Scream Queen would reappear as Laurie for 1981's "Halloween II," 1998's "Halloween H20: 20 Years Later," and 2002's "Halloween: Resurrection" before, she thought, she put the beleaguered babysitter to bed for good.
It's not just the killers, it turns out, who have tremendous staying power when it comes to horror franchises. In 2018, to the delight of horror fans and peril of Haddonfield residents, David Gordon Green retconned "Halloween" back to the 1970s with an all-new trilogy starring Curtis. "Halloween Kills" followed in 2021, and on October 14, the long-running franchise will conclude with "Halloween Ends," in which Curtis will make her final appearance as Laurie Strode — or so she says. Here's what the actress really thinks about the final "Halloween" trilogy.
Jamie Lee Curtis says never say never
Jamie Lee Curtis knows better than anyone to be leery of something that's seemingly kaput. Just ask the unassailable Michael Myers. In 2017, the last thing on Curtis' mind was making another "Halloween." But, she told SFX, her pal Jake Gyllenhaal called her up and made her an offer she couldn't refuse. "I picked up the phone and he said, 'Hey Jame, my friend David Gordon Green ... would like to talk to you about a Halloween movie'" (via GamesRadar+).
Five years later, Curtis says the trilogy has changed her creative and professional life. "I now have a partnership with Jason Blum at Blumhouse, I have a production company, I've written a horror film that I will direct, I am producing television series, I am buying books. All of that was the last thing I thought I would be doing five years ago." Curtis credits the turn of events with her "never say never" attitude. If that attitude holds, fans can't rule out the eventual resuscitation of the beloved franchise.
Curtis' proactive spirit should embolden cynical "Halloween" fans who anticipate that Michael Myers will persist despite the promise of the franchise's conclusion. Even David Gordon Green admits that "Halloween" could continue, with or without Laurie Strode. "You can kill every character and still find a way to continue their stories," he told SFX. "So as long as they're successful ... stories will find ways to carry on, I'm certain."