Final Halloween Ends Trailer Draws A Cynical Reaction From Fans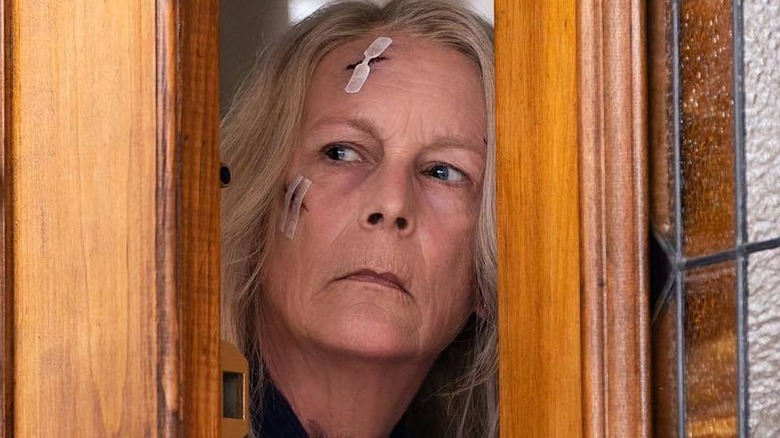 Universal Pictures/ YouTube
The air is cold, and the screams of Haddonfield are cutting through the neighborhood like a freshly drawn kitchen knife, which can only mean one thing. It's that time of the year again for stab-happy chappy Michael Myers to go on another killing spree. Still, with this being the final chapter in David Gordon Green's legacy trilogy, there's a chance that "Halloween Ends" might be his last, especially if Laurie Strode (Jamie Lee Curtis) has anything to do about it. Then again, maybe not.
Set four years after the events of "Halloween Kills," Laurie is even more bent on ending Myers' reign of terror after he took the life of her daughter, Karen (Judy Greer). Returning to have another go and finish what he started all those years ago, Laurie is in Myers' cold black sights once again, as well as anyone stupid enough to get in his way. While some fans might be hyped for this trilogy's closing chapter, there are two glaring issues that many refuse to ignore. 
Fans are confident this isn't the end for Michael in Halloween Ends
Following the trailer's release, viewers naturally passed their verdict on the final fight between Strode and The Shape, and the biggest hurdle to get over was surpassing the poorly received predecessor. "This better be better than 'Halloween Kills' hopefully it'll be more like 'Halloween' (2018)," one fan said on YouTube, referring to the second installment of the new trilogy that was met with scathing reviews upon release. Another fan quickly referenced one of the major gripes with "Kills," saying, "I swear if I hear 'Evil Dies Tonight' again in this movie, I am gonna rip the screen apart," said AB H.
No matter the reception "Ends" gets, most fans are willing to accept that this was certainly not the final killing blow for Michael Myers and that the overalled antagonist would undoubtedly be back in the future. Mister Puff said, "I do believe it is the END of Laurie's story but no way this is the final Halloween film. Myers will be back. He always comes back." After one fan anticipated the "true end" to the franchise, another added, "Of the Michael Myers and Laurie Strode saga but, sadly, not of the franchise," said Ben Munn. We can only see who comes out on top and with a stable pulse when "Halloween Ends" lands in theatres and on Peacock on October 14.