The 12 Best Bob's Burgers Guest Stars Ranked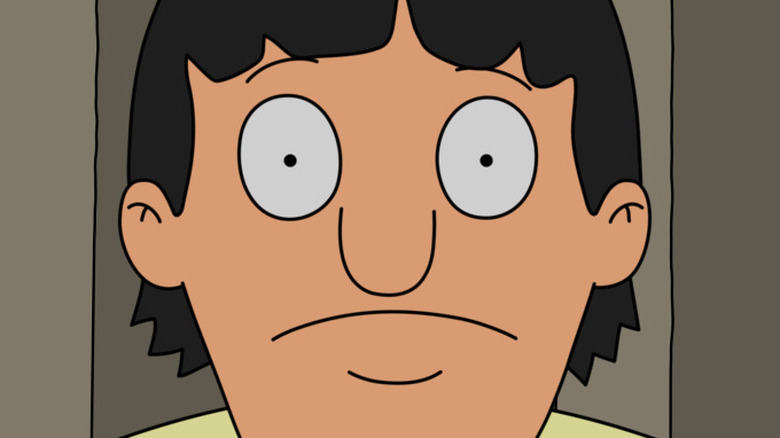 Fox
"Bob's Burgers" is an endearing adult animation hit that embraces its heartwarming weirdness and encourages its devoted viewers to do the same. The burger-flipping series quickly became a fan favorite and even launched "The Bob's Burgers Movie" on the big screen. "Bob's Burgers'" deeply resonates with its audience, partly due to the unique and lovable array of relatable characters that sets it apart from other programs of its kind. 
The upward failings of Bob (H. Jon Benjamin) are consistently inspiring and culminate in an even more admirable resilience that spreads to the rest of the Belcher family. His wife Linda (John Roberts) beams with optimism and a refreshing open-mindedness that easily makes her one of the best TV moms in history. Their kids Tina, Gene, and Louise — voiced by Dan Mintz, Eugene Mirman, and Kristen Schaal, respectively –are a rambunctious bunch of oddballs constantly cracking jokes and euphemisms.
"Bob's Burgers'" ability to tell zany and memorable stories makes it a relaxing comedy that's pretty much universally easy to enjoy, and even comes with an abundance of film parodies from masterpieces like "The Birds," "Aliens," and "Blade Runner." The variety of roles within these special episodes helps the show appeal to a wider audience by offering a little something for everyone. These characters also include notable hilarious guest stars that elevate the episodes into unforgettable adventures for the Belchers. 
Nicole Byer as the ax-chucking Martha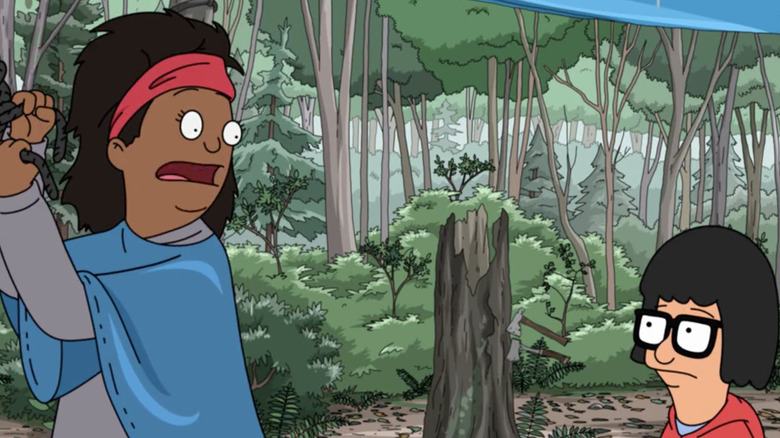 Fox
In "Go Tina on the Mountain" (Season 8, Episode 14) our favorite bespectacled Belcher is desperate for a life-changing nature adventure. This will seemingly boost her confidence and fix all her problems, while forever bonding her to a cliquey group of friends led by mean girl Tammy (Jenny Slate). In a tune true to life's unpredictability, Tina's hike takes an unexpected turn when a rainstorm cancels her plans of an epiphany in nature. After rebelliously leaving the confiding cabin with her classmates, she meets Martha, the self-proclaimed Wonder Woman of the Woods, in a standout guest spot from Nicole Byer as the unreliable chucker of axes.
Byer is known for her hosting gig on the side-splitting Netflix baking competition series "Nailed it!" She also lends her immediately recognizable vocal talents to one of the best TV shows from 2022, "Tuca & Bertie." The talented comedian even secured a part on the "Bob's Burgers" feature film as news reporter Olsen Benner.
Though she leads Tina astray with a dangerous sense of invulnerability, Byer's silly portrayal of Martha represents a frustrating expectation to conform to society. By the end of the episode, we learn that Martha is not quite who she initially appears to be, and the humorous juxtaposition of this eye-opening reveal prompts Louise to go out looking for the wandering Tina, resulting in the mountain top expedition she yearned for. 
Paul Rudd as Tina's imaginary horse Jericho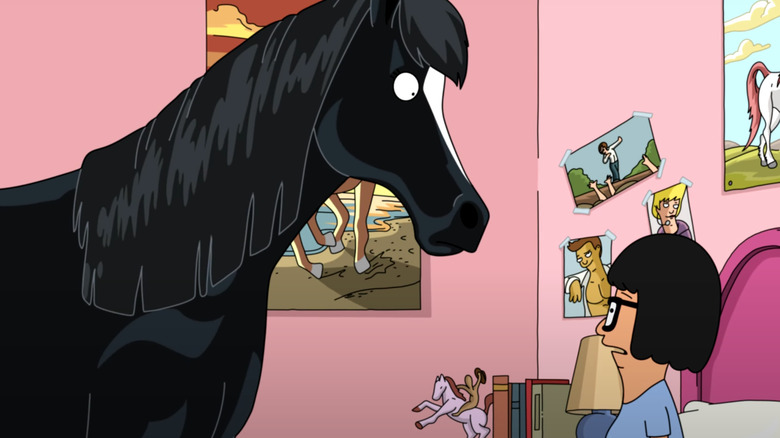 Fox/YouTube
The wild creative scope of "Bob's Burgers" is on full display in "The Horse Rider-Er" (Season 6, Episode 17) with Paul Rudd's magical portrayal as Tina's imaginary horse Jericho. When Tina is fortunate enough to attend a horse camp over the summer and finally ride a real horse, Jericho's deep insecurities come bubbling to the surface. In a dashing pair of cut-off jean shorts, the majestic creature laments the good old days he and Tina shared as he sobs over their potential break-up. 
The depiction of Jericho is so hysterical that Rudd becomes completely lost in the role. The "Ant-Man" star is unrecognizable as he whines over Tina's new camp and bemoans her leaving. Rudd's character is so funny and central to Tina's identity in the series that he was even recruited for a brief appearance in the "The Bob's Burgers Movie."  
On a deeper level, Jericho also represents Tina's loneliness and longing for companionship. This leaves her open to toxic friendships with people like the entitled Tammy. The purity of Tina's friendship with Jericho is refreshing, as Tina's affections are finally reciprocated. 
Kaitlin Olson as the dubious Helen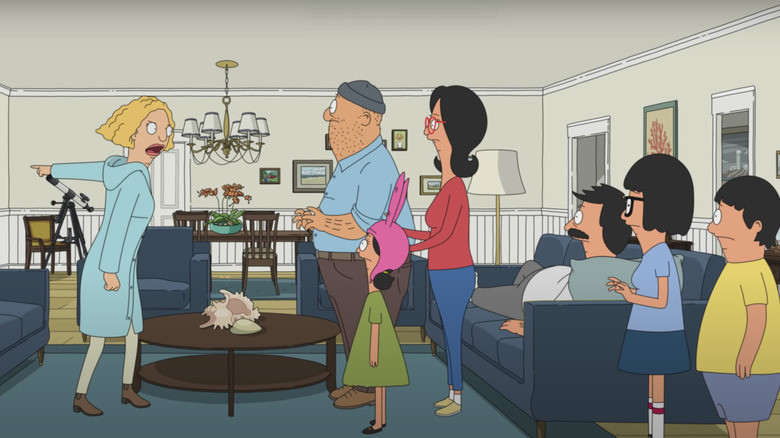 Fox/YouTube
It's not often "Bob's Burgers" characters can be described as frightening. However, when Kaitlin Olson appears in "Housetrap" (Season 5, Episode 19), her suspicious activity gives way to a potentially murderous past. After frequent Bob's Burgers' diner Teddy (Larry Murphy) helps Helen move furniture at her waterfront home, the Belcher family gently trespasses onto her property to pursue some intense snooping. Before long, they've formed ridiculous theories that terrify the family; in the rumbling thunderstorm, they start to believe Helen orchestrated the death of her husband. The funny thing is, they may actually be right. 
Olson's ability to play a character that's superficially kind and caring with a malicious and sarcastic interior – as seen on the canceled-too-soon comedy "The Mick" and more famously on "It's Always Sunny in Philadelphia — fits Helen like a blood-soaked glove. The insanity of this episode brings us back to Helen in "The Helen Hunt" (Season 9, Episode 12), in which Teddy and the Belchers help Helen in a wild goose chase searching for a small Japanese netsuke figurine. The Season 9 story highlights Helen's selfishness and potential as a chaos factor.   
Wanda Sykes as the majestic Sofa Queen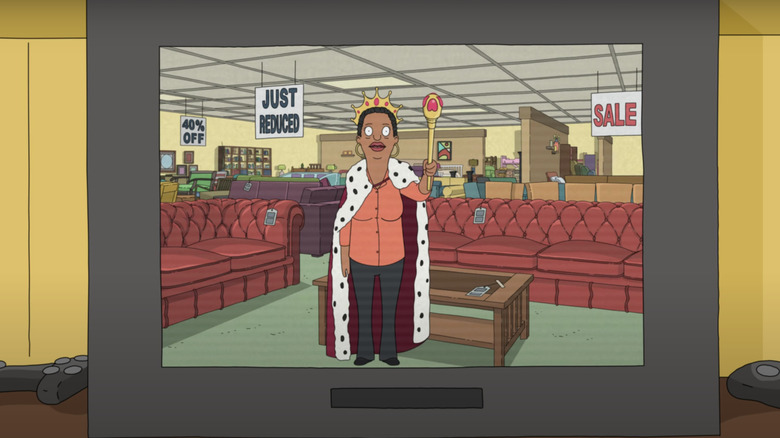 Fox/YouTube
When Louise concocts an elaborate scheme to assassinate the family's ancient and rotting couch, it's up to Wanda Sykes' glorious Sofa Queen to save the day. Linda lovingly recites the Sofa Queen's commercial word for word, foreshadowing the retail store matriarch's inevitable visit after the couch collapses in on itself. The family takes an eventful trip to the Sofa Queen's loveseat-filled palace in "Sacred Couch" (Season 6, Episode 9) to replace the historic and filthy living room centerpiece. 
The furniture store expedition is overflowing with amusing side antics like Tina and Gene's highchair challenge and Linda's breathtaking meeting with furniture royalty. Sykes' portrayal as the Sofa Queen is just the inspiring reinvigoration Linda needs to get over grieving her beloved couch. Like most guest spots on "Bob's Burgers," Sykes' voice is immediately identifiable and quickly draws fans to the Sofa Queen. The genuine sentimentality, and fresh perspective delivered in her voice is exactly the antidote the devastated Linda needs to purchase a fresh couch.  
John Oliver as Ian the villainous cat agent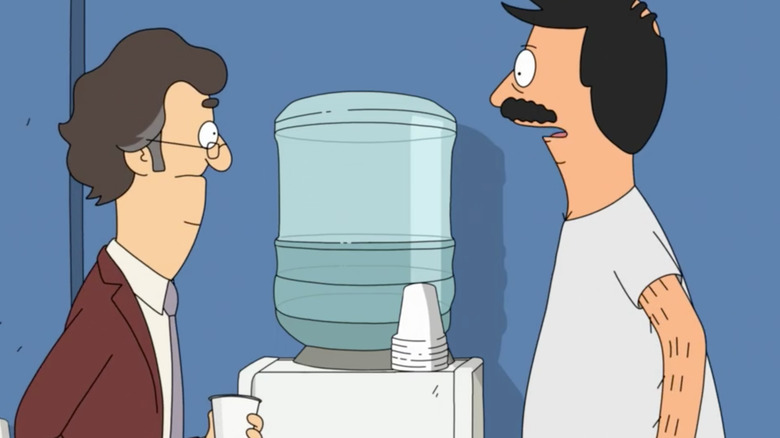 Fox
Fans of the unbeatable Emmy hit "Last Week Tonight with John Oliver" got a delightful surprise in "There's No Business Like Mr. Business Business" (Season 7, Episode 10). The newest voice of Zazu (in 2019's "The Lion King") lends his signature accent to a riotous episode where Linda's sister Gayle (Megan Mullally) finds herself with a once-in-a-lifetime opportunity. Her loyal feline Mr. Business scores an audition to become the mascot for popular pet food brand Chef Cat. If Mr. Business succeeds, this could allow Gayle to finally earn some real money instead of constantly borrowing from Bob and Linda as seen in a priceless montage. 
John Oliver's over-the-top portrayal as Mr. Business' talent agent Ian Amberson pairs tremendously with Gayle's random hyperactivity and desperation. The cat storyline is an exceptional foundation for this as it's central to both their characters, and bonds them together in the process. This enlists the entire Belcher family as they become intertwined with helping Gayle and Mr. Business for the audition. Oliver leans into his British accent in a Bond villian-style turn, shocking the family and viewers in a noteworthy episode.
Jillian Bell as Nat the limo driver
Fox/YouTube
This guest star appears to be as loved by the cast, crew, and fans of the show equally because of how often she turns up in Wonder Wharf. Jillian Bell is absolutely delightful as the pink-clad limo driver Nat Kinkle. She comes to the rescue for the first time in "V for Valentine-detta" (Season 8, Episode 7) when Jimmy Jr. (also voiced by H. Jon Benjamin) hurts Tina deeply on the absolute worst day to break a young heart. 
Nat is hired by Linda to take Tina and Louise out on a girls' trip to cheer Tina up. The positivity Bell brings to Nat pulls the heartbroken Tina out of her funk, and she ends this story with a nice bit of character development by helping the girl Jimmy Jr. dumped her for. It's nearly impossible not to be lifted by Bell's incredibly cheerful performance, and Nat's return in the Season 10 premiere "The Ring (But Not Scary)" is a joyful celebration of the Belcher's wedding anniversary. 
Jordan Peele as the deadly Fanny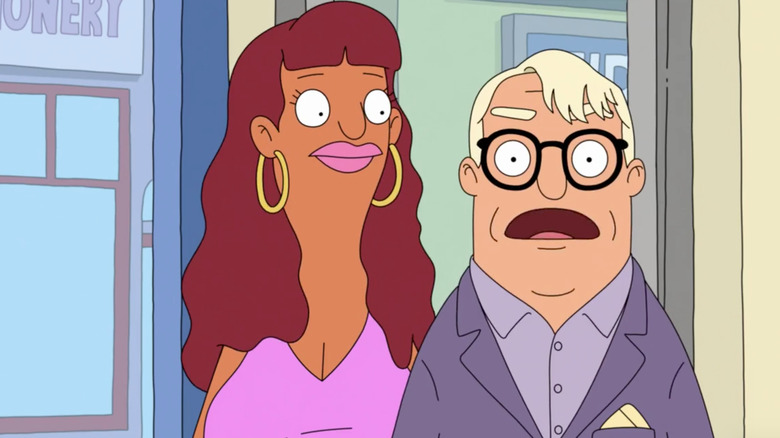 Fox
Jordan Peele's surprising debut performance in the Season 4 two-part finale as the young and ambitious Fanny stunned viewers. Introduced as the 20-something-year-old girlfriend of Felix Fischoeder's (Zach Galifianakis), Fanny will do anything to reach her dreams of becoming a pop superstar, as quickly becomes apparent. Her quick turn to villainy accompanied by Peele's delivery is actually familiar to fans of the sketch comedy "Key & Peele," who would've seen Peele play a similarly self-involved, ethically ambivalent lady character on his now-classic Comedy Central show.  
Thankfully, we were treated to a supersized season finale gifting us two episodes with the ditzy would-be murderer. Fanny takes over Felix's malicious intentions to steal the Wonder Wharf amusement park from his brother Calvin (Kevin Kline) and even tries to wipe out the entire Belcher family in the process. This big adventure guest starring the horror visionary is an early indicator of the larger stories "Bob's Burgers" is capable of telling, and an omen of the major motion picture to come. 
Samantha Bee as Nurse Liz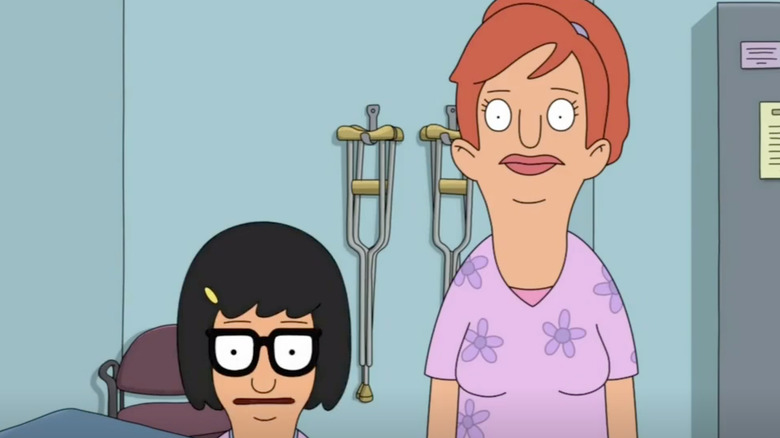 Fox
Samantha Bee's distinctive vocal range led to two roles on "Bob's Burgers" including one very early in the series. Originally, Bee played Pam the disgraced television host in "Beefsquatch" (Season 2, Episode 9), a role she reprised again the following season in the crazy game show escapade "Family Fracas" (Season 3, Episode 19). When Bee returns to "Bob's Burgers" in Season 6, she's playing a similarly unstable character in the form of Nurse Liz.
In "Lice Things Are Lice" (Season 6, Episode 10) (a reference to the musical number "Nice Things Are Nice" from the Season 4 finale) Bee flexes her comedic abilities by shouting zany one-liners at panicked children. In a possible lice outbreak, Tina and Louise come together to avoid getting their heads shaved and losing Louise's bunny ears.
Fans of Samantha Bee's canceled-too-soon late-night show will revel in these episodes that give the multifaceted hostess a comical outlet to showcase her talents. Bee even comes back as Nurse Liz in "Ex Mach Tina" (Season 7, Episode 8) where she tries to help Tina with an injury and disastrously proves she hasn't learned much since the lice-capade. 
Bob Odenkirk as the diabolical Chase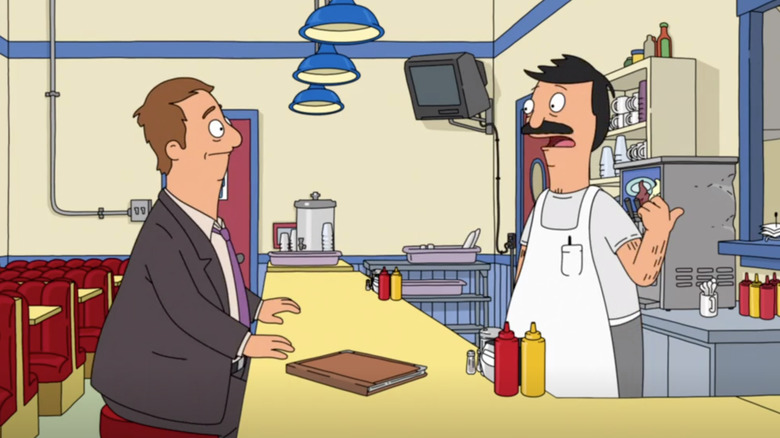 Fox/Hulu
In one of "Bob's Burgers" most endearing scenes involving Tina's driving abilities, we find ourselves in need of an insurance adjuster. In "Tina-Rannosaurus Wrecks" (Season 3, Episode 7), we're introduced to Bob Odenkirk's mischievous Chase — a figure some might say is extremely evocative of his performance as Saul Goodman in "Better Call Saul" and originally in "Breaking Bad."  
Like his counterpart in the award-winning crime drama, Chase takes extreme liberties within the gray area of the law. He sees Tina's accident-prone personality and utilizes it in a devious scheme that's deeply traumatizing for her. He douses the exterior of his home in odorless gasoline knowing Tina will be cooking on the grill the following day, and the home ignites as Bob and Tina find themselves in the middle of another damaging disaster. Odenkirk's memorable role as the nonchalant trickster with his conniving ways is extremely reminiscent of Saul, who is often one step ahead of his enemies.
Nick Offerman as Clem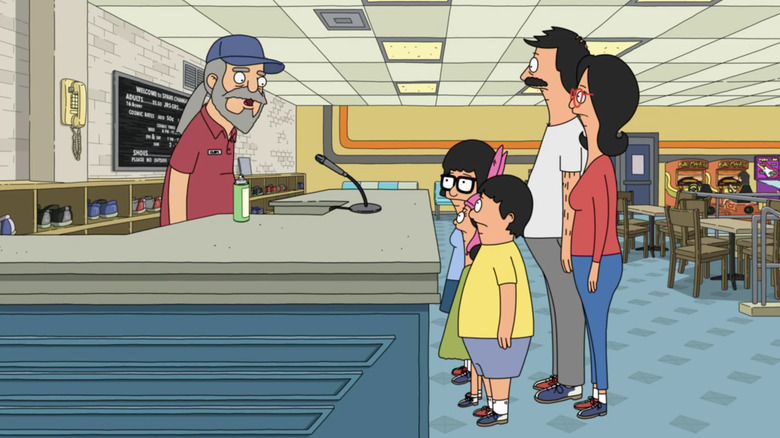 Fox
"Parks and Recreation" star Nick Offerman has contributed multiple guest-starring characters on "Bob's Burgers," including marijuana connoisseur Cooper, Bob's father and reluctant inspiration Pete, and the former DJ Clem in "Long Time Listener, First Time Bob" (Season 9, Episode 19). Offerman's gruff voice fits exceptionally with each of these characters, but it lends Clem as certain sense of standoffishness that might remind viewers of Ron Swanson from "Parks and Recreation."
Offerman's unique comedic delivery suits Clem tremendously as the scorned radio show host. Bob, a onetime Clem superfan, scares him away with his enthusiasm at first, which leads to additional standoffishness from Clem, which in turn might remind viewers even more of Ron Swanson. Offerman's passion paired with his deep voice juxtaposes his character's seemingly unapproachable attitudes with a soft emotional core. This is increasingly evident in Clem, and even more so in the "Bob's Burgers" sister show "The Great North" starring Offerman.
Cloris Leachman as Meryl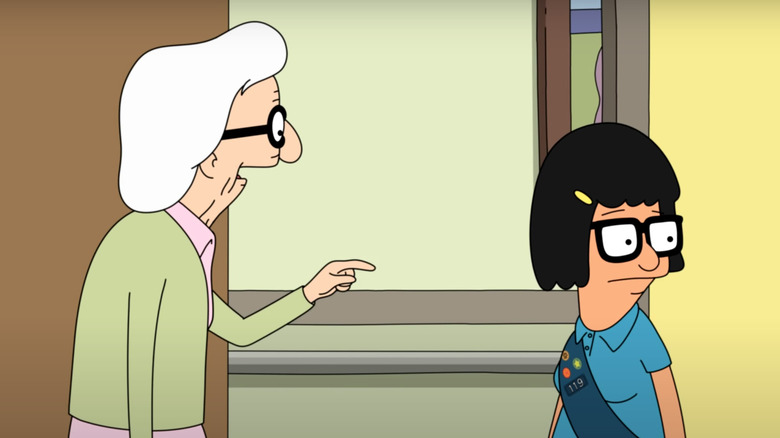 Fox/YouTube
In an attempt to do something wonderful for her community, Tina winds up caring for an elderly woman voiced by the late comedic legend Cloris Leachman. The beloved comic instills an experienced precision into "Secret Admiral-irer" (Season 6, Episode 18), which helps make for one of the most memorable episodes of the series. Her snappy dialogue hits back any time Tina or the audience thinks she's losing her grip on reality, which causes us to check ourselves in the process.
The genius turn of story here makes Tina's elaborate plan to help Meryl ultimately futile when Meryl sees right through it. Again, to peer into the depths of "Bob's Burgers" for the meaning within the meat, this depiction of an elderly character makes could make us reconsider our preconceived notions about old people. This episode drives this moral to the story home through Meryl's thieving nephew who thinks he's tricking her into repeatedly giving him birthday money. This heavy theme could easily fall through in the hands of less capable actors. However, Leachman deftly handles the task with what sounds like ease, breathing life into this exhilarating performance. 
Megan Mullally as Tabitha Johansson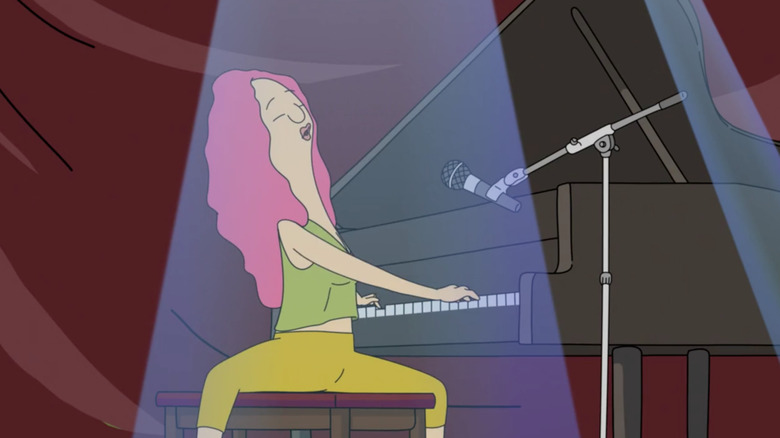 Fox
Megan Mullally's portrayal of Linda's sister, the sometimes-crazy cat lady Gayle, is one of the liveliest parts of "Bob's Burgers." What you may not know, however, is that Mullally also played pop sensation Tabitha Johansson. If her name doesn't sound familiar, you may remember her as the shrieking singer of the obviously-not-about-the-environment anthem "Oil Spill." 
With "Food Truckin'," (Season 2, Episode 5) we witness possibly the most chaotic episode of "Bob's Burgers," which involves numerous explosions, Linda driving on the sidewalk, and an apocalyptic music festival. After Bob's immense hesitation to engage with the food truck fad, he somehow finds himself increasingly interested in the hustling lifestyle and mentality. This leads the whole Belcher family to a music festival featuring a wide selection of food trucks and an uncomfortably wide-legged pop star.
The gleeful performance could very well be meant as a homage to Tori Amos' rendition of "Icicle" from a 1994 episode of "The Tonight Show," as the innuendo and metaphors in both performances can hardly be described as subtle. Johansson's tune primes the audience of "Bob's Burgers" for the show's odd sense of adult humor. Though we haven't seen the one-hit wonder since her festival extravaganza, Mullally lives on in the unpredictable cat lover Gayle who frequently adds to the chaos of "Bob's Burgers."