The One Thing Vince Gilligan Knew Would Never Happen To Jimmy In Better Call Saul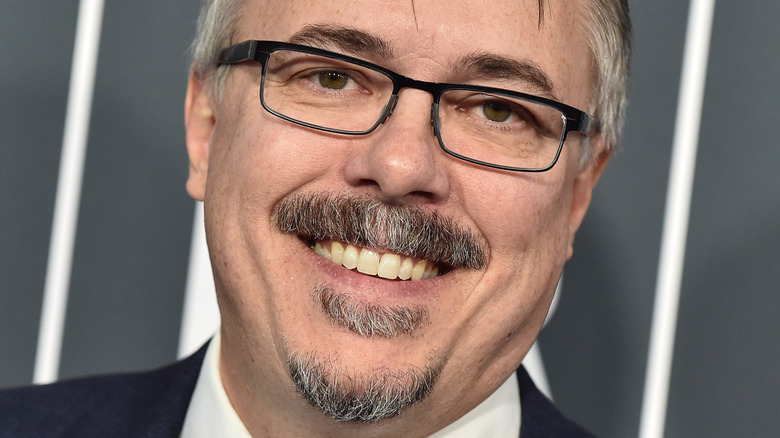 DFree/Shutterstock
"Better Call Saul," one of 2022's best television shows, officially wrapped in August — seemingly ending the "Breaking Bad" universe. The multi-Emmy nominated series (including leads Bob Odenkirk as Jimmy McGill and Rhea Seehorn as Kim Wexler), stunned viewers with a dark ending leaving a small light of hope at the end of Jimmy's prison sentence. The series finale even recruited "Breaking Bad" fan favorite Betsy Brandt as the purple-clad widow Marie Schrader, quipping biting lines at Odenkirk's morally corrupt Saul. 
"Better Call Saul's" meth dealing predecessor "Breaking Bad" was a revolutionary television series. Created by Vince Gilligan, the AMC Network hit shifted the cultural media landscape, especially for Netflix's humble beginnings. Vox analyzes the significance of audiences' rapidly changing viewing habits and the boost that streaming gave to Breaking Bad's addictive and binge-worthy quality. This impacted the industry as well when networks realized the power of licensing their shows to Netflix to increase viewership.
The spin-off series followed suit with new installments of "Better Call Saul" available on Netflix weeks ahead of the AMC premiere, giving fans a chance to catch up or rewatch. Their relationship continued with "Breaking Bad's" TV movie epilogue "El Camino" starring Aaron Paul as Jesse Pinkman digitally premiering on Netflix. The film debuted to rave reviews praising Gilligan's direction and Paul's emotional performance with a 92% critical score on Rotten Tomatoes.
Jimmy's fate was fitting and inescapable
The somber series finale of "Better Call Saul" answered many lingering questions while leaving a few for fans to think over. In each iteration of the "Breaking Bad" universe, we've seen the ultimate fates play out of Walter White/Heisenberg (Bryan Cranston), Jesse Pinkman, and Jimmy's facetious' Saul. Creator Vince Gilligan spoke with The New Yorker to offer his insights on these character's journeys and whether or not they got what they deserved.
"I think Jimmy rediscovers himself and gets back to his roots. He finds a little piece of his soul again." He reflects on the tense moment in the penultimate where Gene (Jimmy/Saul's on-the-run alter ego) threatened Marion (legendary guest star Carol Burnett) with strangulation and how he "rediscovers his humanity." This contrasts with Cranston's crime lord Heisenberg, who chillingly got a thrill out of eradicating those he found threatening (until his bloody death). 
He then reflects on Jimmy's just finale as opposed to Walt's violent end and Jesse's earned freedom. "This ending always seemed fitting to me: that Jimmy, the lawyer, pay the price in terms that were fitting to his career choice. In other words, it seemed right that he go to prison." Gilligan elaborates that he wanted a fresh ending that was appropriate for Jimmy's character. "I don't think we ever really thought about Saul Goodman dying at the end. The character Lalo kept calling Saul a cockroach. And what do cockroaches do? They survive."