Ashton Kutcher Took A Real-Life Tumble In This Hilarious That '70s Show Scene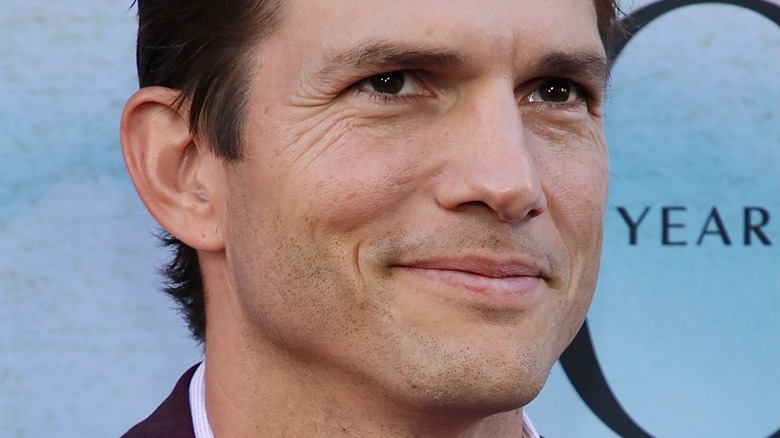 Robin L Marshall/Getty Images
Fans of "That '70s Show" are so excited to see their favorite characters reunited on Netflix's new series also set in Point Place, Wisconsin, "That '90s Show." More than 15 years after the original sitcom's series finale aired in May 2006, most of its cast will be returning for the streamer's reboot.
Premiering in 1998 but taking place firmly in the 1970s, the eight-season-long Fox sitcom followed a group of teens in the blue-collar midwestern city: Eric Forman (Topher Grace), his neighbor and eventual girlfriend Donna Pinciotti (Laura Prepon), dimwitted Michael Kelso (Ashton Kutcher) and his sometimes girlfriend Jackie Burkhart (Mila Kunis), cool dude Steven Hyde (Danny Masterson), and their "foreign exchange student" friend Fez (Wilmer Valderrama). Also present were Eric's parents, Red and Kitty (Kurtwood Smith and Debra Jo Rupp), and his older sister Laurie (originally played by Lisa Robin Kelly). So far, all but Masterson (and Kelly, who died in 2013) will be returning for the pilot of "That '90s Show," and they seem as delighted to be back as their fans. "It was really nostalgic to be back on the set," Kutcher told Variety. "We just went back and had fun for a week. It was so random and fun."
As fans of "That '70s Show" wait to be part of that fun, it's entertaining to look back at some of the awesome moments that happened on the original series — including one real-life mishap that lightly injured Kutcher and cemented Kelso as a bit of a klutz throughout the series.
Ashton Kutcher had a run-in with a coffee table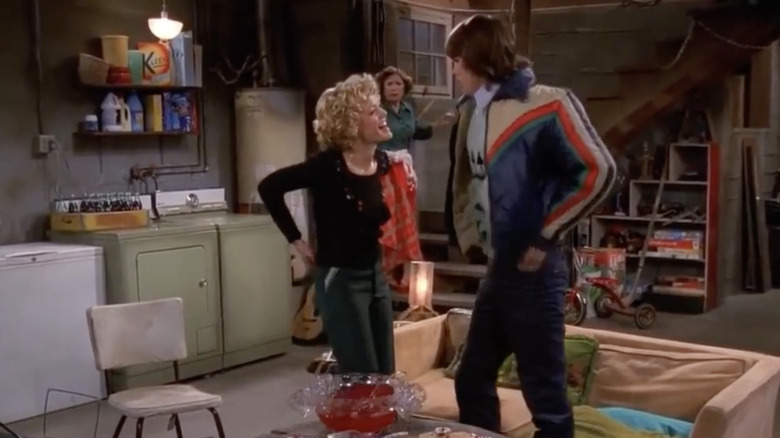 Fox
Ashton Kutcher has never been afraid to get physical on "That '70s Show," and clumsy Michael Kelso has been hurt once or twice, especially with the many fights he got into with Hyde("ow, my eye"). But there was at least one time Kelso — and Kutcher — really got hurt, accidentally. And they kept it in the show.
It happened during the show's 1st season, in its 12th Episode. Unlike today's short, 6-to-13-episode seasons, this 1990s network show had 25 episodes in its first season, and this was its mid-point break. It was the series' first Christmas-themed episode, called "The Best Christmas Ever," airing on December 13, 1998. Kutcher did a stunt where he was supposed to jump over the couch in Eric Forman's basement to talk to Eric's sister Laurie. But that wasn't how things turned out. 
"My heels hit the edge of the couch and I slipped off and took it right in the shins with the table," Kutcher explained on the 100th Episode Special of "That '70s Show." In the scene, the (spiked) punch bowl sloshes and spills and table props scatter, while Kelly visibly laughs but holds it together. Meanwhile, Kutcher stayed in character. "I hold it still, and I'm like, 'you just can't smile now,'" he said, adding that he was trying to tell himself it doesn't hurt. The blooper got a huge laugh from the audience, so they kept it in the final cut. 
It seems Kutcher was delighted with the scene. "I like making people laugh, and if that helps to make people happy, I'll hurt myself a little bit," he concluded.