The Bull Character Played By Chicago Fire's Hanako Greensmith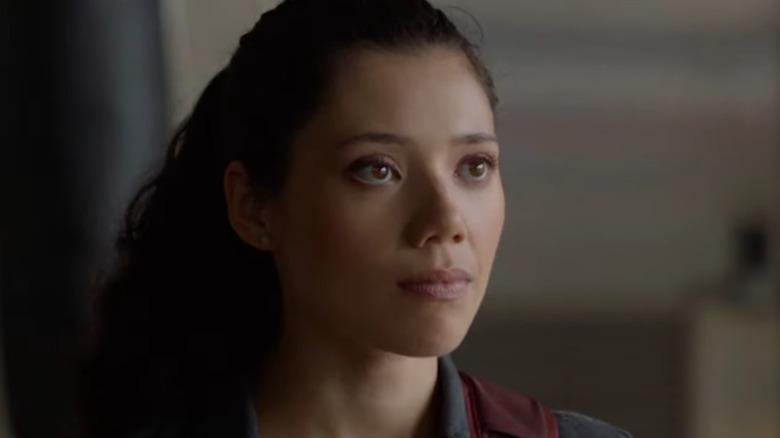 Art Streiber/NBC
Fans of NBC's One Chicago franchise drama "Chicago Fire" know Hanako Greensmith as the actor who plays Violet Mikami, a recurring character who arrived on the series in the Season 8 episode, "Hold Our Ground." During this episode and a few subsequent installments, Violet isn't yet assigned to the series' home base of Firehouse 51 but is riding on Ambulance 99 out of Firehouse 20. But as the series progresses and the character is given more and more to do on the show, Violet eventually finds herself transferring and joining fellow paramedic Sylvie Brett (Kara Killmer) and the rest of the squad.
During her early appearances on the show, Violet's storyline sees her involved in an increasingly intimate relationship with firefighter Blake Gallo (Alberto Rosende). Still, this hookup quickly runs into stormy weather. After she and Gallo fall out, Violet and Paramedic Field Chief Evan Hawkins (Jimmy Nicholas) get together in what will develop into a complicated affair that almost ends up damaging both their careers. And while "Chicago Fire" fans are by now thoroughly familiar with this young actress in her role as Violet, they may have overlooked, or possibly forgotten about, the character Greensmith played on the CBS legal drama "Bull."
Hanako Greensmith played a reluctant witness on Bull
Ending its run on CBS after six seasons, the legal procedural "Bull" stars Michael Weatherly as psychologist Jason Bull. Along with a supporting crew of legal and cyber experts at the Trial Analysis Corporation (TAC), Bull operates a jury consultation firm that employs cutting-edge psychology and their understanding of trial science to assist clients and their lawyers in selecting the optimum jury.
As it turns out, before being cast as Violet on "Chicago Fire," Hanako Greensmith's first TV role was playing the character Veronica Hill in Season 3 of "Bull." In the episode, Greensmith's character is drawn into a case involving a white police officer's shooting of an unarmed black man. Approached about discussing what she knows about the case, Veronica reveals that she doesn't want anything to do with the upcoming trial. And while Greensmith's part in the episode was brief, it did mark the beginning of her career as a TV actor. And, as an added One Chicago bonus in the episode, Chi-Hard viewers may also recognize the actor playing Cal Peters. It's none other than Guy Lockard, the former Dr. Dylan Scott on "Chicago Med" (per IMDb).