Are Brandi Passante And Kenny Crossley From Storage Wars Friends In Real Life?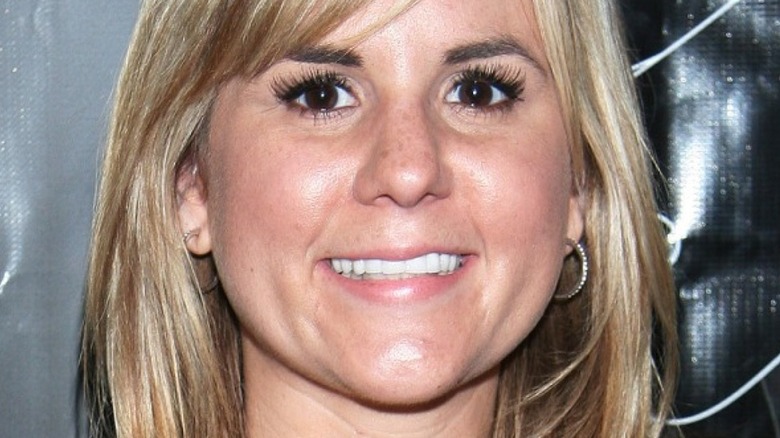 Tommaso Boddi/Getty
"Storage Wars" cast member Brandi Passante has been featured on the popular show since the very first season. She was a part of the team known as "The Young Guns" with her then-partner Jerrod Schulz. She only took a temporary leave from the show when she was part of the spinoff series, "Brandi & Jarrod: Married to the Job." That series was going to focus on the couple's wedding. However, the wedding never took place, and the show was canceled. In the Season 13 premiere of "Storage Wars," Passante announced her split from Schulz after years of a tumultuous relationship. Passante remains a solo force to be reckoned with as a current cast member of the show.
Kenny Crossley appeared as a guest on the show in Seasons 2 through 4 (via IMDb). He struck up a friendship with cast regular, Barry Weiss, that led to his appearance in the spinoffs, "Barry'd Treasure" and "Storage Wars: Barry Strikes Back" (via Newsweek). According to the "Storage Wars" official website, Crossley was eventually made a main cast member in Season 10. As current mainstays of the cast, he can often be seen helping out Passante on occasion, leading fans to wonder if the two are friends in real life.
Brandi Passante and Kenny Crossley are indeed friends
As it so happens, Brandi Passante and Kenny Crossley are close friends in real life. On the podcast, "Happening Now with Hammer," she even called him one of her "favorite humans." According to TVShowAce, they do not work together outside the show, but they text regularly and help each other out. Crossley posted a picture of the two of them on his Instagram with the caption, "Me and my home girl." Passante posted the same image of the friends sharing a cheeky smile on her Instagram. 
The pair of friends are not dating, however. In an interview with Spirit Talk Hosted by Shavaun and Sabrina, Brandi mentions, "I just don't have an attachment to anyone. I've definitely dated and things like that, but ... right now, it's not something I'm really trying hard to seek out. I'm waiting until I can feel an attachment to someone."
Fans will have to continue tuning into "Storage Wars" for the further adventures of the two storage locker hunters. It looks like their friendship is going strong.