The Sweet Inspiration Behind Christian Bale's Hair In Amsterdam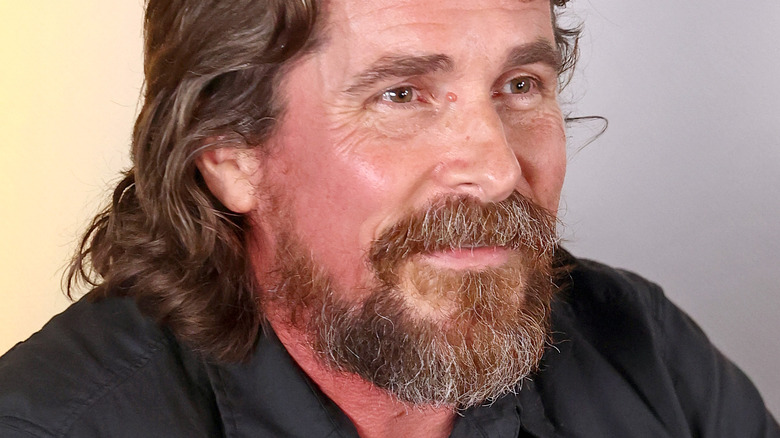 Tommaso Boddi/Getty Images
When a film features the top star power in the industry, the assumption is that it will kill at the box office. While David O'Russell's newest film, "Amsterdam," certainly qualifies with star power, its path with critics is going the opposite direction. It sits at a disappointing 33% from the critics on Rotten Tomatoes (according to 15 reviews), but there is a possibility that the bevy of stars in the film can still turn it around when it hits theaters on October 7.
"Amsterdam" centers around a group of friends in the 1930s who are framed for murder. In their attempt to clear their names, they uncover one of the most outrageous plots in American history. The friends are played by a trio of lovable stars who are a virtual guarantee to bring in audiences. Christian Bale leads the team as Burt Berendsen. He is joined by Margot Robbie and John David Washington, with appearances by Anya Taylor-Joy, Chris Rock, Michael Shannon, Mike Myers, Timothy Olyphant, Zoe Saldana, Rami Malek, Taylor Swift, and Robert De Niro.
With the film taking place in the 1930s, everyone in the cast has some unique looks and great costumes. But nobody compares to the looks Bale sports throughout the trailer. From an Army uniform and a fedora to a bandaged face and a fake eye, he is sure to be the center of attention. And in an interview with The Hollywood Reporter, Bale talked about the inspiration for his unique hairstyle.
He combined an Irish author with a good friend
Emmanuel Lubezki served as the cinematographer on "Amsterdam" and first worked with Bale back on "The New World" in 2005. He started working on Mexican films before moving on to American movies, including projects such as "Burn After Reading," "Gravity," and "The Revenant." After some work to come up with a look for his character, Bale settled on a combination of a photograph and a chance Zoom encounter. He recalled the process in his interview with The Hollywood Reporter.
"I had this photograph of Samuel Beckett," Bale said. "I'm not sure if he looked like it all the time, but his hair was just sort of standing straight up. So I was going to do that." The actor continued to talk about a sweet tribute he made to the cinematographer.
"And so David just kept on honing the script. And then, one day, I was on a Zoom call with Chivo [Lubezki], and he's got just the most fantastic thick head of curly hair. So I was looking at that, and then I went to a friend of mine and said, 'Could you do just a real tight perm on my head? Let's see what it looks like.' I didn't tell David about it at first, but then I sent him photographs, and he fell in love with it as well. So that was my tribute to Chivo." 
As most fans know, Christian Bale is an actor who takes on new and different characters in every movie he makes. From changing his body to both ends of the extremes with "The Machinist" and "Vice" to completely transforming himself mentally, he is a chameleon among his contemporaries. He looks to be using all his transformative abilities in "Amsterdam," and his hair is center stage.