Peaky Blinders' Anya Taylor-Joy Says This Is The Sassiest Thing About Gina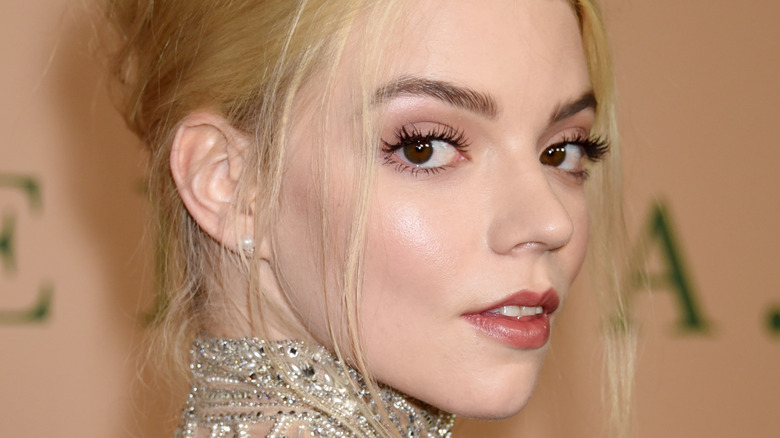 Ga Fullner/Shutterstock
Anya Taylor-Joy has exploded into the stratosphere of superstardom over the last few years. Though the actress came from somewhat humble beginnings in the folk horror film "The Witch," she has since gone on to land killer roles in projects like Netflix's chess drama "The Queen's Gambit," which netted her a Golden Globe (via IndieWire), Edgar Wright's psychological thriller "Last Night in Soho," and the upcoming "Mad Max" spin-off: "Furiosa."
Still, Taylor-Joy has also found time to star in the British crime drama "Peaky Blinders." The performer joined the critically-acclaimed series as Gina Gray from Season 4 to Season 6. Like Lady Macbeth in Shakespeare's classic tragedy, Gina attempts to manipulate her husband, Michael Gray (Finn Cole), into seizing power through force and suffers the brunt of his attempts to do so. While Gina remains an antagonist in "Peaky Blinders," even in the wake of her husband's murder, Taylor-Joy thinks there's a key element to the sass of Gina and why the character is so good at being bad.
According to Anya Taylor-Joy, it's all in the hair
Anya Taylor-Joy spoke to British Vogue about playing Gina on "Peaky Blinders," and the actor had a funny anecdote to share about how the wig she wears for the character adds to her attitude when she plays the part. "This is the first time I wore, or we created, the Gina Gray wig that I wear on 'Peaky Blinders,'" she explained. "She's so sassy. I'm talking about the wig; she's a sassy wig."
Though Taylor-Joy is clearly having a bit of a laugh with this description of her headwear in the crime drama, she manages to keep a totally straight face while she says it, which only makes the joke even funnier. "This was my first time on 'Peaky,'" she went on. "This is when we decided what Gina was going to look like."
Still, Taylor-Joy had an even sillier experience to share regarding the constant changes she makes to her hair for her many onscreen roles. "The only strange thing about changing your hair as dramatically as I do," the actor mused, "Is you scare yourself in the mirror at nighttime because you don't know what you look like."
Naturally, we've all had a midnight fright when we awaken and mistake something for a threat in the night. It definitely sounds like an odd situation to deal with, but we imagine Taylor-Joy can weather the storm of it if she's got even an ounce of the moxie that she shows in her characters.