The Most Expensive TV Flops In History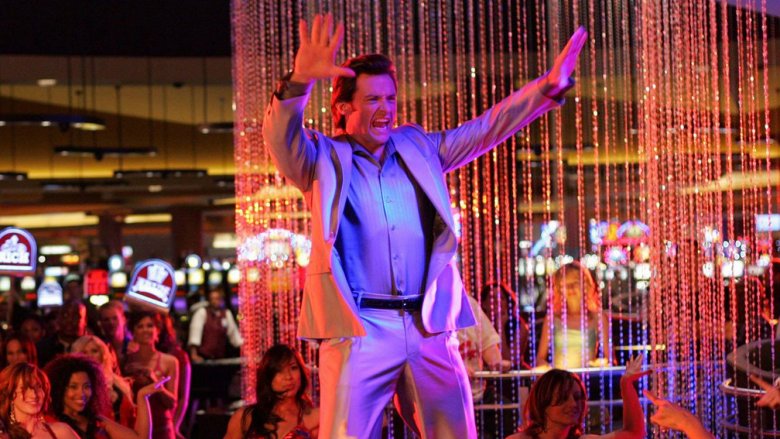 Who knows how many shows have been created since the television became a household staple after World War II? Not us. What we do know is that, these days, upwards of 450 to 500 shows are broadcast every year. Competition is fierce, and it always has been.
Because of that competition, networks are often willing to go the extra couple of miles and spend big money on projects they think will lure in the biggest audience. They place their bets ... and sometimes lose their shirts. Here are some of the most expensive flops to have their plugs pulled.
Battlestar Galactica (1978-79)
Most people today know Battlestar Galactica as the binge-worthy (and potentially life-ruining) sci-fi television series which ran from 2003 to 2009. However, not so many people remember that the series originated in 1978 and was quite an expensive flop.
Setting out to be a small-screen Star Wars of sorts, Battlestar Galactica cost roughly $1 million per episode—more than double that of a typical prime-time show at the time. At first, it was worth the price tag. The series' early episodes attracted positive reviews and healthy ratings, but those ratings eventually began to slip and some behind-the-scenes issues plagued the production. Censorship also made it hard to take Battlestar Galactica seriously. Supervising producer Don Bellisario once claimed that censorship "took the balls out of the Cylons."
Ultimately, Battlestar Galactica couldn't pull its weight as compared to other less-expensive network hits such as ABC's own Mork & Mindy or CBS' All in the Family. ABC soon axed the series. The network did give it another go with Galactica 1980, but that show was quickly decommissioned after nearly non-existent viewership.
Supertrain (1979)
When it comes to expensive flops, you'd be hard-pressed to find a bigger trainwreck than NBC's dramatic Supertrain.
The show's titular super train—a nuclear-powered locomotive featuring swimming pools and shopping malls—didn't actually exist, so the series' creators used expensive model trains while filming the on-screen journey from New York to Los Angeles. Unfortunately, the model trains weren't particularly durable, and one of them crashed before the first episode was even filmed. 
After the show debuted to downright terrible ratings, famous celebrities were brought on to keep Supertrain on track. Tony Danza, Rue McClanahan, and Dick van Dyke all made guest appearances, but to little avail. According to MeTV, the show was canceled after nine episodes and remains one of NBC's costliest flops to date at a reported $4 million an episode.
Father of the Pride (2004)
Focusing on the behind-the-scenes lives of the white lions belonging to famed Vegas magicians Siegfried & Roy, Father of the Pride was an ambitious and expensive gamble.
After fellow DreamWorks production Shrek raked it in at the box office, NBC was willing to fork over big bucks to fund the computer animation and voice-work required to bring the show to life—costing the network between $2 million and $2.5 million an episode to produce. "It's a big roll of the dice," DreamWorks founder Jeffrey Katzenberg told The New York Times. "There's no question that when you do something like this, there's a big risk." Unfortunately for everyone involved, there wasn't any reward.
Unlike Shrek, Father of the Pride failed to capture the hearts and minds of those who watched it. It did, however, capture plenty of unwanted attention. The Parents Television Council flooded the Federal Communications Commission with allegations that Father of the Pride was indecent. Making matters worse, the show came in hot on the heels of Roy's famous near-death mauling—a first in more than 5,000 shows—from his 7-year-old tiger who horrifically (but perhaps deservedly) dragged the magician off the stage by his neck.
Viewership was kept to a minimum, and it didn't take long for NBC to cancel Father of the Pride—adding yet another failure to the list of DreamWorks' bad bets.
Bionic Woman (2007)
Competing with other big-money pilots at the start of the 2007/2008 financial crisis, NBC's re-imagining of the popular 1970s The Bionic Woman—a show about a superhuman (and expensive) government agent—was one massive (and expensive) flop. The show, like some of its rivals, cost somewhere in the vicinity of $7-8 million for the pilot alone ... since bionic appendages and "anthrocytes" don't make themselves. Still, the high price tag wouldn't have been so bad if the show had legs—but not even superhuman speed could keep Bionic Woman in the race.
You may remember that fall 2007 was a dark time for fans of network television. (But a great time for fans of Cops.) When the Writers Guild of America went on strike, the cast of Bionic Woman had its contracts suspended while the series' production was put on hold. The show never recovered, experienced a dramatic drop in ratings, and was kicked to the curb—making the costly re-creation's price tag tough to swallow.
Actress Michelle Ryan may have suffered the most from the series' cancellation. Instead of Bionic Woman being her breakout role, it's but a footnote on a resume which could've been so much better.
Viva Laughlin (2007)
Coming in as undoubtedly the worst show on this list, Viva Laughlin not only stinks to high heaven, it was an expensive catastrophe.
In an effort to diverge from a lineup of standard CBS shows, the network banked big on the Hugh Jackman-produced remake of BBC's popular murder-mystery musical series Viva Blackpool. However, critics and viewers alike hated the casino-themed musical from the opening number, and its ratings were dismal. The New York Times opened its review of the series by asking: "Viva Laughlin on CBS may well be the worst new show of the season, but is it the worst show in the history of television?" Not even the promotional power of Hugh Jackman could stop the ship from sinking only moments after it left the harbor.
Advertisements were pulled, the show was canceled after airing only two episodes, and the network went on pretending it all never happened. With the pilot purportedly costing $6.8 million, cutting losses on Viva Laughlin so early was probably the right call.
Kings (2009)
Betting on the star-power of Deadwood's Ian McShane, the writing prowess of American Gods' Michael Green, and some assistance from The Hunger Games: Catching Fire director Francis Lawrence, NBC seemed poised to hit it big with their ambitious drama series Kings. The two-hour premiere cost a massive $10 million, with each subsequent episode coming in at $4 million a pop. With that kind of money behind a television series, you better believe the stakes were high. In this case, producers rolled snake eyes—cashing out with a dismal 1.6 rating and a disappointing 6 million viewers overall.
But Kings wasn't just costly for NBC. Liberty Mutual invested a $5 million sponsorship into the show, reportedly aiming to subconsciously piggyback on the show's message of personal responsibility to encourage viewers to buy auto and homeowners insurance. With barely anyone watching the show, however, it's safe to assume Liberty Mutual didn't exactly get what it paid for.
Kings was first banished to the dog days of summer before NBC officially called it quits. Still, the show isn't as bad as its ratings imply, and it might be worth going back to if you missed it the first time around.
FlashForward (2009-2010)
Based on Robert J. Sawyer's 1999 sci-fi novel of the same name—in which almost everybody on Earth blacks out at the same time for two minutes and 17 seconds—FlashForward was expensive. Like, Terra Nova (see below) and Lost levels of expensive and one of the most expensive network shows of all time expensive.
Director and executive producer David S. Goyer affirmed that the show wasn't cheap in an interview with The Wrap. According to the famous superhero-movie scribe, "The only way to get more eyeballs back to the screen is to do a big quality show. And if the show involves a lot of spectacle and scope, like FlashForward does, you have to deliver on the promise. ABC has been very good about opening up the piggy bank."
In hindsight, ABC probably wishes it kept that piggy bank stashed away. Despite a very good critical reception and solid fan reviews, the series watched its viewership dwindle rapidly. A three-month hiatus didn't do the show any favors either, and a ranking of 50th among its competitors simply didn't justify the blockbuster price tag.
Camelot (2011)
As the first series ordered under then newly crowned Starz president and CEO Chris Albrecht, hopes were riding high on Arthurian drama Camelot. "The story of Arthur isn't history," Albrecht explained, "it's mythology, and Camelot isn't a place but an idea of hope that has resonated at different times throughout history." Unfortunately, Starz's take on the famous legend didn't resonate quite as well as they'd hoped.
Critical reviews of Camelot were less than stellar—which may have factored into the premium network's decision to pull the plug—but the show still saw more than solid ratings during its final episodes. Nevertheless, Starz canceled the historical fantasy-drama after only one season; scheduling conflicts with lead cast members Joseph Fiennes, Jamie Campbell Bower, and Eva Green made a sophomore effort more trouble than it was worth.
So how expensive was this Thomas Malory-inspired flop? According to The Wall Street Journal, the Ireland-filmed series cost roughly $7 million per episode. That's a lot of green ... even in Ireland.
Terra Nova (2011)
Despite receiving halfway decent ratings and boasting big-name producers Steven Spielberg and Peter Chernin, prehistoric sci-fi drama Terra Nova was a bit too rich for Fox's blood. According to Deadline, Terra Nova cost a whopping $14 million for the two-hour pilot, and each subsequent episode carried a price tag of $4 million. That's a lot of cheddar, even for a dinosaur-laden prime-time show with a steady 7.2 million viewers.
Some behind-the-scenes trouble didn't do the series any favors either. Pilot script writer Craig Silverstein ended up moving over to work on series Nikita instead, and numerous changes in staff led to a costly union-induced $660,000 punishment for delaying production. Still, Terra Nova was good enough to warrant consideration for a second season, but a lack of high-level writing talent and difficulty securing it couldn't justify such a costly endeavor, making the series one of the most expensive flops in the history of television.
Marco Polo (2014-2016)
Netflix is no stranger to dropping big money on big projects. Some work out and some don't. In the case of Marco Polo, the series never really found its way and lost a lot of money in the process.
At the time of Marco Polo's release, no active series was more expensive to produce, except HBO's fantasy-juggernaut Game of Thrones. The first season of Netflix's Kublai Khan-centered drama cost a staggering $90 million, which weighs in at $10 million per episode. Unfortunately for Netflix, Marco Polo never came close to Game of Thrones' success.
Despite lackluster critical reviews, Netflix gave Marco Polo a second season. The sophomore effort was less popular than the first, prompting the streaming service to give the series the axe. (In this case, a 13th-century Mongol axe.)