The Quick Golden Girls Reference You May Have Missed In Hocus Pocus 2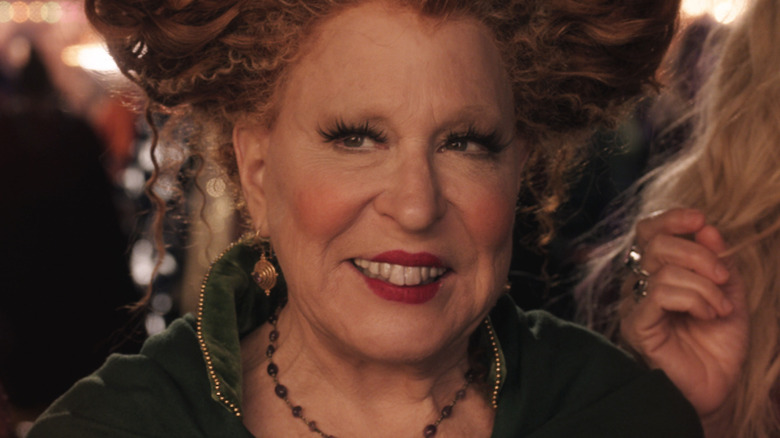 Disney
Get out your spell books and broomsticks because "Hocus Pocus 2" is finally here, sweeping viewers away to Salem for another bout with the Sanderson sisters. With a fresh group of characters, an adorable new cat, and a guest appearance from a popular "Ted Lasso" star, the movie has a little something for everyone. Whether you're an admirer of the original 1993 film or you're new to the franchise, "Hocus Pocus" 2 is sure to deliver. The plot focuses on teenagers Becca (Whitney Peak) and Izzy (Belissa Escobedo), who are looking forward to having a low-key Halloween. However, their plans for the night go awry after their friend Gilbert (Sam Richardson), who's converted the Sanderson house into a kitschy magic shop, tricks them into lighting a black flame candle. 
Twenty-nine years after their first return, Winifred (Bette Midler), Sarah (Sarah Jessica Parker), and Mary (Kathy Najimy) Sanderson are back to run amok once again. With the revived witches hell-bent on taking over Salem once and for all, Becca and Izzy must reunite with their estranged friend, Cassie (Lilia Buckingham), to save the town from imminent doom. Although it's geared toward children, the film features plenty of nostalgia-inducing moments for fans of the original, as well as some fun pop culture references that bring the narrative into the modern era. In fact, the movie featured a blink-and-you-miss-it reference to another iconic group of women that could give the Sanderson sisters a run for their money. 
Mr. Traske finds a surprise in his garage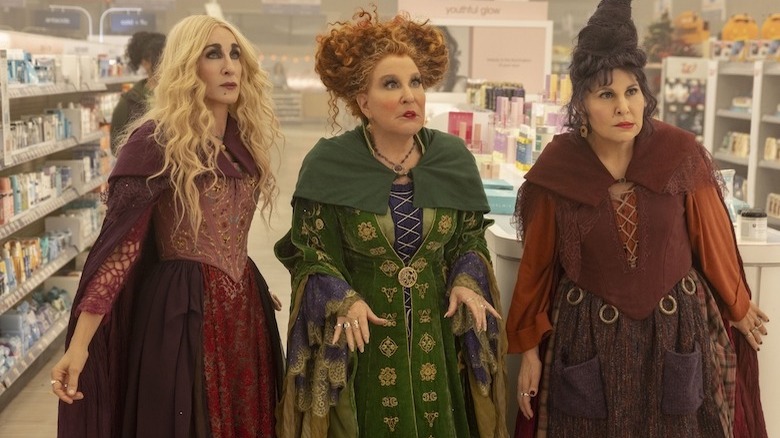 Matt Kennedy/Disney Enterprises, Inc
In order to ensure that they don't fade into oblivion come sunrise this time around, Winifred decides to invoke Magica Maxima, a spell that grants the caster ultimate power. Every good witch knows that an incantation won't work without the right ingredients, so Winifred, Sarah, and Mary head out to find the most important piece of the puzzle: a drop of blood from their enemy. Luckily for them, the descendants of the reverend who initially drove them out of Salem centuries ago are still around, so they head to Mayor Traske's (Tony Hale) house to secure their boon.
However, the Sanderson sisters aren't the only magic act in town this time. Becca, Izzy, and Cassie are slowly forming a coven of their own, and thanks to Gilbert's supernatural instruction, they're able to trap the sisters in a circle of salt in the Traske garage. When Mayor Traske arrives back home after a less-than-stellar Halloween, he's not amused by "the gothic Golden Girls" and their old-timey insults. 
If you've ever seen "The Golden Girls," you'll know that it's actually a pretty great comparison. Winifred's killer side-eye and sarcastic sense of humor are reminiscent of Dorothy (Bea Arthur), Sarah's dreamy, flirtatious personality matches up perfectly with Blanche (Rue McClanahan), and Mary is often the butt of a joke, similar to Rose (Betty White). Just like the Golden Girls, the Sanderson sisters stick together through thick and thin, an admirable trait that both sets of women share.