Why Wrecker From She-Hulk Looks So Familiar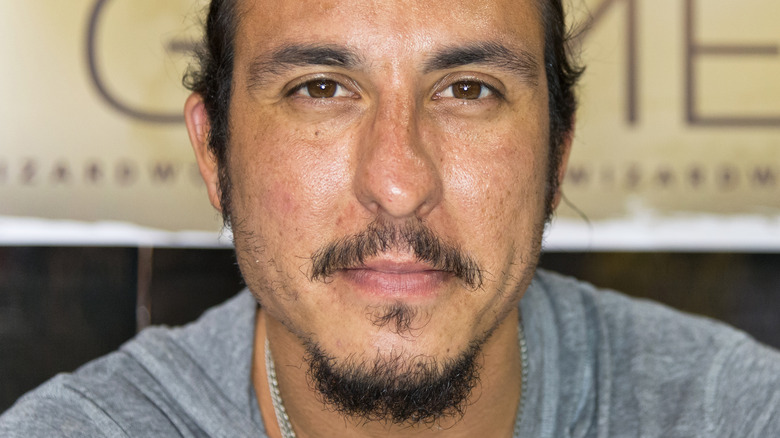 Gilbert Carrasquillo/Getty Images
Contains spoilers for "She-Hulk: Attorney at Law" Episode 7 (and a lot of older shows, too)
The seventh episode of "She-Hulk: Attorney at Law," entitled "The Retreat," follows Jennifer Walters (Tatiana Maslany), aka She-Hulk, as she accompanies a parole officer to check in on Emil Blonsky (Tim Roth), aka The Abomination. When the super-abled individuals attending Blonsky's spiritual retreat accidentally damage Walters' car, she reluctantly agrees to stick around while waiting for a tow truck. During her stay, she grudgingly opens up about her relationship and self-esteem issues, a feat that is made more difficult when she sees a familiar face within Blonsky's group.
Known to the Marvel Cinematic Universe only by his villainous moniker, the Wrecker (Nick Gomez) is the seemingly former leader of the Wrecking Crew. Dedicated viewers will remember him with longer hair and a magical crowbar — less dedicated viewers will only need the mid-episode "Previously On" that Walters provides. But it's entirely possible that viewers will recognize him from other works, as Gomez has consistently worked in the entertainment industry for the last three decades. While it's true that his credits are rarely headliners, Gomez will be the focus of this particular read. Let's take a look at some of his career headlights to see what he's been up to. 
Nick Gomez is a trigger happy survivor in The Walking Dead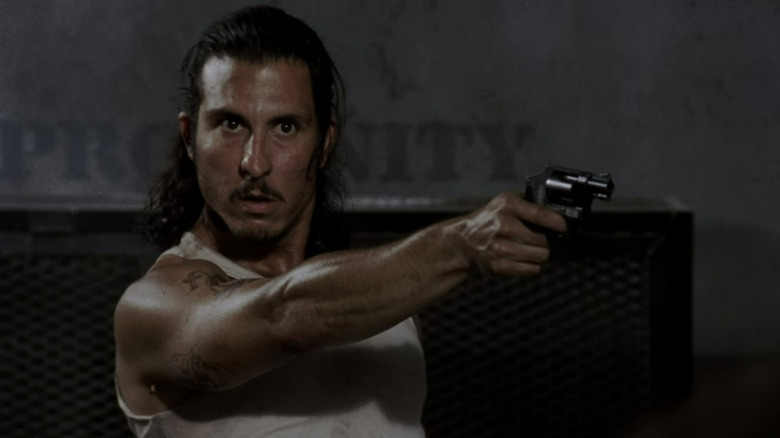 AMC/Netflix
In 2010, AMC released "The Walking Dead," a post-apocalyptic horror (let's be realistic and tag this as part of the drama genre, too) series based on a comic book of the same name that was created by Robert Kirkman and Tony Moore, written by Kirkman, and illustrated by Moore and Charlie Adlard. As of this writing, the series is set to end in 2022, after its eleventh season. Broadly, the story follows an ever-shifting group of survivors in a zombie-infested world. Over the years, the main cast had included Andrew Lincoln, Dania Gurira, and Steven Yeun. The only two actors still actively working on the series who were part of its inception are Norman Reedus and Melissa McBride. 
In 2012, in the third season for the first two episodes, entitled "Seed" and "Sick," Nick Gomez portrays Tomas, the leader of a group of prisoners who were "safely" locked away in the cafeteria when the zombie break out initially occurred. Perhaps rightly, Tomas doesn't trust the group of protagonists (long-time viewers will note that the main lot never play particularly well with each other). Less rightly, Tomas proves himself to be a cold-blooded killer, and Then-Leader-Of-The-Group Rick Grimes (Lincoln) rearranges the convict's facial features with a nearby machete. Guess that makes him a cold-blooded killer, too, huh? 
Nick Gomez is a tribal policemen in The Red Road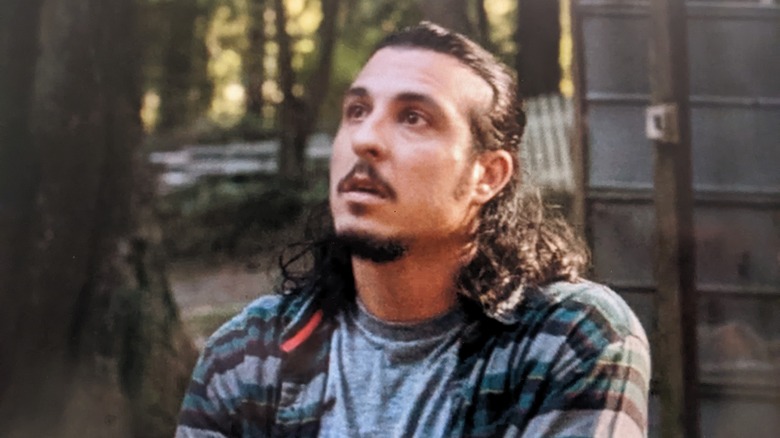 Sundance TV
In 2014, Sundance TV released "The Red Road," an American drama series that received two seasons before it was canceled in 2015. Broadly, the story follows the real struggles suffered by the Indigenous Ramapough Lenape Nation after toxic waste from the nearby Ford Motor Company plant in New Jersey was dumped on their land. The series stars Martin Henderson as Harold Henderson, a police officer comfortable with breaking the law, and Jason Momoa as Phillip Kopus, a Native American ex-convict just trying to make ends meet in any way possible. Amongst the many dramas featured throughout "The Red Road," there's the fun little matter of Harold's wife, Jean Jensen (Julianne Nicholson), being one of Phillips' old flames. Hooray for love triangles!
In "The Red Road," Nick Gomez portrays Frank Morgan, a member of the tribe's police force. Frank, for the most part, is just kind of there to flesh out the tribe. Let's just appreciate that a series was created to help inform the public about the ongoing issues that Indigenous people face when it comes to the effects of colonization. 
Nick Gomez is a cop out of his depth in Snatchers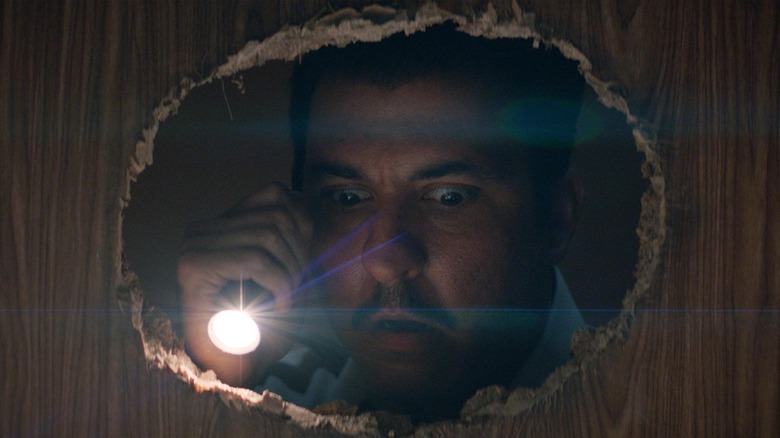 Stage 13
In 2017, Stage 13 released "Snatchers," a horror-comedy internet miniseries that ran for 25 episodes and ended in 2018. In 2019, Stage 13 approached the property a second time with the same cast; only instead of filming a miniseries, the studio produced a movie with the same name. Broadly, both stories follow Sara Steinberg (Mary Nepi), who, after experiencing her first sexual encounter, speed runs an entire pregnancy within 24 hours and proceeds to give birth to a violent, murderous alien. Then, immediately after escaping from the first one, she pops out a second alien monster, both of whom are spawns of an ancient alien that is housed inside her boyfriend, Skyler Cole (Austin Fryberger). With the help of her best friend, Hayley Chamberlain (Gabrielle Elyse), Sara defeats the aliens and saves the human race. 
In "Snatchers," Nick Gomez portrays Oscar Ruiz, a police officer who investigates Sara and Hayley after Sara's alien spawn murders literally everyone in the clinic where it was born. Unfortunately, he manages to take the two teenagers into custody, and that's when Sara's second alien offspring enters the world ... and it's just as aggressive as the first one. Poor Oscar is wholly unqualified to handle the situation and succumbs (read: dies a horrible death) to the far stronger, far smaller creature. Add another grisly death to Gomez's rising count. 
Nick Gomez is a shady detective in Criminal Minds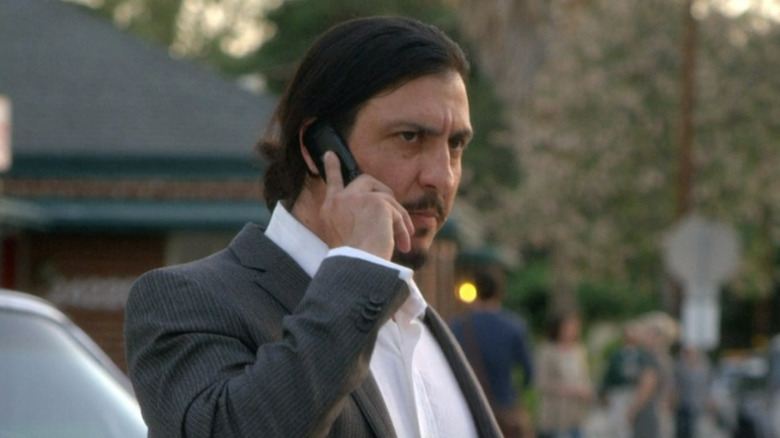 CBS
In 2005, CBS released "Criminal Minds," an American police procedural crime drama series that ran for 15 seasons and ended in 2020 (don't worry, there's an upcoming revival series set to air this year). Broadly, the story follows a group of criminal profilers who work for the FBI as members of the Behavioral Analysis Unit. From there, the plots are fairly straightforward — the team confronts a case while also confronting their personal issues (it wouldn't be a drama without personal issues getting in the way). Over the years, the main cast has included Mandy Patinkin, Adam Rodriguez, and Thomas Gibson, but the fan-favorite actors seem to be Matthew Gray Gubler and Shemar Moore. 
In the fifteenth and final season of the original series, in the ninth episode, entitled "Face Off," Nick Gomez portrays Orlando Gaines, a private detective who gathers intel for Everett Lynch (Michael Mosley), aka The Chameleon, a prolific, psychopathic serial killer and serial arsonist with a rap sheet longer than most Victor Hugo novels. Gomez's character is not exactly a blink-and-you'll-miss-it role, but he's only there for a brief moment. In that small window of time that he appears onscreen, he proves himself to be the kind of dedicated detective anyone would want on their side. It's only a shame that he's decidedly unscrupulous.