Did Tom Ellis Really Do His Own Singing On Lucifer?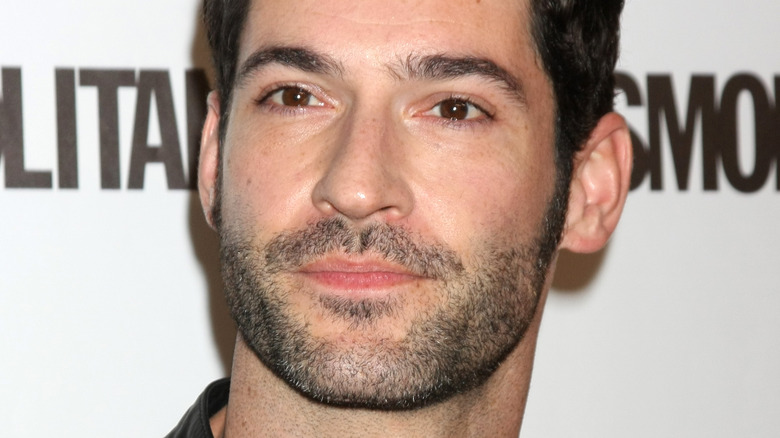 Kathy Hutchins/Shutterstock
There's no question that Tom Ellis is at the center of a show like "Lucifer." After all, he plays the title character, which is to say nothing of the fact that said character is probably the most notorious anti-hero in all Western literary and religious history. And through six seasons, Ellis ensured that the Devil remained as charming as we all know he must be, even if he does help the Los Angeles Police Department solve crimes.
This includes his singing voice. It turns out that Mr. Morningstar has quite the set of pipes, which the show put to good use through many beloved musical numbers. Fans will know that this was most famously done in Season 5's "Bloody Celestial Karaoke Jam," which functioned as a musical episode and even featured an appearance from '80s pop artist Debbie Gibson (via Variety).
The valid question is if Lucifer can sing so well, can Ellis? It's not unheard of in Hollywood for talented actors to require a voiceover in singing scenes. After all, the question of did George Clooney really sing in "O Brother, Where art Thou" is answered definitively, no. He needed bluegrass singer Dan Tyminski to overdub his "Man of Constant Sorrow." Did Ellis require something similar?
Yes, Tom Ellis can really sing
Not long after "Bloody Celestial Karaoke Jam" aired, the Radio Times ran a piece ranking all of the episode's songs, which started with a confirmation that yes, Tom Ellis can indeed sing. The piece even included a 2011 video of Ellis singing Ed Sheeran's "The A Team."
This distinctive part of "Lucifer" evolved from a happy accident. Showrunners happened to see Ellis sing Wilson Pickett's "Mustang Sally" one night after filming was through and the cast were relaxing at a karaoke bar in Vancouver. As it turned out, many other main cast members were also able to sing, including Lauren German, D.B. Woodside, and Kevin Alejandro, and the idea snowballed from there (via Express.co.uk).
Even with his strong singing voice, though, Ellis still occasionally let nerves get the better of him, particularly during "Bloody Celestial Karaoke Jam" when Debbie Gibson entered the picture. "I was really nervous the first couple of takes because Debbie's such a pro and so used to doing all those things," he told Variety. "There were a couple of times I messed up the lyrics, and I was pretty angry with myself, but she was just great."