Did George Clooney Really Sing In O Brother, Where Art Thou?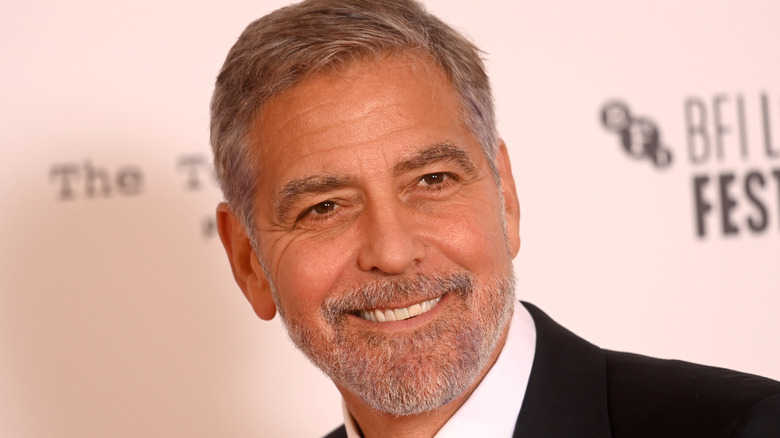 Dave J Hogan/Getty Images
"O Brother, Where Art Thou?" might not have made $100 million at the box office or won Best Picture at the 2001 Oscars, but for a specific subset of people, the satirical dramedy is high art. Written and directed by Joel and Ethan Coen, the film is a memorable entry into the brothers' subversive, genre-bending series of cult movies. Set in the backwoods of Mississippi during the Great Depression, "O Brother, Where Art Thou?" is essentially a period retelling of Homer's "The Odyssey," starring a Hollywood A-lister in George Clooney as Ulysses Everett McGill, the Odysseus role.
At one point during his wild, winding journey with fellow chain gang escapees Pete (John Turturro) and Delmar (Tim Blake Nelson), the trio joins up with a man named Tommy Johnson (Chris Thomas King) to record a rendition of the folk song "Man of Constant Sorrow" as The Soggy Bottom Boys. Unbeknownst to them, the record becomes a huge success, and later, during the movie's third act, the governor grants them a full pardon upon realizing they're responsible for the hit.
In what is an incredible case of life imitating art, that very song from the soundtrack of "O Brother, Where Art Thou?" became a hit in real life too. "Man of Constant Sorrow" peaked at No. 35 on the Billboard Hot Country Singles chart in 2002, and the song also won a CMA Award for Single of the Year and a Grammy for Best Country Collaboration with Vocals (via BBC News). But is Clooney really the one singing the song as he appears to in the film?
Man of Constant Sorrow was performed by Dan Tyminski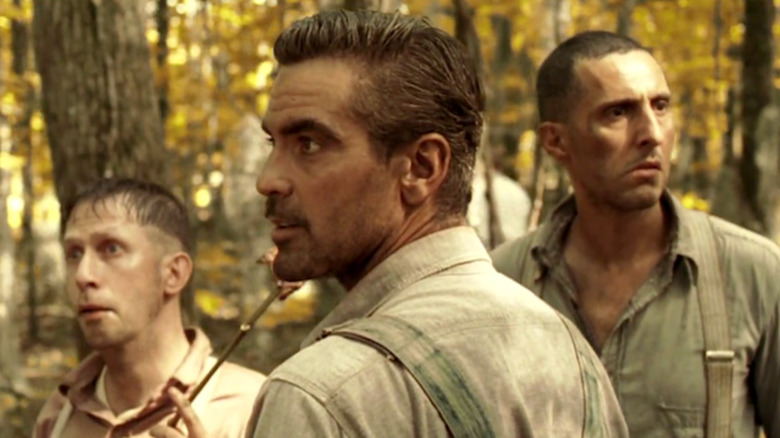 Buena Vista Pictures
During a Reddit Ask Me Anything back in 2014, George Clooney revealed that in order to record "Man of Constant Sorrow," he went into the studio with music producer T Bone Burnett and the Coen Brothers during the production of "O Brother, Where Art Thou?" At the time, the intent was for him to actually sing "Man of Constant Sorrow." Unfortunately, his vocals weren't up to snuff. 
"I remember the Coen brothers assumed I could sing, I kind of assumed I could too," he said. However, the sad truth of the matter was revealed in short order. "They were all looking down at the ground and kind of shaking their heads and they play it back and it's just terrible, and I think great, they're going to have to tell me they're going to have to bring in another guy to sing." Well, they ended up doing just that.
The man they brought in was bluegrass singer and musician Dan Tyminski, who is both a member of Alison Krauss' backing band, Union Station, as well as a successful solo artist. In a piece for the Huffington Post, Burnett shared that Tyminski "wrote and played the guitar part that gave the song a new life" in addition to providing his soulful vocals. However, he maintained that Clooney is a great singer and would've likely provided the vocals under different circumstances. "If there had been more time to get George up to speed, he could have sung that song himself," he wrote.