What Law & Order: Organized Crime's Danielle Moné Truitt Thinks About Those Comparisons To SVU's Benson - Exclusive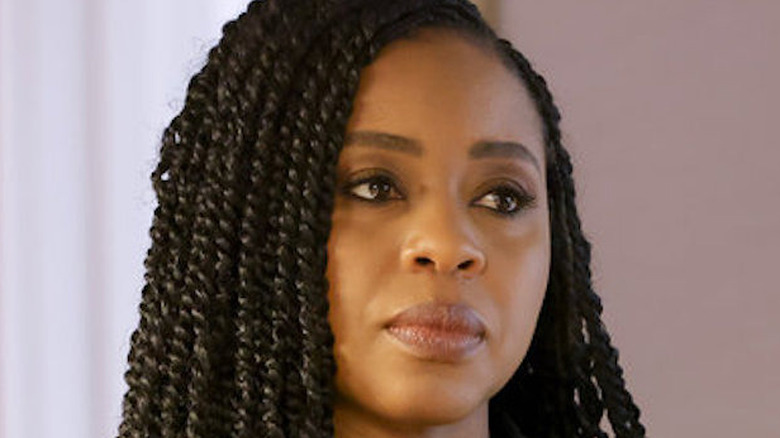 Will Hart/NBC
When Christopher Meloni walked away from "Law & Order: Special Victims Unit" over a decade ago, he left fans stunned.
After 12 years of playing Detective Elliot Stabler alongside Mariska Hargitay's portrayal of Olivia Benson — and as many years of fans wishing the two would become an item — Meloni simply vanished, with Stabler abruptly retiring from the police force off-screen during the series' Season 13 premiere. In 2021, after 10 long years, Meloni re-emerged with a show of his own, "Law & Order: Organized Crime," which airs Thursday nights on NBC.
With Meloni once again portraying Stabler, the veteran detective returned to the NYPD following his wife's murder, joining the organized crime task force that is led by Sergeant Ayanna Bell (Danielle Moné Truitt). But despite a new department and a new team, the "will they or won't they" attraction between Stabler and Benson — known collectively as Bensler — continues through "Law & Order" crossover events.
Now in Season 3, "Law & Order: Organized Crime" has mapped out a new onscreen relationship for Stabler with Bell, one that's much more platonic than the Bensler glory days. Yet some fans can't seem to shake the idea that Bell is somehow replacing Benson.
During an exclusive interview with Looper, "Law & Order: Organized Crime" star Danielle Moné Truitt responded to what it's been like being compared to Benson.
Stabler and Bell are more like 'brother and sister'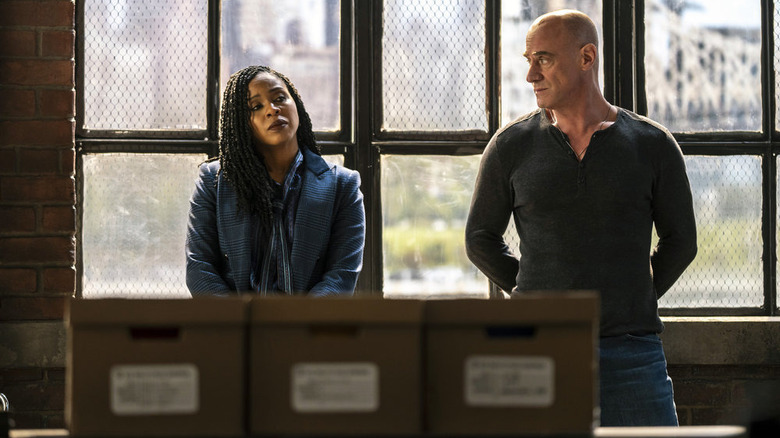 Zach Dilgard/NBC
There are many differences between Bell and Benson, but a major one in terms of how Bell interacts with Stabler on "Law & Order: Organized Crime" is that Bell is openly gay, which clears the way for Stabler and Bell to remain strictly platonic.
"I don't think Bell [can be] compared to Mariska's character, Benson," says Danielle Moné Truitt. "To me, they're completely different. As far as the relationship between Bell and Stabler, there's no love connection, not even a spark of that. It's more of a brother and sister type of relationship."
Still, that doesn't stop "Law & Order" fans from stacking Bell and Benson up against each other.
"When the show first started, I know people were used to seeing him with Benson," says Truitt. "If anything, that's been the funniest part for people, to realize that he has a new partner and that he has his own show. There's a whole life on 'OC' that is different from 'SVU.' As the seasons have gone on, people really respect Bell. They love her. They see that she cares for Elliot, but she also isn't going to take any crap from him. They really enjoy our dynamic."
Truitt likes to tease fans on social media
Despite Stabler and Bell's platonic connection, Danielle Moné Truitt understands there are still fans out there who may think Bell is trampling on Benson's territory — and she likes to mess with them on social media.
"One time, I posted a picture of me and Chris holding hands walking down the street and I was like, 'Haters gonna hate,'" she says. "People were like, 'He shouldn't be holding anybody's hand but Benson's hand!' ... I did it on purpose to see what was going to happen. There were full-on arguments about Benson, and I was like, 'Actually, this was Chris and Danielle holding hands.' It wasn't our characters. It was Chris and Danielle having a heart-to-heart walking down the street."
Season 3 of "Law & Order: Organized Crime" airs Thursdays at 10 p.m. ET/PT on NBC and streams the next day on Peacock.