What Is The Blondie Song The Sanderson Sisters Sing In Hocus Pocus 2?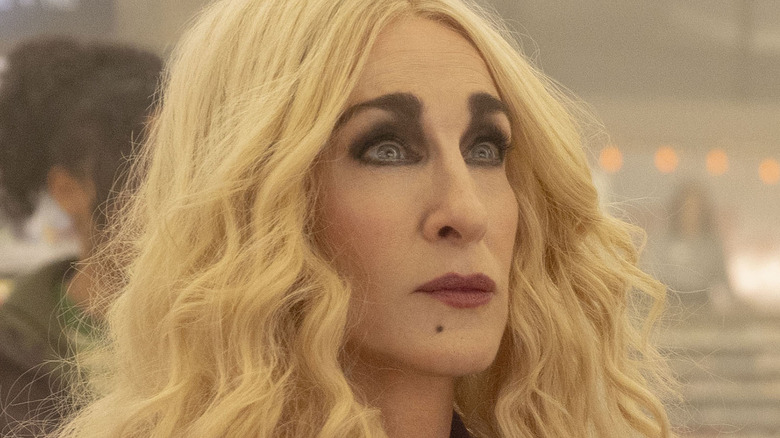 Disney
Contains spoilers for "Hocus Pocus 2"
While "Hocus Pocus" may have been a flop when it came out in 1993, the decades since have turned it into a Halloween classic. The film about Winifred (Bette Midler), Mary (Kathy Najimy), and Sarah Sanderson (Sarah Jessica Parker) became so beloved that fans kept hoping for a follow-up. Then, Midler stamped out hope in 2015 when she stated during a Facebook Q&A, "After all these years and all the fan demand, I do believe I can stand and firmly say an unequivocal no" to a sequel (via Entertainment Weekly). But the success of Disney+ made hope spring anew, and fans got the best news ever in 2020 when Midler told Good Day New York that all three actors were returning for a sequel.
One classic scene in "Hocus Pocus" is when Winifred sings Screamin' Jay Hawkins' hit "I Put a Spell on You," with a fitting change in lyrics for the witches. Besides the "dance till you die" spell, we get Sanderson Sisters-specific lyrics like "Been three hundred years/ Right down to the day/ Now the witch is back/ And there's hell to pay."
Things were ramped up for the sequel, which has not one but two musical numbers. One — a well-known Blondie song — is a perfect choice for the Sanderson Sisters.
They sing Blondie's One Way or Another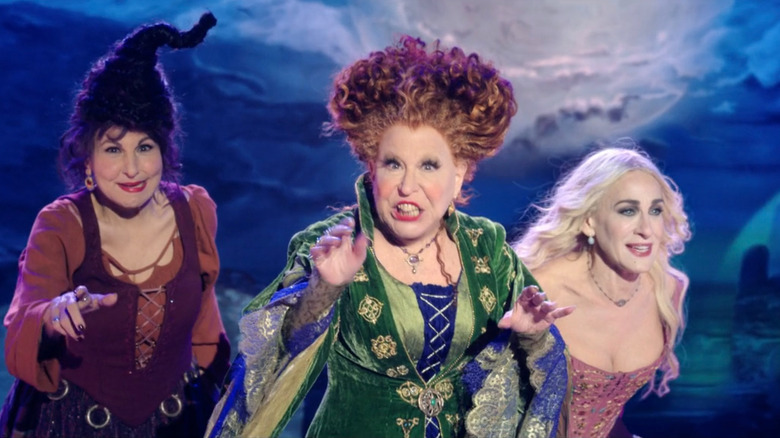 Disney+
Fans have been wondering how the musical numbers in "Hocus Pocus 2" will live up to the original's exhilarated performance of "I Put a Spell on You," and the sequel does not disappoint. This time around, the Sanderson Sisters sing Blondie's 1979 hit "One Way or Another" to the Salemites celebrating Halloween, with a twist on the lyrics such as "We're gonna grab ya/ I'll nab ya/ I'll jab ya" and "We're gonna snatch ya/ I'm gonna catch ya."
The spell is the same one they recite in "Hocus Pocus" – "Ah-say-into-pie/ Oppa-maybe-uppen-die/ In-kama-koray-ah-ma/ Hey, high/ Say, bye/ Bye/ Bye, bye, bye" — but the resulting actions by those in the crowd are quite different. In the first film, the spell is supposed to make the crowd dance until they die, but in "Hocus Pocus 2," the song is meant to force them to scour the town, searching for the mayor.
Some fans may be disappointed that the lyrics aren't more tailored to the Sanderson Sisters in the way "I Put a Spell on You" is in the first film, but the way the crowd acts entranced, swaying as one with their faces slack and eyes wide, makes up for the lack of witchy lyrics — especially as the crowd searches the town like a slow-moving flash mob.