Angelica Leaves From Hocus Pocus 2 Explained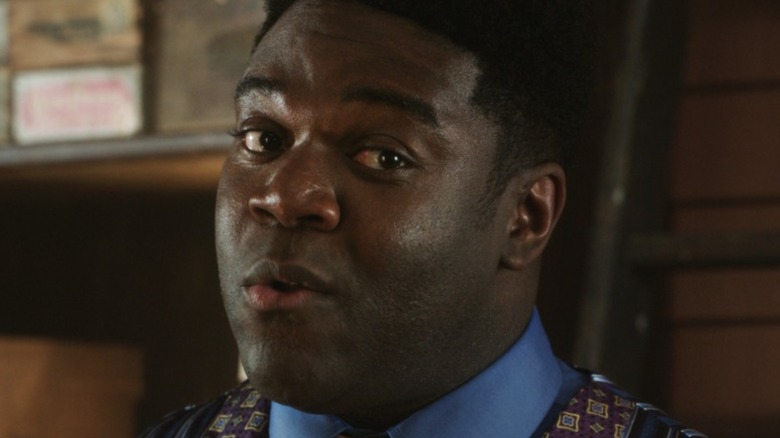 Disney+
Contains spoilers for "Hocus Pocus 2"
With magic, mayhem, and sentient Roombas galore, "Hocus Pocus 2" is a nostalgia-inducing revamp of a cult classic that weaves nods to the original movie into the fabric of a brand-new story. With Winifred (Bette Midler), Sarah (Sarah Jessica Parker), and Mary (Kathy Najimy) back in Salem, our new protagonists are forced to get creative to save Salem from the witches' wrath. Although Max (Omri Katz), Dani (Thora Birch), and Allison (Vinessa Shaw) use salt in the original movie to form a protective barrier against the Sanderson Sisters, a method the characters similarly take advantage of this time around, the sequel also introduces viewers to the use of Angelica leaves as a defense against dark magic.
As a bit of a magician in his own right, Gilbert (Sam Richardson) offers best friends Becca (Whitney Peak) and Izzy (Belissa Escobedo) Angelica leaves as a way to lift curses. The girls don't take him seriously at first, but his advice certainly comes in handy after the witches lock them in the basement of the Sanderson house with no way out. When the girls ask the leaves to grant them freedom, Becca's hand begins to glow with magic. It's one of the earliest indications of the character's magical prowess, hinting at the supernatural showdown that happens at the film's climax. But what exactly are Angelica leaves, and do they really repel negative energy? Let's take a look at the plant's history and how it plays into the plot of "Hocus Pocus 2."
Angelica leaves have been used to ward off evil for centuries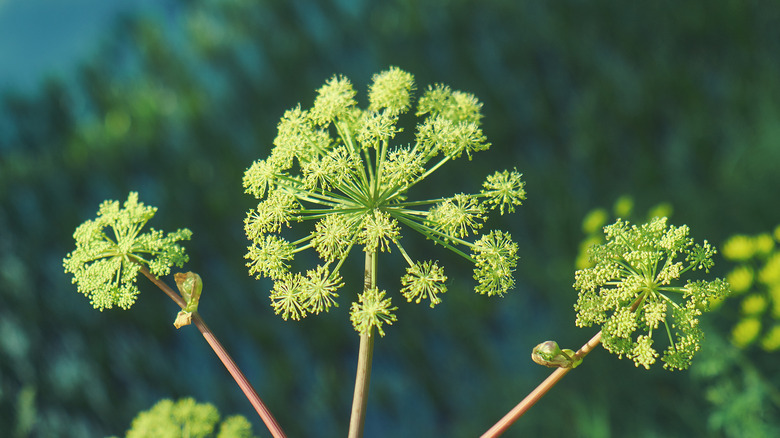 Fanfo/Shutterstock
Angelica leaves have been known to stave off negative energy ... just not in the manner shown in "Hocus Pocus 2." Angelica archangelica is a plant used for various purposes dating back to the early 1600s. According to the same source, the plant's roots, leaves, and seeds can make a pleasant tea reminiscent of licorice, and the leaves can be added to salads. Angelica has also been used as medicine to help stimulate circulation, support the digestive system, and fight lung infections, which proved helpful against the plague. Even if Angelica can't make stairs magically appear in the blink of an eye, it's a powerful plant all on its own.
However, there is reason to think that Angelica leaves have been historically thought of as a charm to negate dark magic. Mrs. M. Grieve, author of a 20th-century botanical handbook titled "A Modern Herbal," wrote that Angelica's celestial name might derive from its tendency to bloom on the day of Michael the Archangel, leading to legends of the plant's ability to protect against witchcraft and nullify evil spirits (via Botanical.com). Whatever the case, the plant's supernatural association makes it a great addition to the narrative. There's no shortage of enchantment in "Hocus Pocus 2," so it's a good thing that Becca and Izzy have some Angelica leaves up their sleeves.