Why Izzy From Hocus Pocus 2 Looks So Familiar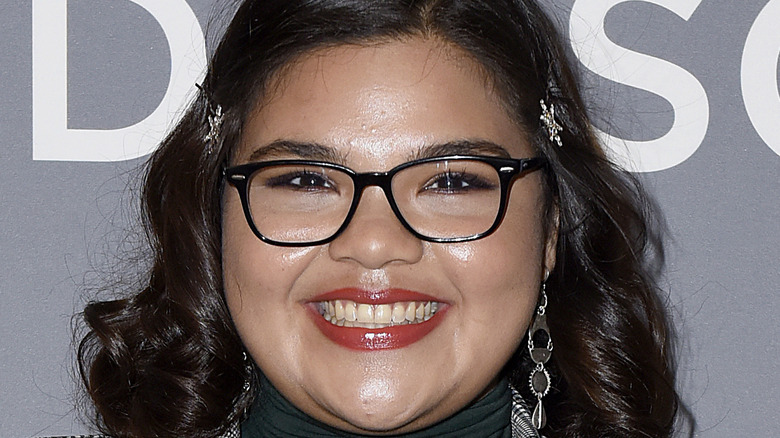 Vivien Killilea/Getty Images
You would think that people would be terrified of anything witch related in Salem, Massachusetts, but then again, who doesn't enjoy a spooky Halloween filled with returned witches, zombies, mind-controlling musical numbers, and black cats? "Hocus Pocus 2" is the latest venture from Disney, and it reanimates everybody's favorite trio of soul-draining sisters known as the Sandersons. Unfortunately, Max (Omri Katz) and Dani Dennison (Thora Birch) have not returned for this sequel, but in their stead is a set of new protagonists who are lifelong friends.
"Hocus Pocus 2" focuses on the return of the Sanderson Sisters and how Becca (Whitney Peak), Cassie (Lilia Buckingham), and Izzy (Belissa Escobedo) must stop them from turning Salem into a witch's paradise. Of the three friends, Becca appears to have some natural magical talent, while Cassie has drifted away from the two because of her growing popularity. Izzy, on the other hand, is a steadfast compatriot to Becca, and the two's actions on Halloween are unwittingly instrumental in bringing the Sanderson Sisters back to life. So why does the actor who plays Izzy look so familiar, and what else have people seen her in?
Belissa Escobedo's first major role is on The Baker and the Beauty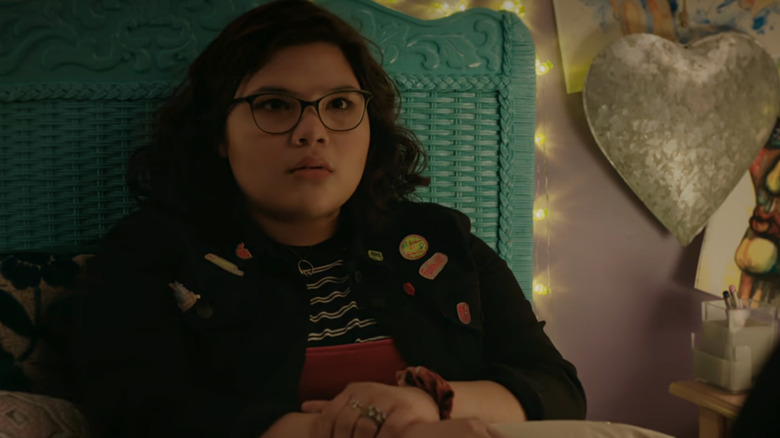 ABC
As a fairly young person, Belissa Escobedo doesn't have an extensive career as of yet, but she has appeared in several properties thus far. Perhaps the first place people may recognize her from is nine episodes of NBC's "The Baker and the Beauty" in 2020. This particular show is about the baker Daniel Garcia (Victor Rasuk) and his family business, but instead of just being a simple show about baking, he gets involved with the supermodel Noa Hamilton (Nathalie Kelly). Escobedo plays Natalie Garcia in the series, and she is Daniel's little sister.
Speaking with HOLA!, Escobedo spoke about how the interactions of the cast continued even after the cameras had stopped by saying, "They all reference me as little sister. They all just took it upon themselves to show me the ropes and make me feel safe among them. They're amazing. Lisa really took on the mom role and was always texting me like, 'Are you home safe? What are you doing this weekend? Do you want to go to dinner?' Just making sure I was always on track."
She is Scarlett's best friend in American Horror Stories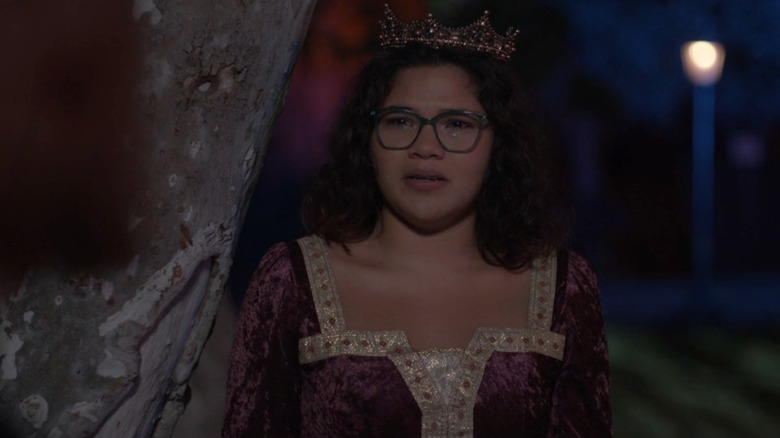 FX
Belissa Escobedo's next major project was appearing in two 2021 episodes of the "American Horror Stories" anthology series. While a normal "American Horror Story" season typically focuses on one theme, "American Horror Stories" is a collection of different episodes that can change theme, location, and even tone. Escobedo plays the role of Shanti in the first two episodes of "Stories," and she is a close friend of Scarlett (Sierra McCormick). When Scarlett shares her feelings with a popular girl at school named Maya (Paris Jackson), Shanti quickly contacts Scarlett to let her know that Maya and her friends are playing a prank on her — they are live streaming the entire exchange, and this fills Scarlett with a murderous rage.
Although Scarlett quickly descends into her ghost-filled existence at the affectionately known "Murder House," Shanti admonishes her friend for disappearing after Maya's prank. Shanti tells Scarlett that she misses her friend and says that she knows that Scarlett killed those people. Shanti then explains that she needed Scarlett in her life, but her close friend abandoned her. Now, Shanti says, she never wants to see Scarlett again. At this point, the ghosts of Maya and her friends appear and tell Shanti that they are going to kill her, but they are chased off by Ruby (Kaia Gerber), who makes some rather brutal threats.
She offers sexual advice in the movie Sex Appeal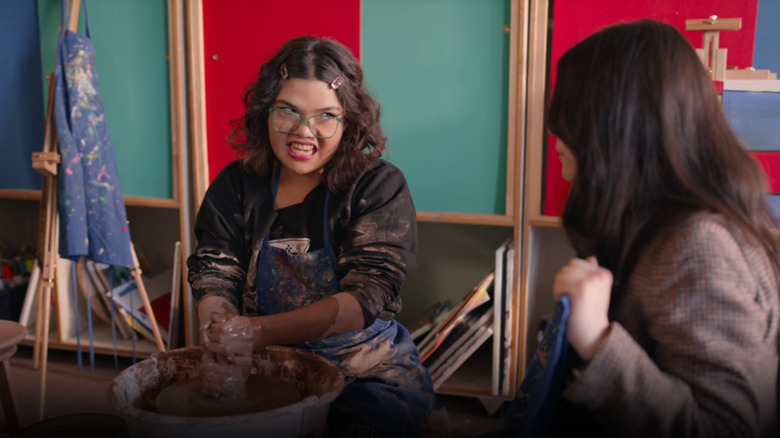 Hulu
Besides "Hocus Pocus 2," Belissa Escobedo appears in the 2022 Hulu teen comedy "Sex Appeal." This movie is a typical teen comedy, and it involves a person resolving to lose their virginity, but unlike comedy forebears like "American Pie," "Sex Appeal" has a distinct focus on the female side of things. Starring Mika Abdalla, Jake Short, Fortune Feimster, and Mason Versaw, this movie also reunited "American Horror Stories" alumni Paris Jackson and Belissa Escobedo. Escobedo plays the role of Bianca, who helps main character Avery (Abdalla) learn some sexual techniques by providing advice.
In an interview with Syracuse.com, Escobedo's "Sex Appeal" costar Margaret Cho explained what got her interested in the movie by saying, "I love '80s teen coming-of-age comedies, and it reminded me of kind of a new version of 'Weird Science.' Those kinds of films built my entire consciousness. Stories are important, but we don't have them from a female perspective and to a female perspective, too, so I really appreciated that." Although Escobedo has only been in the entertainment business for just a few short years, chances are we will be seeing much more of her in the future, especially if there's ever a "Hocus Pocus 3."