Blonde Director Andrew Dominik Has A Controversial Take On One Of Marilyn Monroe's Most Famous Movies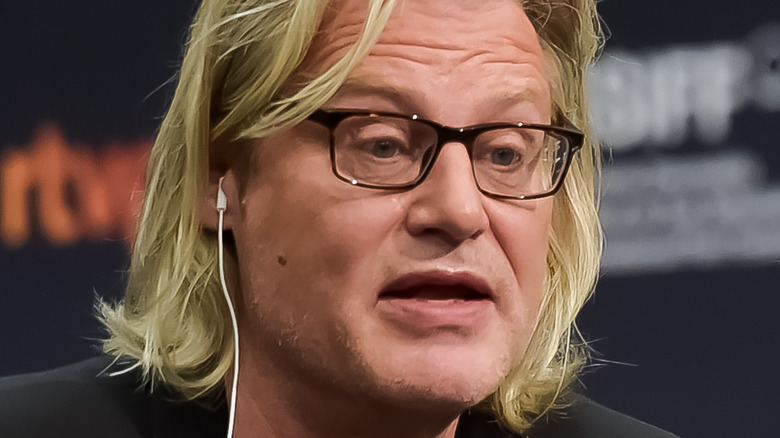 Juan Naharro Gimenez/Getty Images for Netflix
Andrew Dominik's filmography is mainly made up of stories diving straight into the minds of outlaws. There's his 2000 feature debut "Chopper," a brutal look at real-life Australian criminal Mark "Chopper" Read. Then there was 2007's western "The Assassination of Jesse James by the Coward Robert Ford" and 2012's "Killing Them Softly," in which Brad Pitt dropped the Jesse James act to become a fixer of sorts, as long as the problem you need fixing requires a bullet. 
Dominik's credits made the announcement he was working on a film about Marilyn Monroe's life more than a little surprising. What was it that drew the filmmaker from making movies about society's gutter to examining the life of one of Hollywood's most beloved starlets? Dominik's "Blonde" is not your typical biopic. It's based on a 2000 fictionalized novel by Joyce Carol Oates that shined a darker light on the attention and affection thrown at Monroe during her short life (she passed away at just 36). 
Dominik took that source material and turned in a nearly three-hour, NC-17-rated film with Ana De Armas portraying the legendary actress. And in an outtake from an interview promoting "Blonde," Dominik also revealed a surprising take on one of Monroe's most well-known works. 
Andrew Dominik doesn't prefer Gentlemen Prefer Blondes
Andrew Dominik is definitely not a fan of "Gentleman Prefer Blondes," a 1953 picture directed by Howard Hawks in which Monroe portrays a showgirl with her fair share of admirers. The director made his comments during an interview with the British Film Institute's Sight and Sound Magazine, but the review of sorts wasn't published in the actual piece and was instead put out as an outtake by the reporter behind the interview. 
"She's somebody who's become this huge cultural thing in a whole load of movies that nobody really watches, right? Does anyone watch Marilyn Monroe movies?" Dominik asked at one point during the interview, per writer Christina Newland's Twitter. According to the transcript, Newland mentioned "Gentlemen Prefer Blondes" as a Monroe movie that she and others watch. Surprised, Dominik asked what the flick is about. Newland explained the movie appeals to young women today due to its depiction of men and relationships, but Dominik ultimately dismissed the flick by saying of the movie's main characters, "They're well-dressed whores. I don't know."
While Newland made it clear that she "detested' the movie and found Dominik's words "illuminating" (via Twitter), she followed up the excerpt with context that Dominik isn't as dismissive of Monroe's entire body of work. "He clearly had studied and watched everything: whether he liked it (bar 'Some Like it Hot,' which he loves) another story, evidently," she tweeted.