The Hardest Part Of Ana De Armas' Transformation Into Marilyn Monroe For Blonde Isn't What You'd Expect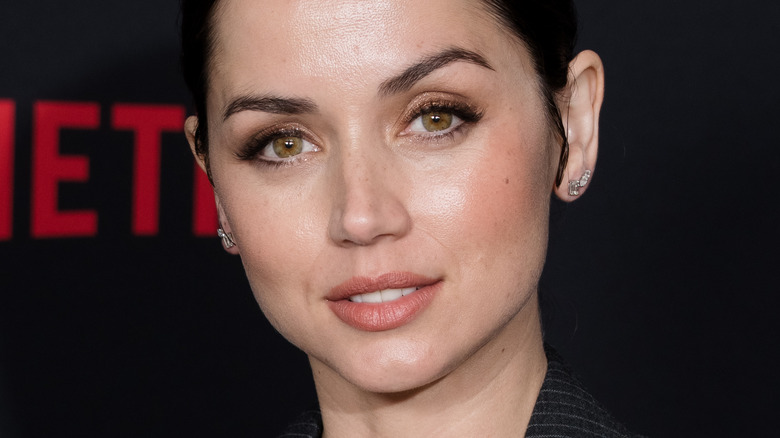 Francois G. Durand/Getty Images
It's never an easy task for an actor to recreate the look of an iconic individual, much less capture their essence. But those are only two of the gargantuan obstacles Ana de Armas faced in bringing Norma Jean Baker-slash-Marilyn Monroe to life in the searing drama "Blonde."
Opening in theaters in New York and Los Angeles Friday September 16 before expanding to select cities on September 23 and then making its streaming debut on Netflix on September 28, "Blonde" isn't a conventional biopic of the classic Hollywood starlet. Rather, the film reimagines Norma Jean and Marilyn's personal and professional lives with facts that are imbued with fiction. Naturally, several legendary moments in the star's career are recreated for "Blonde," including Monroe's memorable movie turns in "Gentleman Prefer Blondes" (including the musical performance of "Diamonds are a Girl's Best Friend"), "Some Like it Hot," and "The Seven-Year Itch."
Whether it was recreating her time-honored wardrobe, Norma Jean's naturally brunette hair, or Marilyn's platinum-blonde locks, de Armas, along with director Andrew Dominik and his fellow creatives, did a lot of due diligence to ensure the film legend was properly represented. However, de Armas said that there was another element to Monroe that provided the biggest challenge to her as an actor.
Getting Marilyn's voice right was the most complex task for de Armas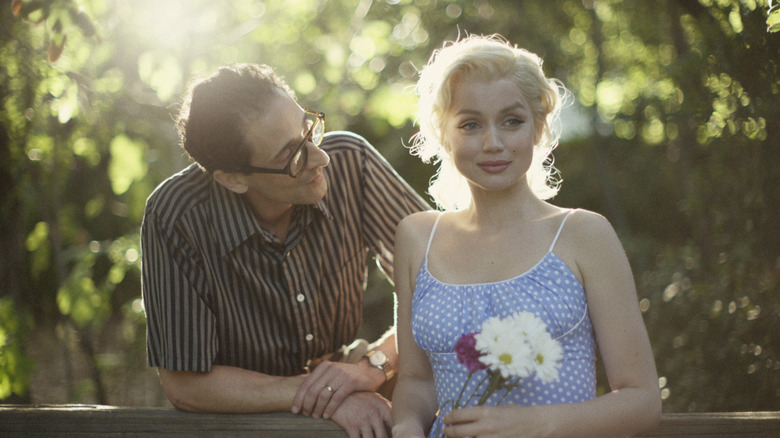 Netflix
During a September 15 press conference with Ana de Armas that was attended by Looper, the actor revealed that while the pressure was on to properly represent the look and feel of Norma Jean Baker and Marilyn Monroe for "Blonde," the toughest task for her was recreating the voice of the star without merely doing an imitation. Also, since English isn't her first language, the Cuban-born de Armas had to work on hiding her natural accent. As such, de Armas said she embarked on a long process of working with a dialect coach that began while she was still filming director Rian Johnson's hit 2019 murder mystery "Knives Out."
"From there to ... when I was filming ['Blonde'] was about nine months ... it was probably the most complex part of the transformation for me just because, well, English is not my first language to begin with," de Armas said.
Making matters even more complex, de Armas noted that Monroe changed her own voice throughout the course of her life, which tragically ended at age 36 in 1962. "She changed her accent many times," de Armas said. "She had personal coaches [to help with] her own insecurities, then she had coaches for movies. You can see her accent changing from one movie to the other one. And, you know, all of that was important to me to learn and to capture, because she has a very specific quality in her voice."
Finding both Marilyn's and Norma Jean's voices
Netflix
During the press conference, Ana de Armas pointed out that "Blonde" isn't necessarily about Marilyn Monroe, but rather the person she was before the stardom and her off-camera persona after she became famous. With that in mind, de Armas had her work cut out for her in finding the true voice of the person behind the actor. "We're familiar, for the most part, with the on-screen voice, which is [when she is Marilyn]," de Armas explained. "But the movie is about Norma Jean, so to have just imitated [Marilyn's voice] would have been very restrictive for me."
Essentially, de Armas added, it would have felt less authentic for her to merely have done an imitation of Marilyn's voice as we hear it in her movies. "For me, it was more important to find that emotional truth and move people than just copying the voice," she said.
Also starring Bobby Cannavale and Adrien Brody as Joe DiMaggio and Arthur Miller, respectively, "Blonde" opens in limited release in New York and Los Angeles on Friday, September 16. The film will then be expanded to select theaters across the U.S. from September 23-29. "Blonde" will begin streaming exclusively on Netflix on Wednesday, September 28.