Why King Bumi From Netflix's Live-Action Avatar: The Last Airbender Looks So Familiar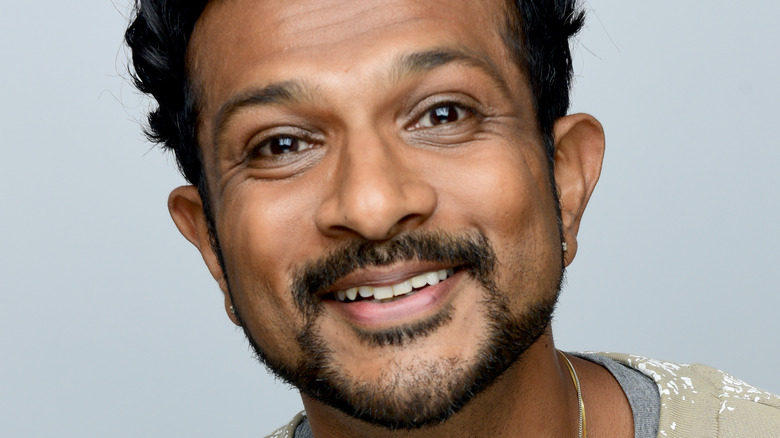 Vivien Killilea/Getty Images
Netflix is gearing up for its anticipated "Avatar: The Last Airbender" series. The show will put a live-action spin on the classic animated series — hopefully, better than the infamous M. Night Shyamalan movie.
The series will closely follow the plot of the animated show, focusing on Avatar Aang meeting Katara and Sokka and setting off on an adventure to master all four bending techniques to free the word from the grasp of the Fire Nation. In the meantime, he must outrun an ever-pursuing Fire Nation Prince Zuko, who seeks to capture the Avatar to regain his honor. Aang's journey takes him through many lands where he'll master different bending styles. Aang will eventually find himself in the Earth Kingdom, seeking to master earth-bending. This is where he'll run into King Bumi, played by Utkarsh Ambudkar. Bumi, who was once a childhood friend of Aang's, now serves as an eccentric king of the second largest city in the Earth Kingdom.
Viewers may find King Bumi's face familiar as the actor has had notable roles dating back to the early 2000s. Let's take a look back at where you may have seen Utkarsh Ambudkar before.
Utkarsh Ambudkar showed off his musical talents in Pitch Perfect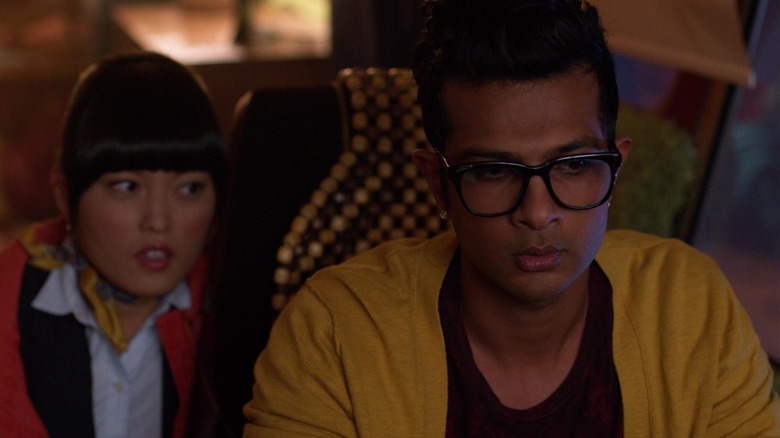 Universal Pictures
Early in his career, Utkarsh Ambudkar played a role in 2012's surprise hit "Pitch Perfect." Before starring in the movie, the actor had an extensive theatrical history performing in many Off-Broadway shows. 
The movie follows two a cappella groups from the same university as they attempt to one-up the other to win the national tournament. One group, the Barden Bellas, was entirely made up of female students from the fictional Barden University. The other group, the Treblemakers, was the all-male group led by Bumper Allen (Adam Devine). Ambudkar played Donald, Bumper's right-hand man and a lead vocalist, beatboxer, and rapper for the group. At the national finals, the group performs B.o.B's hit "I've Got the Magic in Me," and Ambudkar performs the song's rap verse.  
"Pitch Perfect" was a massive success when it was released, becoming a trilogy by 2017. Ambudkar did not return for either of the sequels. Peacock recently revealed plans for a "Pitch Perfect" TV show with Devine returning to reprise his role. No information points to Ambudkar returning as Donald, but you never know.
Ambudkar played Mindy Kaling's younger brother in The Mindy Project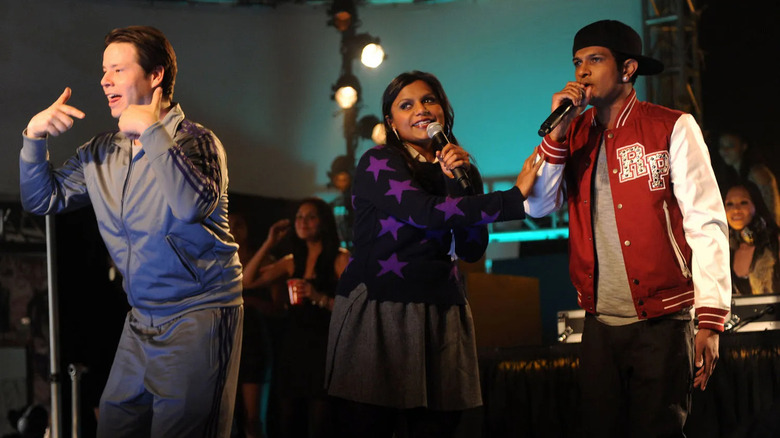 Fox
Utkarsh Ambudkar continued his acting career on Fox's hit show "The Mindy Project." He clearly loves expressing his past in musical theater because this role also had him rapping on screen.
Ambudkar played Rishi Lahiri, Mindy's younger brother and an aspiring rapper. The character's first appearance was in Season 1, Episode 10, "Mindy's Brother." In the episode, Rishi visits Mindy and reveals his intentions to drop out of college to pursue a career as a rapper. Mindy initially disagrees with Rishi's career choice but later comes around to it after the two perform on stage together. After a quick stint as a drug dealer, Rishi eventually takes a job at Mindy's clinic.
Rishi is a recurring character, popping up in "The Mindy Project" every now and then over its six-season run with appearances in Seasons 1, 3, 4, 5, and 6. He only featured in 10 episodes of the show, but the show's commercial success further propelled his career.
Ambudkar takes a shot at video game development in Free Guy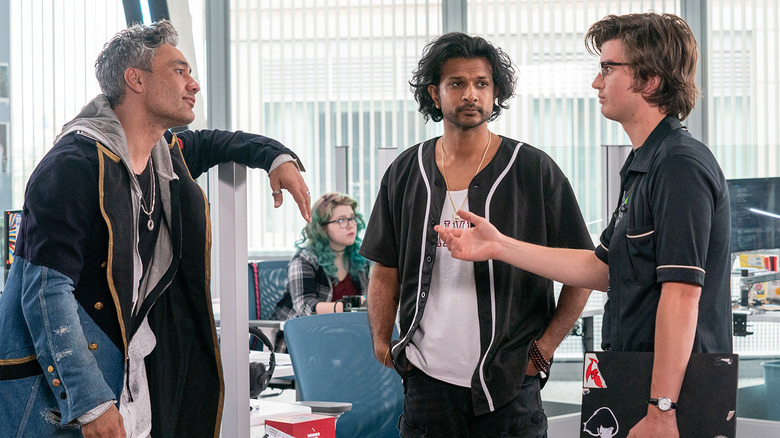 20th Century Studios
If neither "Pitch Perfect" nor "The Mindy Project" jogged your memory, you might recognize Utkarsh Ambudkar from "Free Guy." 
The 2021 gem follows Guy (Ryan Reynolds), a non-player character in the fictional video game "Free City." Guy is an NPC that realizes he's a video game character and revolts against his programming. He becomes an online sensation and catches the attention of the game's designer Antwan Hovachelik (Taika Waititi). Antwan tasks employees Keys (Joe Keery) and Mouser (Ambudkar) with finding Guy and deleting him. The two use their in-game police officer avatars to chase after Guy. Ambudkar's avatar is a police officer in a pink muscular rabbit suit. 
Ambudkar's role as Mouser in "Free Guy" is a welcome change of pace for the actor's career. Mouser starts off as a close friend of Keys before Keys begins disobeying orders. Antwan eventually fires Keys, and Mouser chooses to stay with Antwan and keep his job over his friendship with his colleague. At the end of the movie, Mouser gets his redemption when he recognizes his errors and attempts to stop Antwan from destroying the "Free City" servers.
Although it may be a while until we see a "Free Guy 2," here's hoping Ambudkar gets back in the bunny suit for the sequel. 
Ambudkar took to Netflix for Never Have I Ever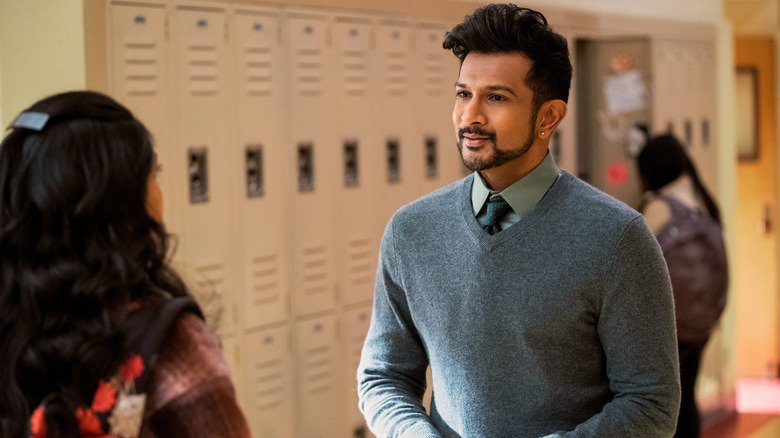 Netflix
Maybe you recognize Utkarsh Ambudkar from the Netflix series "Never Have I Ever," where he reunited with his "Mindy Project" star Mindy Kaling.
"Never Have I Ever," created by Kaling and loosely based on her childhood, focuses on three teenage girls, Devi, Eleanor, and Kamala, as they navigate the social hierarchy of high school. The trio each has their own journeys throughout the school that includes different relationships, classes, sports, and experiences. In Season 2, one class they take is English, taught by Mr. Manish Kulkarni (Ambudkar), the soccer coach. After befriending Devi, Ambudkar's character becomes somewhat of an older brother figure for the teenage girl. She comes to him for advice, and he helps her out the best he can. Later in the show, the character begins dating Devi's cousin, officially joining the family.
With three successful seasons already in the books, "Never Have I Ever" was renewed for a fourth and final season. Kaling has promised to give the show a satisfying ending, and chances are Ambudkar's Mr. Kulkarni will return for the last season.
Season 4 of "Never Have I Ever" will premiere sometime in 2023.
Ambudkar lives in a beautiful home filled with spirits in Ghosts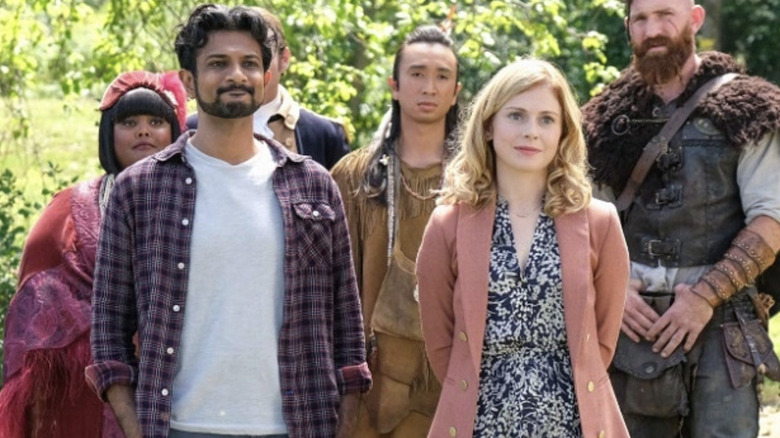 CBS
Chances are you have heard of CBS's newest hit sitcom, "Ghosts," which stars Utkarsh Ambudkar in one of the leading roles. 
"Ghosts" is an American remake of a popular British series. It follows Samantha and Jay Arondekar (Ambudkar) as they inherit a beautiful country estate from one of Sam's distant relatives. The couple moves in and finds that it's not only falling apart but is also home to numerous ghosts of people who previously died on the mansion's grounds. The spirits are trapped in the house until they can reach the afterlife. Following a near-death experience, Sam can see and communicate with the ghosts, but Jay cannot. 
Jay is quick to believe Sam when she tells him of their ghost problem. Ambudkar loves the light-hearted tone of the show, saying that it serves as welcome entertainment in an otherwise stressful time. "We're here to just give you a little boost to joy and get you through, there's no Squid Games here. And I love that stuff too, but there's some people who have enough weight in their lives. They don't need any more darkness," Ambudkar told The Wrap. "That's where we come in and it's also something we can all watch together."
He most recently appeared on The Dropout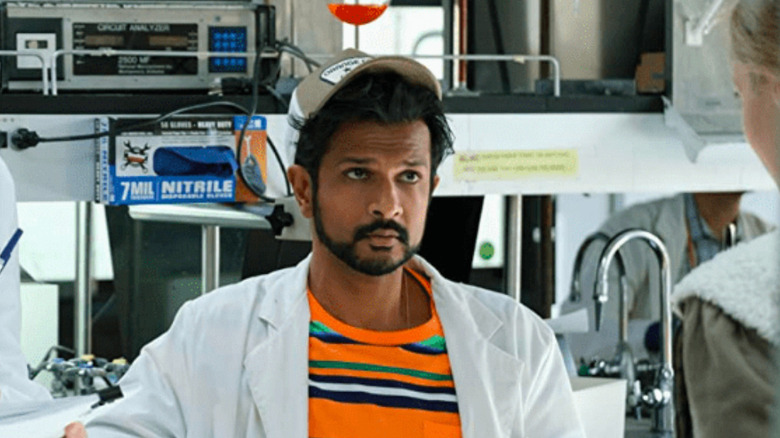 Hulu
Although "Ghosts" is by far Utkarsh Ambudkar's most famous role, you may recognize him from the Hulu miniseries "The Dropout."
"The Dropout" tells the true story of Elizabeth Holmes (Amanda Seyfried), who scammed the medical industry in the early 2000s and became a self-made billionaire. Holmes created the medical technology company Theranos, which promised to revolutionize blood testing by being able to run tests on tiny blood samples. Hulu quickly jumped on the drama surrounding Holmes after journalists discovered in 2015 the massive fraud she was organizing.
In "The Dropout," Ambudkar plays Rakesh Madhava, a fictional character created for the show. He meets Holmes at Stanford, where he's the teaching assistant that connects her with a professor. Later on, Holmes hires him as one of Theranos' first engineers. He joins the team that Holmes tasks with developing a simplified blood-testing device and quickly becomes an early ally to Holmes.
Ambudkar's character eventually resigns from Theranos after the company's stressful environment is too much to handle. Holmes pushes the employees to develop technology that's years away from being perfected, and Ambudkar's Madhava takes the opportunity to leave Theranos behind.