Never Have I Ever Creators Confirm What We've All Suspected About The Show's Ending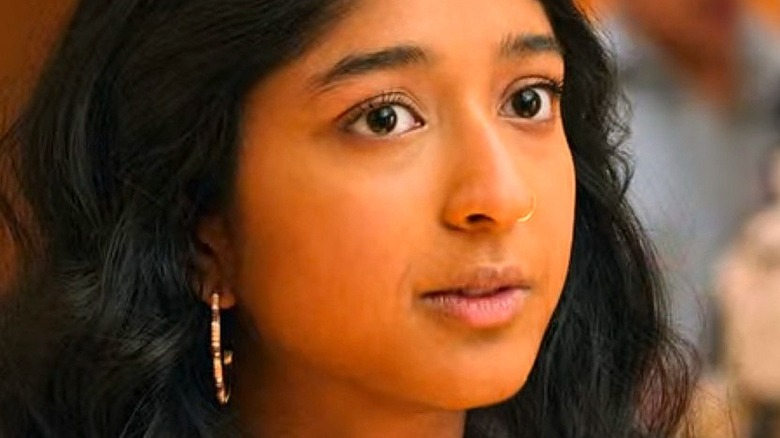 Netflix
When Mindy Kaling and Lang Fisher's "Never Have I Ever" debuted on Netflix in April of 2020, it gave audiences a coming-of-age story the likes of which had never before been seen on American television. Not only did it forego the trite, shiny, and absurdly unrealistic writing that so often characterizes high school narratives (see: everything from "Saved by the Bell" to "Dawson's Creek" to "Gossip Girl") in favor of heartfelt but relatable and age-appropriate storylines and dialogue, it also centered around an American Hindu-Indian protagonist (Maitreyi Ramakrishnan's endearing, courageous, and charismatic Devi Vishwakumar), and dispelled the myth of a litany of Asian stereotypes (via CNN). What's more, it was, and is, genuinely funny — a revolution for the genre in and of itself. 
The series' humor is thanks, largely, to a combination of Ramakrishnan's portrayal, Kaling's often darkly comedic semi-autobiographical writing, and the fact that it's narrated by, who else, former professional tennis player and global...personality...John McEnroe. 
As critically acclaimed as it is beloved by audiences (via IMDb and Rotten Tomatoes), "Never Have I Ever" was renewed for a fourth season months before the recent debut of its third season, much to the delight of its devoted fandom (via Twitter). Sadly, as they say in famed Frost poems and S. E. Hinton's own coming-of-age story, "nothing gold can stay," and the anticipated fourth season, the announcement confirmed, would be the series' last. Now we know why.
High school can't go on forever, and the move to college is an exercise in futility
Netflix
In an interview with Entertainment Weekly, Kaling and Fisher explained their wise and not surprising decision to end the series in its fourth installment. "It's hard when you have a high school show, because you can't keep them in high school forever,"  Fisher told the outlet. Nor, if history is any indicator, is it a particularly smart move to attempt to follow a high school series' characters through college (see: every show that tried, per NPR), a reality upon which Fisher expounded briefly: "It feels false for everyone to go to college together," he said, adding that the alternative — introducing an entirely new cast of central protagonists — is equally ill-advised.
Despite these tried-and-true truths of the genre, Kaling revealed that she's just as attached to the heart and soul of the series as anyone else. "I would follow Devi until her dying day," she said, before acknowledging the impracticality of the desire. "You write a pilot," she explained, "and then you hire people and then you get into this groove, that's why so many shows growing up lasted like five seasons too long...But I do feel that, in a couple years, I'll look back on this and say, 'No, that was good that it ended then.' But right now I'm not ready to accept it."
Season 3 of "Never Have I Ever" is currently available to binge on Netflix. While no official release date for the final season has yet been announced, Fisher assured the outlet that "the series finale is going to feel very satisfying to people."