Keegan-Michael Key's Been In More Disney Projects Than You Likely Realized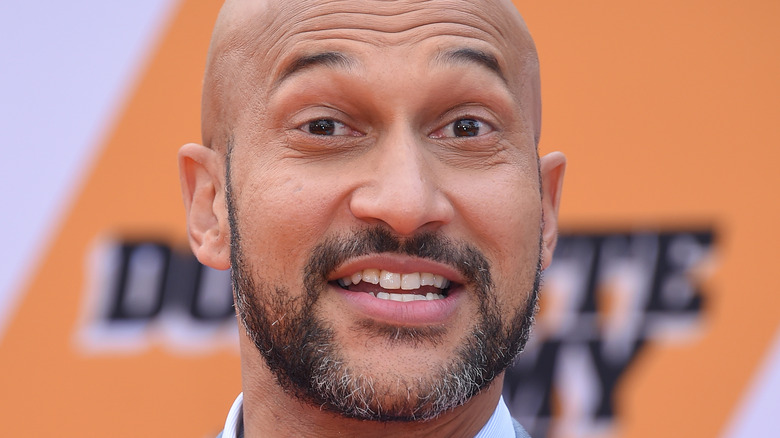 D Free/Shutterstock
By now, Keegan-Michael Key's face and mannerisms are hard to miss in today's media landscape. It's been quite some time since he and Jordan Peele were beamed into living rooms via the outlandish comedy of "MADtv," most notably their own spin-off show that made them household names. While his old partner has made a name for himself as a writer and director of some of the most thought-provoking genre cinema out there, Key has expanded his comedy oeuvre.
There's his wide array of appearances in streaming shows, from the tragically underrated "Friends From College" to the hilariously original "Schmigadoon!" Then there's his voice acting. Key has done his fair share, starting with "The Lego Movie" in 2014, appearing as Murray the Mummy through three of the "Hotel Transylvania" films, and even playing Toad in the upcoming "Mario" film (via IMDb).
Indeed, Key has developed a real passion for voice acting. "When you're a kid and you play with the other friends," he said in an interview with Beautiful Ballad, "your imagination went everywhere and there'd be times you're at the field, and playing and screaming and all of that abandon you get to channel that again as an adult when you're doing animated films. It's not only not frowned upon, it's encouraged."
No surprise, then, that Key has had, and will continue to have, ample chance to leave his vocal mark on the world of Disney animation.
Four Disney projects have featured his voice acting
Since 2019, Keegan-Michael Key has provided voices for characters in no fewer than four Disney projects, three of them reboots or remakes. First came a sequel, though, in the form of "Toy Story 4." In this, he reunited with Jordan Peele to voice a duo of carnival toys — Ducky, voiced by Key, and Bunny, by Peele — who long to be won and loved by a kid.
When the teaser for "Toy Story 4" dropped, director Josh Cooley gushed about having Key and Peele reunited for the movie. "Of course, they are effortlessly funny, which would be enough," said Cooley in a statement. "But they are incredible actors that understand story. Their improvs weren't just for comedy sake, they were story motivated which elevated Ducky and Bunny and the film to a level I never could have expected" (via The Wrap).
Also released in 2019 was the computer-animated remake of "The Lion King," in which Key voiced Kamari, one of three wily hyenas who conspire with Scar (Chiwetel Ejiofor) to kill Mufasa (James Earl Jones). Though the personality of the lead hyena, Shenzi (Florence Kasumba) was changed into one that's more authoritative and no-nonsense, that of Key's character remained much the same, though his name was changed from Banzai to Kamari.
From Chip 'n' Dale to Pinocchio
In 2022, "Chip 'n' Dale: Rescue Rangers" hit the screen. Part computer-animated, part live-action, the movie is both a reboot and continuation of the beloved cartoon from the 1990s and was praised by The Hollywood Reporter as being the most inventive blending of live-action and animation since "Who Framed Roger Rabbit?" Keegan-Michael Key voiced not one but two characters in the "Chip 'n' Dale" reboot. The first was as Chip's frog co-worker, but far more memorable is Bjornson the Cheesemonger, a Muppet-like seller of cheese (and a clear nod to the Swedish Chef) who is part of the Valley Gang that kidnapped Chip and Dale's old friend Monterey Jack (via IMDb).
Last but not least, and also in 2022, is "Pinocchio." Like "Chip 'n' Dale," the remake combines live-action and computer animation, placing a live-action Tom Hanks as Geppetto next to the animated version of the puppet who wants nothing more than to be a real boy, voiced by Benjamin Evan Ainsworth. Key, for his part, will be voicing the cunning, anthropomorphic fox "Honest" John Worthington Foulfellow, who twice tricks Pinocchio into perilous situations (via IMDb).