The Only 90210 Cast Member Jennie Garth Had A Beef With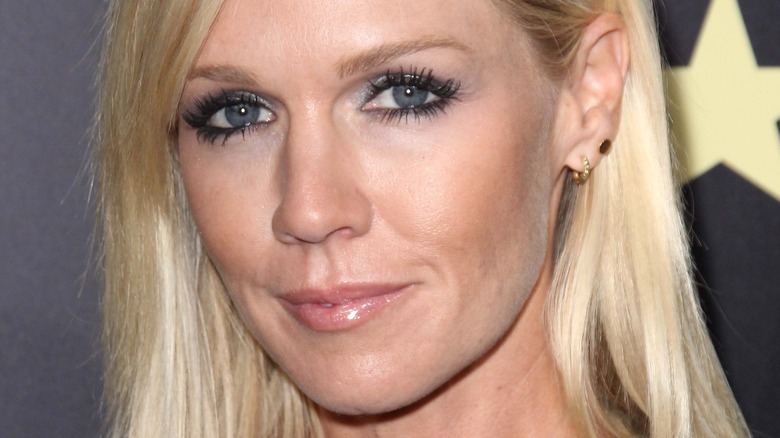 s_bukley/Shutterstock
Jennie Garth may have started her career on a short-lived comedy series, but it wasn't until she was cast in "Beverly Hills, 90210," that she stepped into her breakout role. Over the course of the show, Garth made many friendships, but there was a co-star who the young actress didn't get along with. 
Garth's character, Kelly Taylor, started as the stereotypical, popular, high-school freshman, but the actress was given some of the most intriguing and empathetic character arcs. The show was also groundbreaking for the intense subject matter it tackled. "I'm kind of realizing, like, what a big deal it was and what an impact it had, and like the risks that it took and just the voice that it gave young people." Garth said in an interview with the "Behind the Velvet Rope" podcast.
Impactful or not, relationships weren't always sunshine and roses between "Beverly Hills, 90210" co-stars. Cast mate, Tori Spelling (who played Donna Martin) reveals that Garth and another actress clashed on more than one occasion during the series. 
Garth had a beef with Shannen Doherty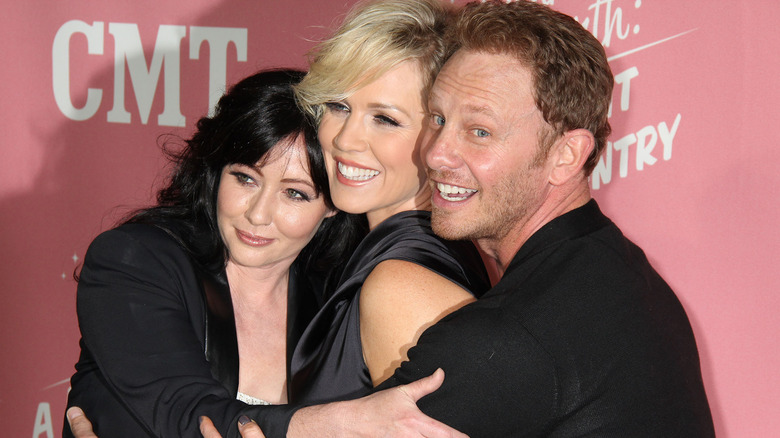 s_bukley/Shutterstock
Jennie Garth locked horns on more than one occasion with co-star Shannen Doherty, but Tori Spelling was there to diffuse the stormy situations when they arose. "[Spelling] was the peacekeeper," Garth said in an interview on "Watch What Happens Live with Andy Cohen." "That is true because she loved both of us."
"I can only remember one incident, and that was when, yeah, we took it outside," Garth said. "I'm a midwestern girl, and I spent some time in Glendale, Arizona, so that makes you tough." However, if you're excited to know who won the scrape between Garth and Doherty, disappointment will surely follow because the argument never came to actual blows. Garth also revealed that the guys who kept the actresses apart were the real winners of the fight.
Spelling clearly remembered the altercation, but she admitted to hiding in her dressing room while Garth and Doherty took it outside to rumble. The disagreement escalated when Doherty decided to pull up Garth's skirt during the initial argument. Garth admits she was young and the near fisticuffs, and events leading up to the spat, were stupid. "We're just both very strong Aries women," Garth also said in her interview on "Watch What Happens Live," "We don't back down no matter what." Despite the bad blood, the two actresses have grown up, and Garth was delighted to have Doherty working alongside her on the series reboot, "BH90210."