Pierce Brosnan's Heartwarming Connection To His Mamma Mia! Character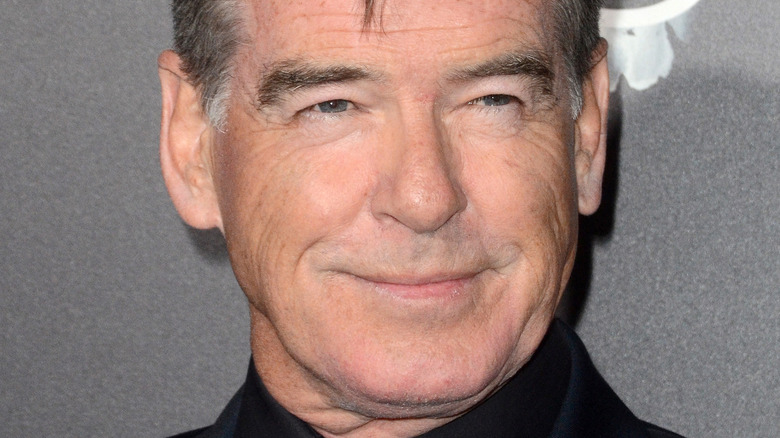 Kathy Hutchins/Shutterstock
Pierce Brosnan has played a slew of memorable characters throughout his illustrious career. Inspired by two legends who previously inhabited the role, his portrayal of James Bond in the "007" series of films is often considered by fans to be one of the best portrayals of the iconic spy. He has also starred in several classics and many beloved films, including "Dante's Peak," "Mrs. Doubtfire," and the 1999 remake of "The Thomas Crown Affair." In more recent years, Brosnan made the inevitable jump to working on a superhero film, starring as Dr. Fate in "Black Adam," alongside Dwayne "The Rock" Johnson, who plays the titular character.
Producers on "Black Adam" told ScreenRant that the former James Bond actor is "so smooth" and "elevated the entire cast" while on set. Amusingly, Brosnan has no shame about making a fool of himself for the sake of a film either. A scene in "Mrs. Doubtfire" in which he had to remove himself via tiptoe off a diving board because of his fear of heights left Brosnan feeling humiliated, but also left the crew in stitches laughing. Brosnan also really put himself out there for the 2008 musical adaptation of the ABBA-inspired stage play "Mamma Mia!."
Brosnan's character in Mamma Mia! shares a surname with his beloved stepfather
In an interview with GQ, in their aptly titled "Iconic Characters" series, Pierce Brosnan noted that he has a heartwarming connection to his character in the film "Mamma Mia!." As he tells it, when he was offered a role in the film, he didn't think to ask which character he was playing. He only knew it was one of the three dads in the film. When he went to see the stage version of "Mamma Mia!," and the three dads appeared on stage he quickly surmised that he could play any of the three characters. But he was thrilled when he learned he would be playing Sam Carmichael.
Brosnan learned he got the role only shortly after his stepfather, Bill Carmichael, passed away. In fact, according to Brosnan, he was just discussing with his family that they had to get bagpipes for his stepfather's funeral when he got the offer for the role from his agents. In another eerie coincidence, one scene in the play includes Brosnan's character asking another character, "You still got my bagpipes?" Brosnan stated after that, "Whatever that story means, there was some beauty to it."
Pierce Brosnan took the time to learn to sing and dance for his Mamma Mia! role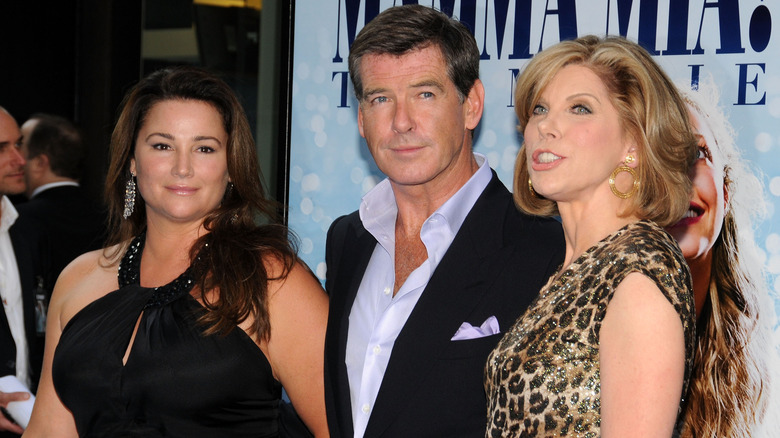 Bryan Bedder/Getty Images
Pierce Brosnan sings the song "S.O.S." in the film, and, in the GQ interview, he called the song a "warhorse." Notably, Brosnan wasn't the only actor in the film nervous about belting out such iconic numbers. He recalled performing songs with the other actors and sharing in the trepidation with other actors. "They were terrified," Brosnan said. "We were all terrified having to sing." Luckily, after a lot of practice and rehearsal, he continued, "When it became time to film it, everyone was very secure."
In the years since the two films were released, other actors have also shared details about behind-the-scenes struggles related to the musical aspect of the movies. Christine Baranski, who stars in both "Mamma Mia" films, told Vulture of filming the sequel "Mamma Mia: Here We Go Again!," that despite all that practice, "I don't think the three actors would mind my saying — Colin [Firth] and Stellan [Skarsgård] and Pierce [Brosnan] — just to get them to sing the song and put one foot in front of another and raise a glass of beer together, it was like rocket science." 
She knew what they were accomplishing, however, saying, "I think people understood that it was something very tongue-in-cheek about the whole thing. None of us were seasoned musical-comedy performers." Through it all, Brosnan created yet another iconic character, one that is surely all the more special given the connection to his late stepfather.